President Nguyen Xuan Phuc Concludes State Visit to Cambodia
President Nguyen Xuan Phuc arrived in Hanoi on December 22, concluding his two-day State visit to Cambodia at the invitation of Cambodian King Preah Bat Samdech Preah Boromneath Norodom Sihamoni.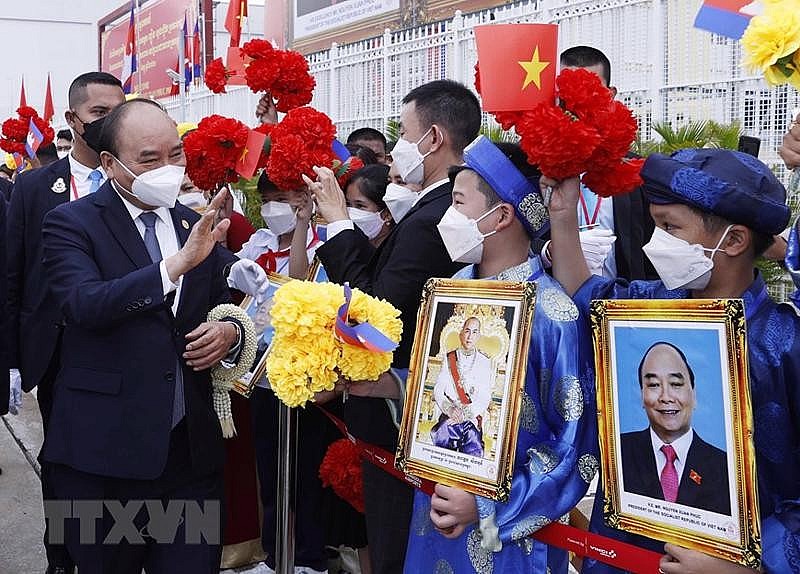 A farewell ceremony was held for President Nguyen Xuan Phuc at Puchentong international airport. Photo: VNA
During the visit, President Phuc met with King Norodom Sihamoni, paid a courtesy call to Queen Mother Norodom Monineath Sihanouk, and held bilateral meetings with Cambodian leaders, VietnamPlus reported.
Both sides agreed to enhance the exchange of all-level delegations, encourage people-to-people exchanges toward mutual recognition of vaccine passports and vaccination certificates.
They affirmed commitment to respecting and fully implementing treaties on planning and demarcation of border markers and relevant border agreements.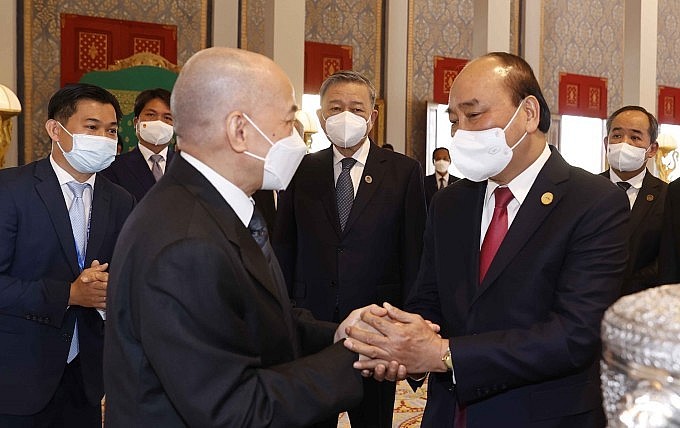 President Nguyen Xuan Phuc and Cambodian King Preah Bat Samdech Preah Boromneath Norodom Sihamoni. Photo: VNA
Vietnam will support Cambodia at the highest level during Cambodia's assumption of ASEAN Chair 2022, thus contributing to ASEAN's unity and strengthening its centrality and self-resilience.
The two sides highlighted ASEAN's common stance on the importance of maintaining peace, security, stability, safety and freedom of navigation in and overflight above the South China Sea (Bien Dong Sea).
Vietnamese President Nguyen Xuan Phuc and Cambodian PM Samdech Techo Hun Sen witnessed the signing of seven cooperation agreements in various areas. The two countries' businesses also struck a number of deals and agreements.
Together with President of the Cambodian NA Samdech Heng Samrin, Phuc attended a groundbreaking ceremony for a new building of the Cambodian legislature, which is a gift of the Vietnamese Party, State and people.
The Vietnamese leader also visited religious leaders of the host country, laid wreaths at the Monument of Preah Bat Samdech Preah Norodom Sihanouk "Preah Borom Ratanak Kaudh", the late King Father of Cambodia, and met representatives of the Vietnamese community living and working in Cambodia.
Promoting fresh wave of Vietnamese investments in Cambodia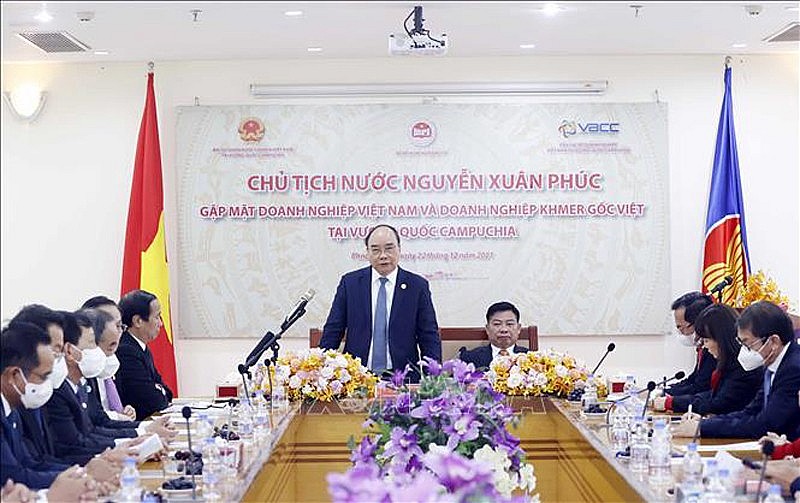 President Nguyen Xuan Phuc speaks at the meeting. Photo: VNA
Earlier, at a meeting with the Vietnamese business community and Khmer businesses of Vietnamese origin that are currently investing and doing business in the Cambodian market, President Phuc stressed the need to promote a new wave of Vietnamese investments in the neighouring country, especially in potential fields such as real estate, construction, agriculture, retail, tourism, and entertainment.
He praised the spirit of overcoming difficulties faced by businesses, especially during the Covid-19 pandemic, while appreciating the role of the Cambodian market, particularly in the field of agricultural products, VOV said.
The leader also applauded new Vietnamese investment trends which focus on sustainable fields such as fruit exports and clean energy.
The majority of businesses used the event to express concerns over the situation of Vietnamese-speaking workers and personnel in the majority of business fields, especially the financial-banking-telecommunications sector, which has seen a decrease.
Vietnamese businesses based in Cambodia proposed that the State and Government outline directions aimed at increasing scholarships for Cambodian students to study in Vietnam, as well as creating conditions in terms of human resources as a contribution to connecting the two cultures.
The past decade has seen many enterprises, such as Vietnam Rubber Group (VRG) and Thagrico, prove their effectiveness and make significant contributions to the Cambodian economy in areas where rubber and fruit trees are grown. This effort has served to create thousands of jobs for local people, as well as effectively supporting the relocation and career change of Vietnamese Cambodian people.
These results can be put down to Vietnamese investment promotion policy in Cambodia over the course of several years.
With the neighbouring country being defining as a key and strategic area, the business community has suggested the Government direct the research, development, and promulgation of a strategy for investment and economic co-operation between both sides for a ten-year period.
Strengthening defence cooperation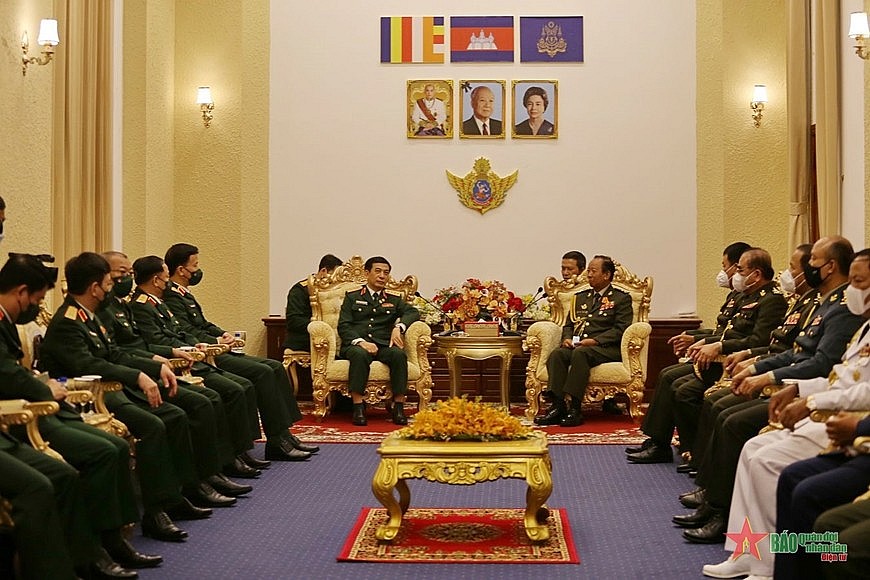 Minister of National Defence Phan Van Giang meets with his Cambodian counterpart Tea Banh. Photo: Vietnam People's Army newspaper
Within the framework of President's Phuc visit to Cambodia, Minister of National Defence Phan Van Giang met with his Cambodian counterpart Tea Banh, during which they agreed to enhance bilateral defence-security ties in the principle of not allowing any hostile force to use one's territory to sabotage security of the other.
The two ministers pledged to effectively implement existing defence and security agreements, improve the efficiency of border protection and management, uphold existing cooperation mechanisms and strive to search, unearth and repatriate remains of Vietnamese voluntary soldiers and experts who died in Cambodia, according to Nhan dan (People) newspaper.
Tea Banh expressed his thanks for the strong support and assistance that various generations of leaders and people of Vietnam have given to Cambodian people in the past and at present, affirming that Cambodia will always keep in mind the Vietnamese volunteer soldiers' assistance to the Cambodian people in liberating Cambodia from the Khmer Rouge genocide regime in 1979.
In his capacity as Chairman of the Cambodia SEA Games Organising Committee next year, Tea Banh wished to visit Vietnam to learn from its experience in organising the biggest sport event in Southeast Asia.
Minister Giang spoke highly of Cambodia's economic development, especially in urban infrastructure.
He suggested the two countries jointly hold a border exchange next year on the occasion of the 45th anniversary of Cambodian PM Samdech Techo Hun Sen's national salvation journey at his stopover X-16 in the southern province of Binh Phuoc.
On the occasion, Minister Tea Banh invited Minister Phan Van Giang to pay an official visit to Cambodia in the near future./.