President Nguyen Xuan Phuc to Visit Cambodia Next Week
President Nguyen Xuan Phuc will pay a two-day state-level visit to Cambodia this month at the invitation of Cambodian King Norodom Sihamoni.
President Nguyen Xuan Phuc. Photo: VNA
The trip will take place on December 21 and 22, according to Nhan dan (People) newspaper.
Khmer Times said during the visit, President Phuc is expected to be granted separate royal audiences by His Majesty King Norodom Sihamoni, and Queen-Mother Norodom Monineath Sihanouk.
He will also meet with Prime Minister Hun Sen, Senate President Say Chhum, and National Assembly President Heng Samrin.
As scheduled, National Assembly President Samrin and President Phuc will preside over the ground-breaking ceremony for the new administrative building at the National Assembly.
The Vietnamese leader will also lay wreaths at the Independence Monument, and the Royal Statue of the Late King-Father Norodom Sihanouk in Phnom Penh.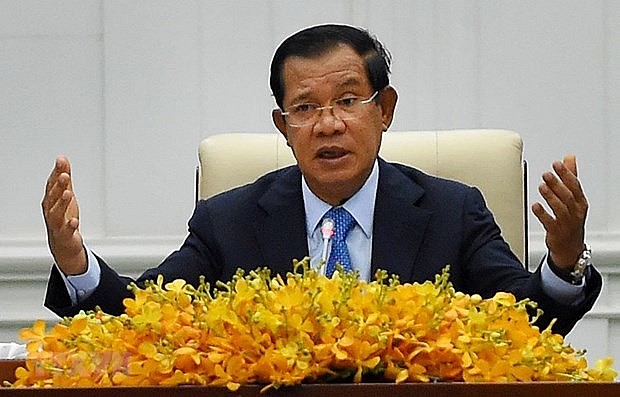 Cambodian Prime Minister Hun Sen. Photo: AFP/VNA
At a reception for newly-appointed Vietnamese Ambassador to Cambodia Nguyen Huy Tang last month, Cambodian Prime Minister Hun Sen expressed his hope for expanded trade ties between Cambodia and Vietnam, VietnamPlus said.
He said Cambodia and Vietnam should enhance their trade links, towards a bilateral agreement on agriculture, especially agricultural production in border areas.
Despite the Covid-19 pandemic, trade ties between Cambodia and Vietnam have still been maintained and recorded significant growth, he said, suggesting the two countries resume direct air routes.
During the seventh Vietnam-Cambodia political consultation held via videoconference in October, the two sides shared the view that amid the Covid-19 pandemic, the two sides have made efforts to maintain all-level exchanges and meetings in various forms, and effectively made use of bilateral cooperation mechanisms.
Two-way trade in the first eight months of this year saw good growth to reach $6.65 billion, doubling the figure of the same period last year. Vietnam remained among five biggest investors in Cambodia with 188 projects worth over $2.85 billion.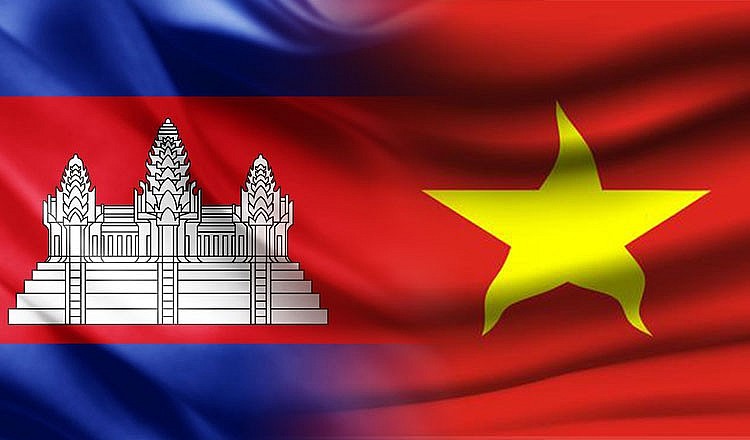 Photo: Khmer Times
The two sides agreed to step up trade and economic recovery post-pandemic, enhance national defence-security cooperation, improve the efficiency of border management and collaboration in education, information and communications, culture-sports and people-to-people exchange.
They pledged to work closely together to seek solutions to the issue of legal papers for Cambodians of Vietnamese origin and ensure the smooth relocation and resettlement of Cambodians of Vietnamese origin in the Tonle Sap region.
Both sides agreed to coordinate for the organisation of celebrations for the 55th anniversary of bilateral diplomatic ties during the Vietnam – Cambodia, Cambodia – Vietnam Friendship Year 2022, and the 11th Conference on Cooperation and Development of Border Provinces, the 19th meeting of the Vietnam – Cambodia Joint Committee on Economic, Cultural, Scientific and Technological Cooperation and other important external events in the time ahead./.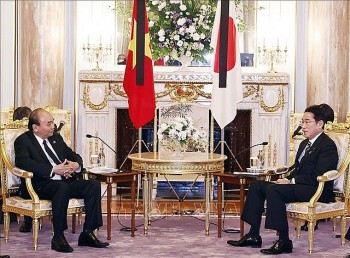 Friendship
Vietnam always treasures the extensive strategic partnership with Japan and views Japan as an important and long-term strategic partner, President Nguyen Xuan Phuc told Japanese Prime Minister Kishida Fumio in Tokyo on September 26.