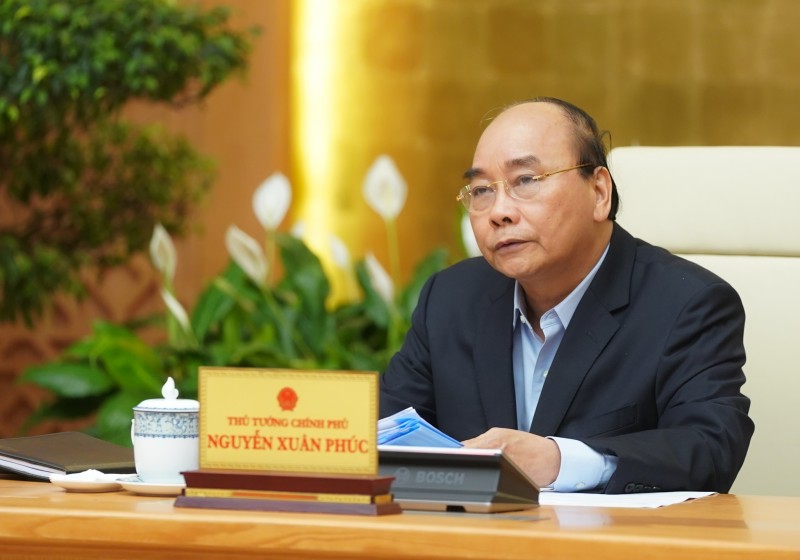 Prime Minister Nguyen Xuan Phuc (Photo source: VGP)
At the regular government meeting to prevent the COVID-19 epidemic, Prime Minister Nguyen Xuan Phuc ordered the closure of unnecessary services to minimize crowds and suggested that worshiping facilities should not gather.
Regarding urgent and temporary measures while the epidemic transferred into a new phase, the Prime Minister stated that the consensus, hands-on participation, the seriousness and drasticness in prevention, especially the coordination among the people in every street, every apartment, every house, and every citizen is very important.
Regarding concentrated isolation at hotels, priority is given to foreigners and costs are paid by foreign units and individuals.
Domestic and railway flights must also be examined; passenger cars should take measures to combat disease transmission.
The Ministry of Health should quickly have plans to buy and use tests more timely, and report to the Head of the Steering Committee. The Ministry of Health is responsible for urgently deploying rapid tests in isolated areas and in communities to screen people with COVID-19 infection and to minimize the risk of infection.
If the testing machine and test kit in the country ensure quality, we should focus on buying domestic products for the prevention of the epidemic.
Regarding the support of the COVID-19 epidemic prevention, to date it has received VND 305 billion supported by organizations and individuals, and private messaging through 1407 received VND 60 billion. "This is the cause of the entire people; the people support us a lot, even the businesses now also join hands to protect the people's health," the Prime Minister said.
Coronavirus situation Update in Europe

The current COVID-9 outbreak has spread worldwide with 311,000 cases detected, including more than 13,200 deaths. Followed is the situation update in Europe region as ...
Candy Lee
https://thoidai.com.vn/thu-tuong-nguyen-xuan-phuc-yeu-cau-dong-cua-cac-dich-vu-khong-can-thiet-103218.html