Coronavirus situation Update in Europe
The current COVID-9 outbreak has spread worldwide with 311,000 cases detected, including more than 13,200 deaths. Followed is the situation update in Europe region as of 23 March 2020.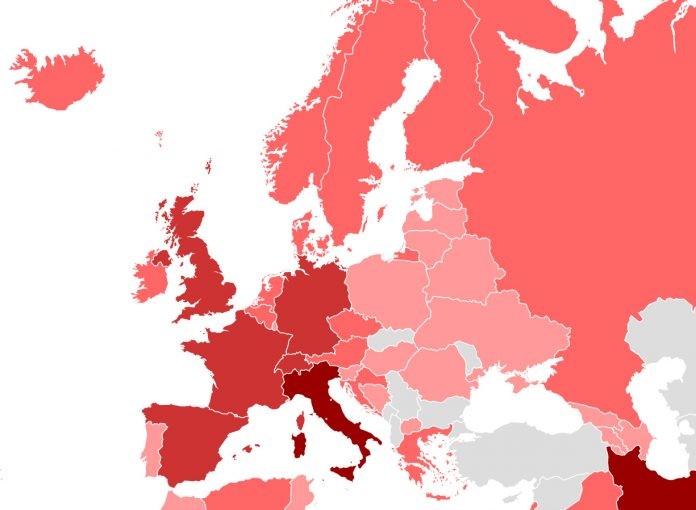 COVID-19 Europe Map
As of March 23, in the EU/EEA and the UK, 141,858 COVID-19 cases have been reported: Italy (53,578), Spain (24,926), Germany (21,463), France (14,459), United Kingdom (5,018), Netherlands (3,631), Austria (3,024), Belgium (2,815), Norway (1,926), Sweden (1,746), Denmark (1,326), Portugal (1,280), Czech Republic (995), Ireland (785), Luxembourg (670), Poland (536), Greece (530), Finland (521), Iceland (473), Slovenia (383), Romania (367), Estonia (306), Croatia (206), Slovakia (178), Bulgaria (163), Hungary (131), Latvia (124), Lithuania (105), Cyprus (84), Malta (73) and Liechtenstein (36).
7,319 deaths have been reported: Italy (4,827), Spain (1,326), France (562), United Kingdom (233), Netherlands (136), Belgium (67), Germany (67), Sweden (20), Denmark (13), Greece (13), Portugal (12), Austria (8), Luxembourg (8), Norway (7), Poland (5), Hungary (4), Bulgaria (3), Ireland (3), Croatia (1), Finland (1), Iceland (1), Lithuania (1) and Slovenia (1).
Italy is the hardest-hit country in Europe with 53,578 cases and 4,827 deaths. The nation's first two positive coronavirus cases were reported on 30 January, while the first death occurred on 22 February. The majority of the infections are concentrated in Lombardy and Veneto regions. Several other countries in Europe traced new cases to Italy. The government locked down several towns and cancelled major events to control the spread of the virus.
Spain is the second country seriously hit by COVID-19, after Italy. 24,926 cases have been detected in this country and 1,326 patients died. Spain confirmed its first case on 01 February. The nation recorded its first coronavirus-related death on March 3. The majority of the confirmed cases are said to be Italians or people with a travel history to Italy.
Following Spain as the third country seriously affected by the disease in Europe is Germany with 21,463 infectious cases. The first case was reported on 28 January in a man in Starnberg. The patient was said to have contracted the infection via human-to-human transmission.
A total of 14,459 confirmed cases and 562 deaths have been reported in France. On January 24, the country reported its first two Covid-19 cases, also the first in Europe. The first death occurred on 15 February, marking the first casualty outside Asia.
United Kingdom (UK) confirmed a total of 5,018 cases, 233 deaths. The first two cases were reported in England on January 31 in members of the same family. The UK Secretary of State announced new regulations to deal with the coronavirus spread, which has been categorised as a serious and imminent threat to public health.
The new coronavirus, symbolized by WHO as 2019-nCoV, also known as Wuhan coronavirus or Wuhan pneumonia, began to appear and spread from the end of 2019. On January 12, 2020, it was named by the World Health Organization. Cases are now being detected in Europe and across the globe. As of 23 March 2020, 305,275 cases of COVID-19 have been reported, including 12,942 deaths worldwide.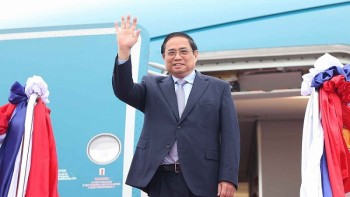 National
Vietnam News Today (Feb. 6): PM Chinh to pay official visits to Singapore, Brunei; Vietnam attends ASEAN+3 Tourism Ministers Meeting; Exports in 2023 and high demands from new generation FTAs; Digital technology to spearhead Vietnam's drive for Industry 4.0.