Prime Minister praises 'hero' delivery driver for saving little girl falling from balcony
Prime Minister Nguyen Xuan Phuc has praised a delivery man for his brave act and after he saved a little girl falling from a balcony of a high-rise in Hanoi.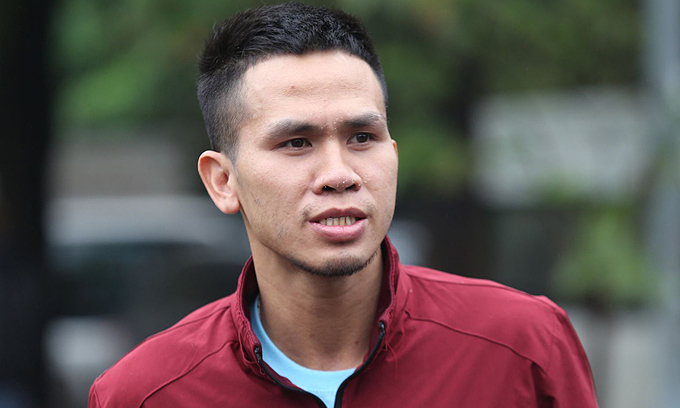 Nguyen Ngoc Manh, 31, still finds himself trembling as he recalls how he saved a little girl falling from the balcony of an apartment complex in Hanoi on February 28, 2021. Photo: VnExpress
Prime Minister Nguyen Xuan Phuc on March 1 praised Nguyen Ngoc Manh for his brave act and after he saved a little girl falling from a balcony of a high-rise in Hanoi.
"I was touched when learning about the news," the PM said, lauding the delivery man's courage and sense of responsibility.
He suggested the Hanoi People's Committee and the Central Emulation and Rewards Committee honour the man in order to promote his good deed among the community.
At around 5:30 p.m. on February 28, locals near an apartment complex on Nguyen Huy Tuong Stre saw a little girl climbing over a 12th-floor balcony railing. Manh was sitting in his car parked on the complex grounds when he heard the sound of a child crying, VnExpress reported.
At first, he thought they were cries of a baby on tantrum, but realized a minute later that it was something different. Multiple fearful screams and shouting soon echoed around him, so he rolled down the windows to take a good look outside. As he looked up the apartment complex, he was spooked to see the child "dangling on the 12th floor, about to fall down."
He ran outside, climbed over the two-meter wall between him and the apartment building, looking for where the child would possibly land. "I scaled the wall and saw that she could fall onto the metallic roof of the house used to store electric generators for the complex, so I tried to climb on top of it. I made it, but couldn't stand firmly as the roof was crooked," Manh said, adding that he regretted not being able to find a better spot to catch the child.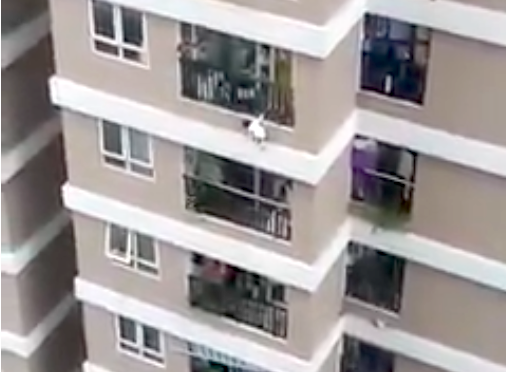 A video still showing a little girl hanging from a Hanoi apartment balcony, seconds before she fell.
The child was around 50 m off the ground, while the roof was about 3 m off it. As he stood on the roof, Manh slipped off his footing, the same time the child started stumbling down. So he flung himself forward and catch her, the impact leaving a dent on the roof. The child was not crying, only staring at Manh, blood oozing from her mouth.
"She looked so much like my child at home. I was so confused, only able to tell her 'please, please, I'm here now," he recalled.
The entire ordeal happened in less than two minutes.
Manh quickly turned the girl over to a security guard so she could be hospitalized, realizing later he has sprained his arm muscles.
On March 1 morning, doctors at National Children's Hospital, where the girl was admitted, said she dislocated her hip after the incident, but suffered no other anomalies.
Though many netizens have called him a hero on social media, Manh said he disliked the moniker, believing anyone would have done the same given the circumstances.
"I don't see myself as a hero. I just want to do good," he commented./.