Prime Minister Request Stronger Pandemic Control During National Day Holiday
With a four-day break for the September 2 National Day holiday coming up, Prime Minister Pham Minh Chinh has asked all localities to ensure strict pandemic prevention.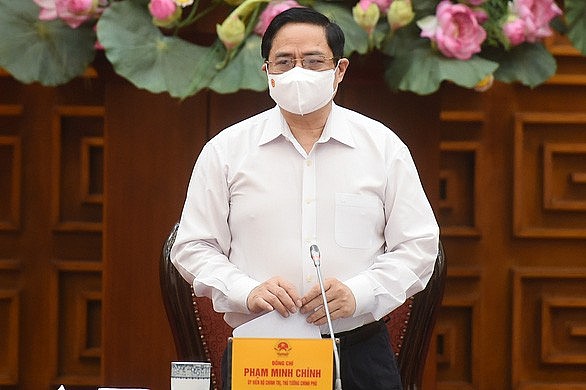 Prime Minister Pham Minh Chinh during a meeting. (Photo: VGP)
Prime Minister Pham Minh Chinh on August 31 signed official dispatch No. 1108/CD-TTg on strengthening COVID-19 prevention and control during the country's National Day holiday (September 2).
According to the dispatch, the Covid-19 pandemic has not been controlled completely in the country, especially in southern cities and provinces and several localities with crowd populations and vibrant trade.
As the National Day holiday lasts four days, the PM asked Chairpersons of the People's Committees of centrally-run cities and provinces to continue directing and strengthening prevention and control measures in a strict and effective manner, according to VNA.
Localities applying social distancing measures must seriously follow Resolution No. 86/NQ-CP, official dispatch No. 1099/CD-TTg dated August 22, 2021 and official dispatch No. 1102/CD-TTG dated August 23, 2021. They were also required to strictly punish violations of prevention and control regulations while ensuring social welfare and social safety and order.
Other provinces and cities were urged to fully and strictly take pandemic prevention and control measures, especially the 5K message, as well as stopping festivals, unnecessary gatherings, and activities in public places, entertainment areas, tourism, and spiritual destinations.
Heads of Party committees and administrations at all levels will be responsible for directing anti-pandemic work in their areas. Localities must deploy forces working round-the-clock to promptly discover and deal with any arising problems.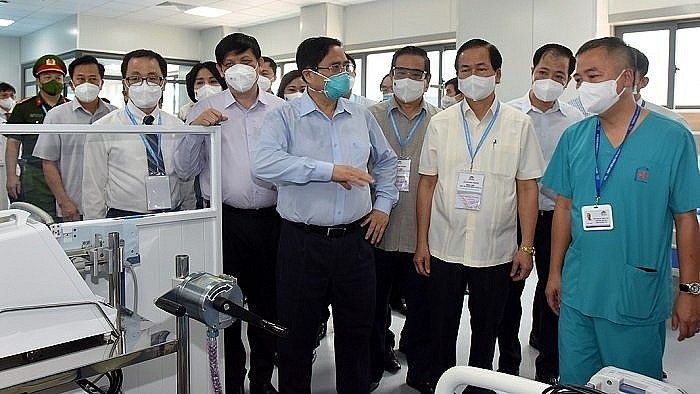 Prime Minister Pham Minh Chinh inspected a new Covid-19 treatment hospital in Hanoi's Hoang Mai district (Photo: NDO/Tran Hai)
Ministries, agencies and provinces, and cities were also assigned to offer all possible support to localities in the fight against Covid-19.
The holiday which allows people four days off from Thursday to Sunday could lead to threats of spreading infections if they travel and gather together in one place, he said. While the ongoing Covid-19 wave has yet to be controlled, local authorities must ensure that people will not gather in crowds, according to VN Express.
He demanded all frontline task forces at each locality to stay alert "around the clock" to handle any possible violations and threats to "absolutely avoid the situation of being neglected and losing vigilance, allowing the pandemic to grow stronger as what had happened during the Reunification Day (April 30) and Labor Day (May 1) holidays.
During the four-day holiday starting April 30, huge crowds had been flocking to tourist hotspots across Vietnam even when Covid-19 had already reemerged in the nation. At that time, 16 new domestic cases had been confirmed after Vietnam had gone over a month of no Covid-19 community transmission. Those cases are the first of the fourth Covid-19 wave, which is by far the most challenging the nation has faced.
Also on August 31, prime minister Pham Minh Chinh inspected a new Covid-19 treatment hospital in Hanoi's Hoang Mai district before it was officially put into operation the same day. The PM requested relevant agencies to effectively operate the 500-bed facility and provide more professional training to medical staff in the service of Covid-19 patients.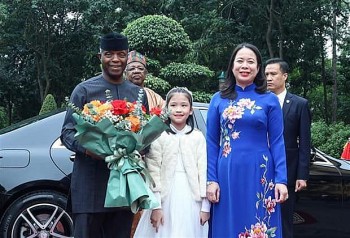 National
The two countries have strived to raise their bilateral trade to over USD 500 million and become important trade partners of each other in respective regions.