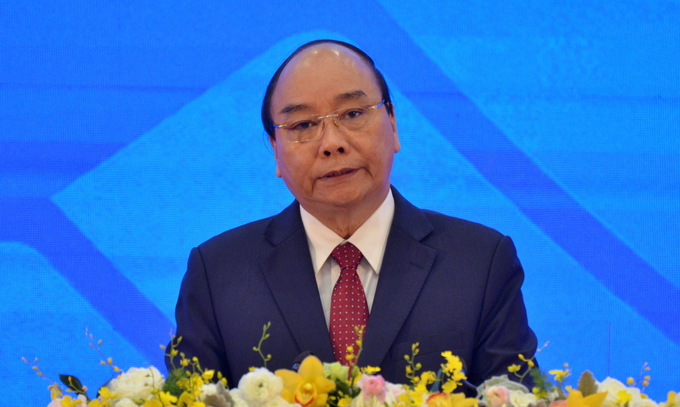 Prime Minister Nguyen Xuan Phuc at the 37th ASEAN Summit, November 12, 2020. Photo: VnExpress
Prime Minister Nguyen Xuan Phuc will attend the G20 Leaders' Summit on November 21-22 at the invitation of Saudi Arabian King Salman bin Abdulaziz Al Saud, the Ministry of Foreign Affairs said on November 19.
Vietnam has attended almost all important G20 conferences this year, such as ministers' meetings on diplomacy, finance, banking, agriculture, education, healthcare, the digital economy, labour-employment, the environment, energy, trade, and tourism, as well as senior officials' meetings and meetings of specialised working groups.
PM Phuc attended the virtual Special G20 Summit on COVID-19 response on March 26, thereby affirming Vietnam and ASEAN's contributions to common global efforts to fight the pandemic while also conveying a message about Vietnam's determination and the outcomes of its own efforts.
At the upcoming summit, G20 leaders will look into cooperation regarding the pandemic, trade, investment, the digital economy, and sustainable development.
The PM will attend and speak at discussions on overcoming the pandemic, growth recovery and employment, and building sustainability, inclusiveness, and resilience, the Vietnam News Agency reported.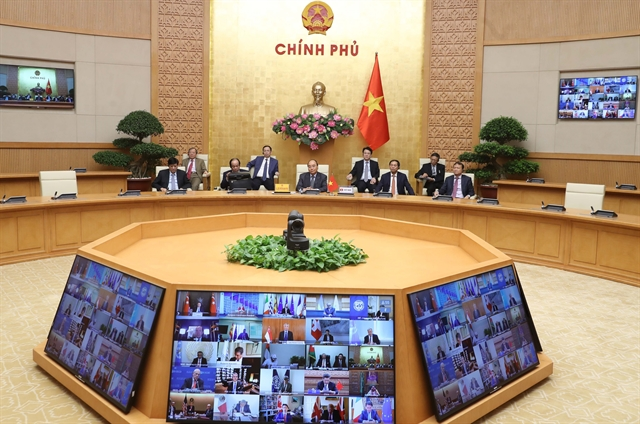 Prime Minister Nguen Xuan Phuc attended the G20 emergency video summit in March during which leaders of the 20 major economies discussed coordinated responses to the widening COVID-19 pandemic. Photo: VNA
This year's summit will be held virtually under the theme "Realizing Opportunities of the 21st Century for All".
"Empowering people," "Safeguarding the planet," and "Shaping new frontiers" are the central focus of the summit.
The G20 has contributed over US$21 billion to support the production, distribution, and access to diagnostics, therapeutics, and vaccines.
In a bid to safeguard the global economy from the effects of the coronavirus pandemic, the G20 countries have also injected $11 trillion (€9.5 trillion).
Vietnam participated in a G20 Summit for the first time in 2020 as the ASEAN Chair, according to the VGP News.
In 2017, the country was invited to the G20 Summit in Germany.
Last year, PM Nguyen Xuan Phuc and his spouse arrived in Osaka, Japan for the 14th G20 Summit.
The G20 is the premier forum for international economic cooperation. It gathers leaders of the world's largest economies to discuss financial and socioeconomic issues./.
Rosy Huong