Vietnam suggests G20 advance Code of Conduct for border management cooperation
The G20 could work together with international organizations and other countries to advance discussion on a Code of Conduct or Roadmap for cooperation in border management and international travel facilitation.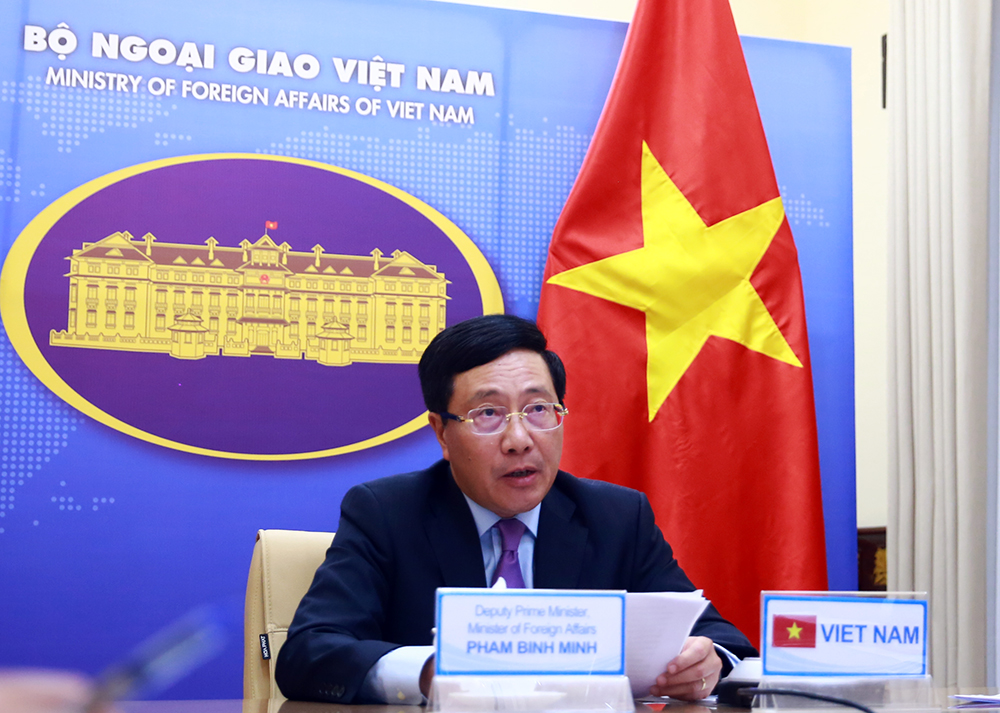 Deputy Prime Minister, Foreign Minister Pham Binh Minh addresses G20 Foreign Ministers' extraordinary meeting on strengthening international cooperation across borders, on August 3, 2020. Photo: VGP
The G20 could work together with international organizations and other countries to advance discussion on a Code of Conduct or Roadmap for cooperation in border management and international travel facilitation, Deputy Prime Minister and Foreign Minister Pham Binh Minh said on September 3 while attending a virtual meeting of G20 foreign ministers.
Vietnam was invited to the meeting in its capacity as ASEAN Chair. The extraordinary meeting focused on strengthening international cooperation across borders amid the COVID-19 pandemic.
In his remarks, Minh appreciated the initiative of Saudi Arabia, the G20 President, in organizing the meeting on this critical matter.
He said solidarity, cooperation and coordination at the global and regional level are "more crucial now than ever" to overcome the global public health crisis of such scale and complexity.
Through its economic and technological capacity, the G20 has made important contributions to the fight against the COVID-19 pandemic and cushioning of its socio-economic impact.
"As the 2020 ASEAN Chair, Vietnam has worked closely with partners in the spirit of a cohesive and responsive ASEAN. We have put forth initiatives to promote a joint response to combat the pandemic, provide assistance for the people and foster economic recovery, Minh was quote VOV as saying
He urged G20 countries to continue taking the lead with innovative actions, joined by the international community and institutions to expedite the research and development of effective and safe vaccines and antiviral drugs for COVID-19, while ensuring that every citizen shall have equitable access to affordable vaccines.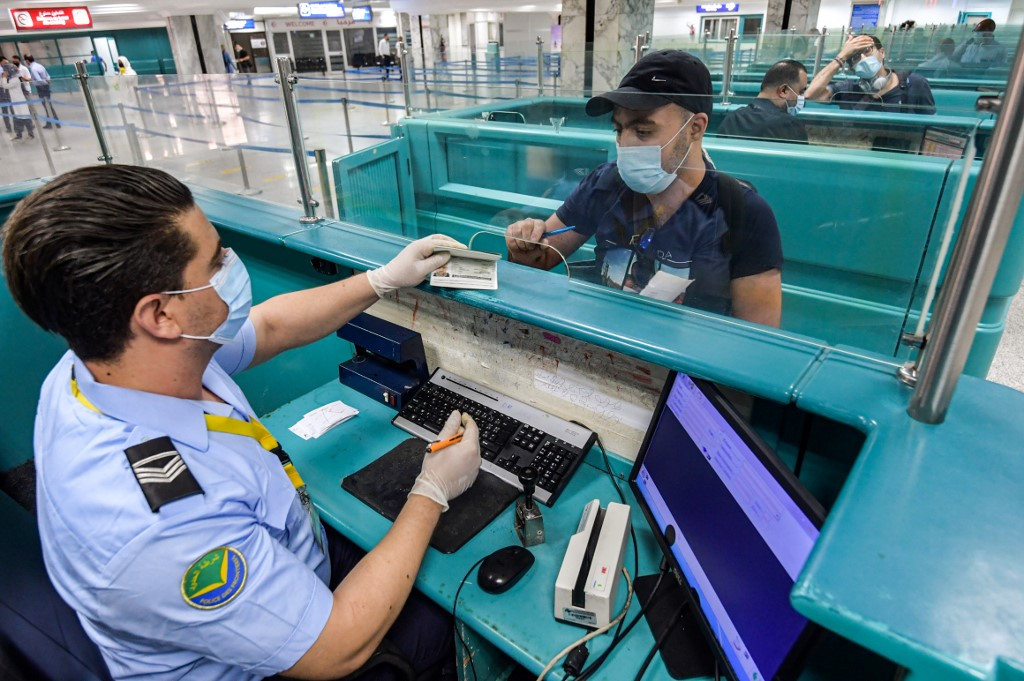 A mask-clad passenger arriving on the first international commercial flight from Europe speaks with a passport control officer at Tunis-Carthage International Airport in the Tunisian capital on June 27. Photo: AFP
He called for promoting cooperation in border management, including sharing of information and experience, ensuring health safety measures at the border checkpoints, applying technologies to discover and trace cases, and illegal migration.
ASEAN is currently discussing the possibility of establishing an ASEAN Travel Corridor to facilitate movement for officials and essential business travellers in compliance with health protocol, according to Minh.
Minh also expressed his hope that all countries would maintain their commitment to an open market, cross-border trade and investment facilitation, and the maintenance of global and regional supply chains, especially for essential goods, food and medical equipment.
In addition, Minh stressed that it is important to enhance cooperation in capacity-building to prepare for and respond to future non-traditional security challenges, such as contagious epidemics and cyber-security issues.
G20 ministers agree on need to ease coronavirus border controls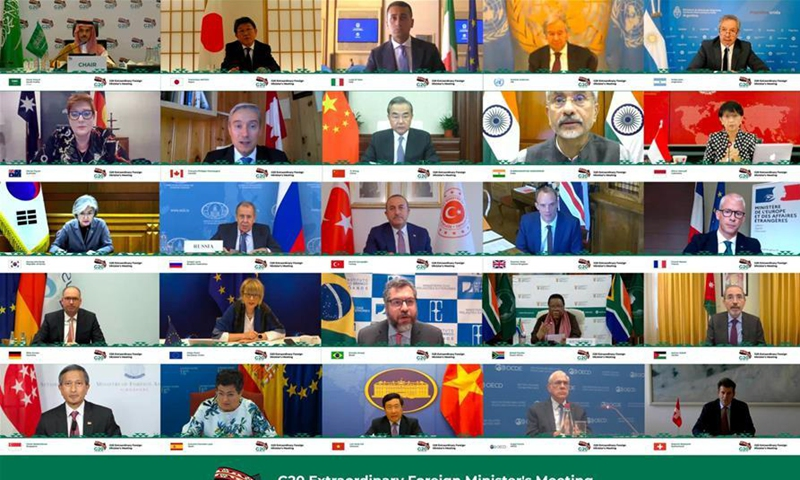 G20 foreign ministers highlight coordination of cross-border management to protect lives and livelihoods during coronavirus crisis,.Photo:Xinhua
The G20 minsters confirmed the importance of easing border control restrictions imposed to reduce the risks of coronavirus infections, according to Saudi Arabia, president of the framework this year.
The ministers "acknowledged the importance of opening borders, uniting families, and promoting measures to allow the economy to thrive" in line with protective health measures and national regulations, Saudi Arabia said in a statement released after the virtual meeting.
The ministers expressed their deep condolences for the huge loss of human life and tragic impacts caused by COVID-19 and acknowledged the efforts and commitment of frontline workers to public health and safety.
"Reopening borders, in accordance with all the protective measures and national regulations, will help our economies to thrive, people to prosper," Saudi Foreign Minister Faisal bin Farhan said in the statement.
Saudi Arabia plans to hold a leaders' summit in November in Riyadh.
The G20 consists of Argentina, Australia, Brazil, Britain, Canada, China, France, Germany, India, Indonesia, Italy, Japan, Mexico, Russia, Saudi Arabia, South Africa, the Republic of Korea, Turkey, the United States and the European Union.
Representatives from the United Nations, World Health Organization, World Bank and Organization for Economic Cooperation and Development also took part in the meeting./.