Promoting Multifaceted Cooperation between Vietnam and Switzerland
More than half a century, relations between Vietnam and Switzerland have developed strongly not only in politics and multilateral cooperation but also in trade, investment, science, culture, tourism and people-to-people exchange.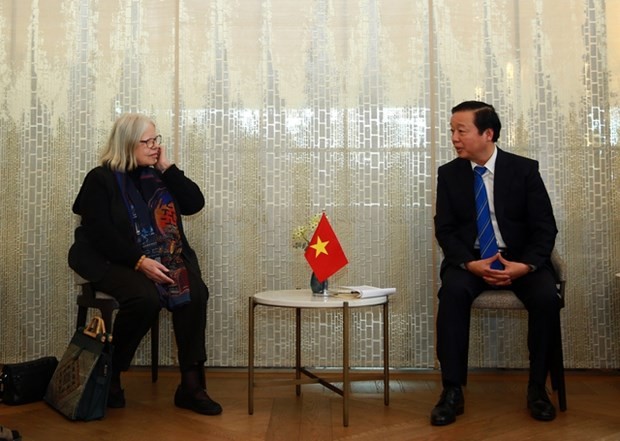 Deputy Prime Minister Tran Hong Ha receives President of the Switzerland-Vietnam Friendship Association Anjuska Weil in Davos on January 15 (local time). Photo: VNA
Deputy Prime Minister Tran Hong Ha received President of the Switzerland-Vietnam Friendship Association Anjuska Weil in Davos, as part of his trip to Switzerland for the World Economic Forum Annual Meeting 2023, VNA reported.
Ha noted with pleasure the strong development of the fine traditional friendship between the two countries over the past time across spheres, from politics, economy-trade and investment, to science, culture, tourism and people-to-people exchange at multilateral forums.
Ample room remains for the bilateral collaboration, especially in climate change response, green energy transition and circular economy, which are of Switzerland's strengths and Vietnam's demand, the official noted.
Lauding people's associations of the two countries for their coordination in organising people-to-people exchanges, contributing to enhancing the bilateral friendship and mutual understanding, Ha expressed his hope that the association will coordinate with Vietnam's diplomatic offices in the country and the Vietnamese community there in materialising initiatives, for the development of the bilateral multifaceted cooperation.
For her part, Weil briefed the Deputy PM on the operations of her association since its inception in 1982, and affirmed that it will make more contributions to the friendship and people-to-people exchange.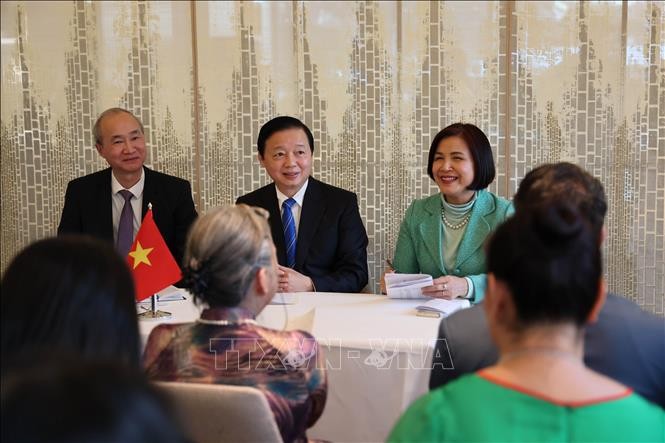 Deputy Prime Minister Tran Hong Ha meets representatives of the Vietnamese community in Switzerland. Photo: VNA
The same day, Ha met representatives of the Vietnamese community in Switzerland.
The Deputy PM said that Vietnam is preparing solid foundations for more sustainable development, notably building an economy with knowledge and innovation as the driving force; step by step transition to green economic model and circular economy. With the above major orientations, Ha expressed his wish that the Vietnamese community in Switzerland accompanies the Government in building innovation centers; attract investment in the underlying industries; acting as a bridge to share experiences of developed countries in green and circular economy.
Deputy PM Ha also held talks with Swiss Federal Councillor for Economic Affairs, Education and Research of Switzerland Guy Parmelin on January 16.
Deputy PM Ha underlined that with a nearly 100-million-strong market, the engagement in 15 free trade agreements, and the transition to sustainable growth, green, circular and low-carbon economy, Vietnam is becoming an attractive destination offering great chances in economy, trade and investment.
The Deputy PM suggested that Switzerland invest more in projects with high, new and clean technologies, environment protection, innovation, modern governance, high added values, and widespread effects, which help connect the global production and supply chain.
An overview of the talks. Photo: VGP
He asked Parmelin to create favourable conditions for Swiss firms to operate in Vietnam in the long term, especially in areas of Switzerland's strength and Vietnam's demand such as finance-banking, insurance, manufacturing, pharmaceuticals, agricultural product processing, renewable energy, and tourism.
Stressing that Vietnam is in need of collaboration in research and innovation towards the net-zero emission goal in 2050, the country hopes for Switzerland's support through different cooperation forms in the field.
Parmelin highly valued Vietnam's commitments to net-zero emissions at the 26th UN Climate Change Conference (COP26) and congratulated Vietnam on reaching just energy transition with G7 countries and development partners. He affirmed that the country will assist Vietnam in switching to circular economy and circular production, digital economy and digital transformation towards greener direction.
Regarding the free trade agreement (FTA) between Vietnam and the European Free Trade Association (EFTA), the two sides agreed that the negotiation conclusion will open up more chances for bilateral trade and investment partnership.
Ha proposed that the Swiss side continue to coordinate with Vietnam to speed up the negotiation of the deal in the time to come. He pledged that Vietnam is willing to act as a bridge for EFTA members to reach the ASEAN market.
Regarding multilateral cooperation, the Vietnamese official congratulated Switzerland on being elected to the UN Security Council. The two sides concurred to strengthen cooperation and mutual support at multilateral organisations and international organisations of which both sides are members.
He said he hopes Parmelin will continue to back the Vietnamese community in the country to settle down.
Following their talks, Deputy PM Ha and Councillor Parmelin chaired a meeting with Swiss businesses and investors, who showed their impressions at Vietnam's achievements in economic recovery, and highly valued the country's economic outlook.
They held that the free trade agreement between Vietnam and the EFTA will help boost trade and investment of Swiss investors in Vietnam. They said they hopes to expand investment scale and business partnerships in Vietnam.
Deputy PM Ha answered questions by the investors while suggesting a number of measures to settle existing problems and giving suggestions on green and environmentally-friendly investment.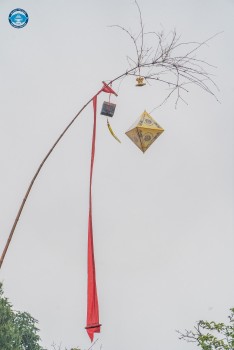 Viet's Home
In the past, the Neu pole (a tall bamboo pole with red garment strips used to ward off evil spirits during the lunar New Year) lowering ceremony at the royal palace of the Nguyen Dynasty was performed to mark the end of the New Year holiday and prepare to enter a new working year.