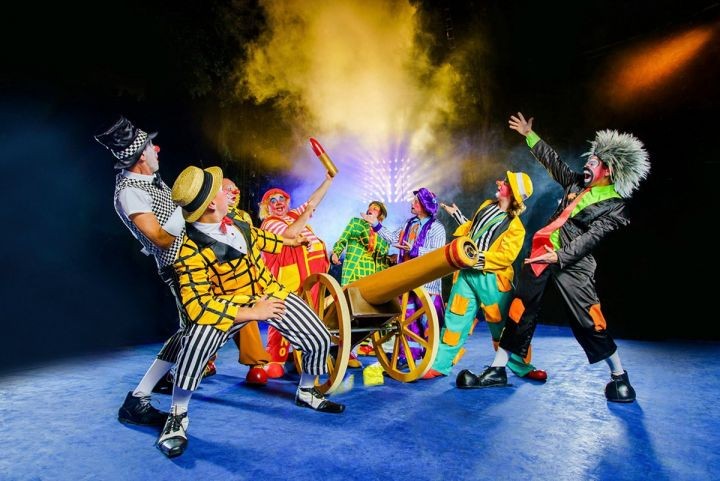 The Clown show from Chile. Photo: Ha Long Circus Festival
A representative from the Quang Ninh Provincial Department of Tourism told the "Contribution of Circuses to Tourism Development - A Chapter of Great Wonder" seminar it co-organized with the local Department of Tourism, the Vietnam Circus Federation, and the Viet Sing Events JSC on November 14 that the northern city hopes to turn the Ha Long - World Circus Festival into an annual arts activity to attract tourists.
Considered one of three key tourism localities in Vietnam's north, joining Hanoi and Hai Phong, Quang Ninh has strongly invested in tourism development, one of the key pillars of the local economy. Based on advantages in having destinations such as World Natural Heritage Site Ha Long Bay, a history of hundreds of years with village communities, and emerging modern tourism attractions, Quang Ninh has introduced many "action plans" to attract more domestic and international visitors.
According to Nguyen Thuy Yen, Deputy Chairwoman of the Department of Tourism, in the last five years, tourists have come to Quang Ninh in larger numbers and revenue from tourism is posting a high rate of growth. It is estimated that it will welcome over 14 million visitors this year, up 14 per cent against 2018, of which international visitors will reach over 5.7 million, up 10 per cent. Tourism revenue has been estimated at nearly VND30 trillion (USD 1.3 billion).
Quang Ninh, however, wants more than that. "The Ha Long - World Circus Festival can become an annual event in the province," she said. "It's a new and unique cultural product to attract more tourists, especially during the low tourism season."
"A number of countries have exploited circus as a tourism product," said People's Artist Tong Toan Thang, Deputy Director of the Vietnam Circus Federation and Director of the Ha Long - World Circus Festival 2019.
"Many circus festivals have been organized in developed countries around the world, such as Italy, Spain, France and, more recently, China and Taiwan (China), among others. These festivals have become an 'annual tourism brand' that attract tourists at a certain time of the year, who may combine sightseeing and travel in a single visit," he added.
According to Peter Dubinsky, a member of the judging panel at the Ha Long - World Circus Festival 2019, Quang Ninh has a great opportunity to develop the circus art for tourism. In order to turn it into a tourism product, however, the province needs to organize the Festival for a number of years. There is also a need to ensure active contributions from the media.
Robert Sandor Donnert, another member of the judging panel, agreed that Ha Long Bay is a great tourism attraction for tourists from Europe. The organization of Festival would therefore help create a new tourism product for Ha Long and opportunities for tourists to explore local culture while enjoying circuses of international quality.
The seminar took place at the Quang Ninh Exhibition of Planning and Expo Center on the sidelines of Ha Long - World Circus Festival 2019.
VN Economic Times