Recipe: Vietnamese salad rolls with peanut dipping sauce (Goi cuon)
Fresh, light, healthy, and summery Vietnamese salad rolls are packed with vermicelli noodles, shrimp, fresh vegetables and herbs and dipped in a homemade peanut dipping sauce. Plus, they are super easy to make and are fully customizable, making them the perfect summer meal.
Vietnamese salad rolls, also known as spring rolls, summer rolls, or rice paper rolls are basically like a spring roll that are not fried. The key components in a salad roll are rice wrappers, vermicelli noodles, protein, vegetables, and fresh herbs.
How to make Vietnamese salad rolls with shrimp, pork and peanut dipping sauce (recipe and photos by vicky pham)
Serves 5-7
INGREDIENTS
2 lbs shrimp (peel and devein)
1 lb pork belly (you can also use pork shoulder for a leaner version)
2 tablespoons salt (divided)
1 shallot (peel and slice thin)
1 bag of thin rice vermicelli
Assortment of vegetables/herbs: lettuce, bean sprouts, sorrel, perilla, garlic chive and/or mint
Vietnamese peanut dipping sauce (*)
INSTRUCTIONS
Step1. Clean the pork belly by scrubbing it down with salt (1 tablespoon) then rinse under cold running water. I find this to be very helpful in removing a lot of the foul porky smell.
Step2. Add water (just enough to cover pork) and the sliced shallots. and salt (1 tablespoon) to a small pot and bring to a boil. Add pork and cook for 30 minutes or until an inserted chopstick goes in easily. Remove pork, rinse, pat dry. Slice thinly and set aside. You can also chill it in the fridge for about 30 minutes for easier slicing. You can keep the stock water to make the Vietnamese peanut dipping sauce.
Step3. To the pot that was used to boil the pork, add shrimp. Cook on medium high until shrimp turns opaque (or white/orange/pink). Remove from pot and half along the backside. Set aside.
Step4. Cook rice vermicelli per package instructions. Drain, rinse with cold water and set aside.
Step5. Assemble the rolls: Wet the rice paper quickly and shake off excess water. It will take a few seconds for the rice paper to become pliable enough to roll. On the bottom end of the rice paper, add a bed of noodles and an assortment of vegetables and herbs of your choice. Start rolling everything up from the bottom, tightly tucking in the noodles and vegetables as you roll up. Fold in the sides when you are half-way through rolling. Add pork slices and shrimp facing down towards the other end of the rice paper. Putting the shrimp towards the end of the rice paper allows you to see the shrimpy goodness through the rolls, which makes it look more appetizing. Seal the rolls by continuing to roll up.
Step6. For Vietnamese peanut dipping sauce: you need 2 tablespoons vegetable oil, 3 cloves garlic (peel and mince), 2 cups water or chicken/pork/shrimp stock, 1/2 cup hoisin sauce, 1 cup sweetened creamy peanut butter, 1/2 cup crushed unsalted toasted peanuts, Sriracha or Sambal chili sauce

In a small pot, heat vegetable oil on medium high. Add garlic and saute until it begins to turn color (about 30 - 60 seconds). Add water or stock, hoisin sauce, peanut butter. Mix well and turn heat to low and cook for 3-5 minutes. Top with optional crushed toasted peanuts and your favorite chili sauce.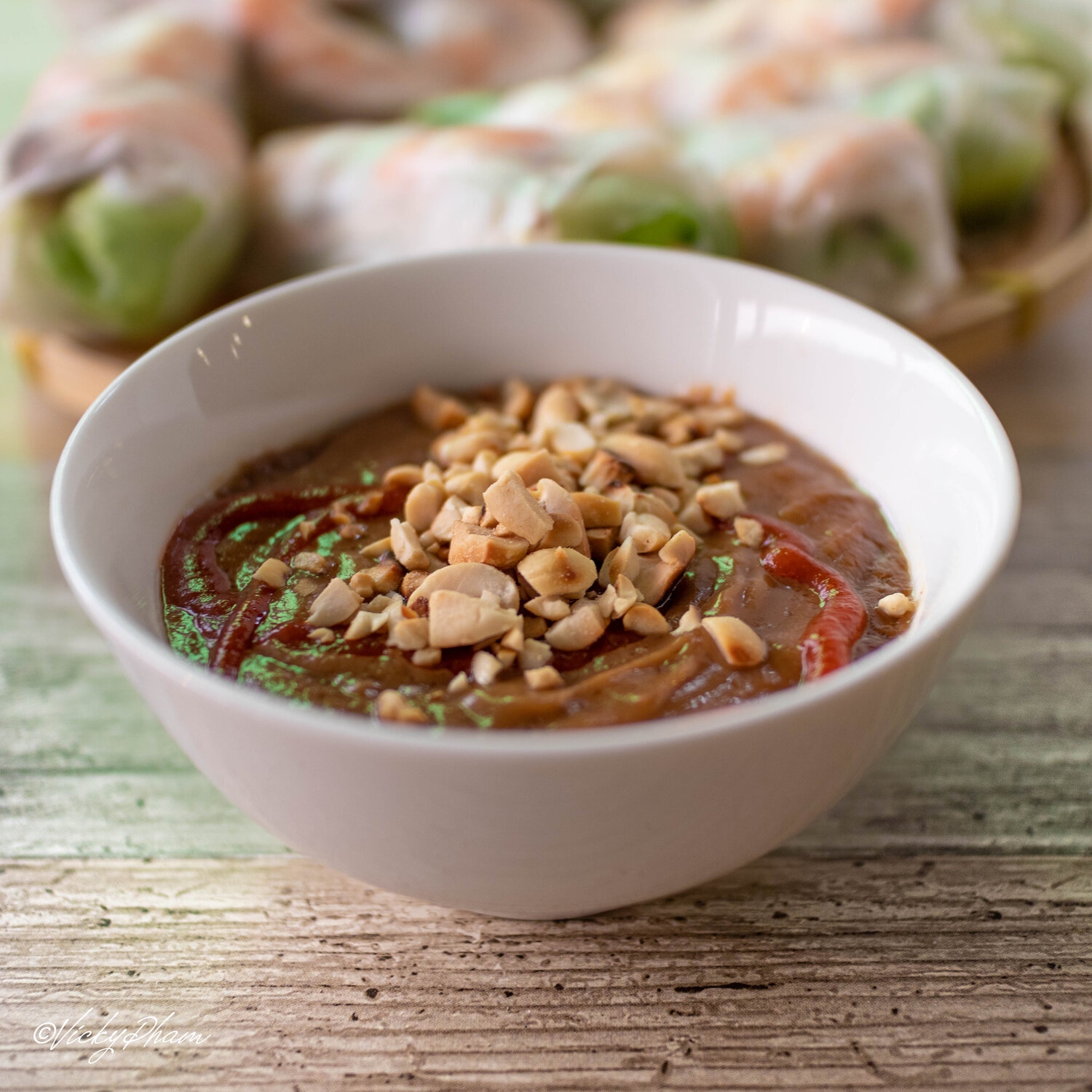 Peanut dipping sauce
Step7. Serve spring rolls with Vietnamese peanut sauce.