Recommendations on An Giang must-try dishes
An Giang surprises visitors with strange and tasty local dishes. Take a look at this list to make sure you won't miss out any special An Giang dishes when visiting this province!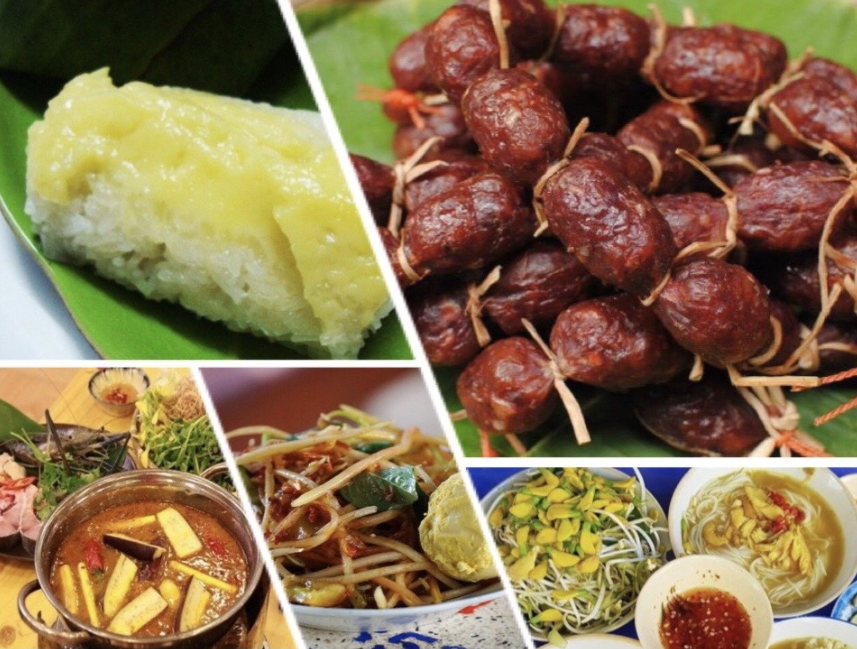 An Phu's dried snake.
An Phu's dried snake
Among An Giang's dried meat dishes, the most famous and special must be dried snake from An Phu district, especially in Vinh Hoi Dong commune.
Every year during the flooding season, river snakes proliferate and develop in countless numbers. Snakes are also brought into this province by the Cambodians. Therefore, local people have a sufficient amount of snakes to make this dish. Dried snakes are sold at s reasonable price, so visitors often choose this dish as a gift.
Fish noodles
Fish noodles
Noodle is a famous dish of the An Giang region. This dish is sold in many places but the best version is found in Chau Doc, Long Xuyen and Tan Chau. Long Xuyen's noodle has a light flavor and aroma of turmeric, while in Tan Chau and Chau Doc, fish noodles have a richer taste.
The best noodle dish is cooked with snakehead fish or goby fish. The dish uses broth made from chicken bones, served with bean sprouts, diverse vegetables, and sesbania sesban flowers. Sesbania sesban flower is only available in the flooding season. This special ingredient helps booster the flavor of the dish.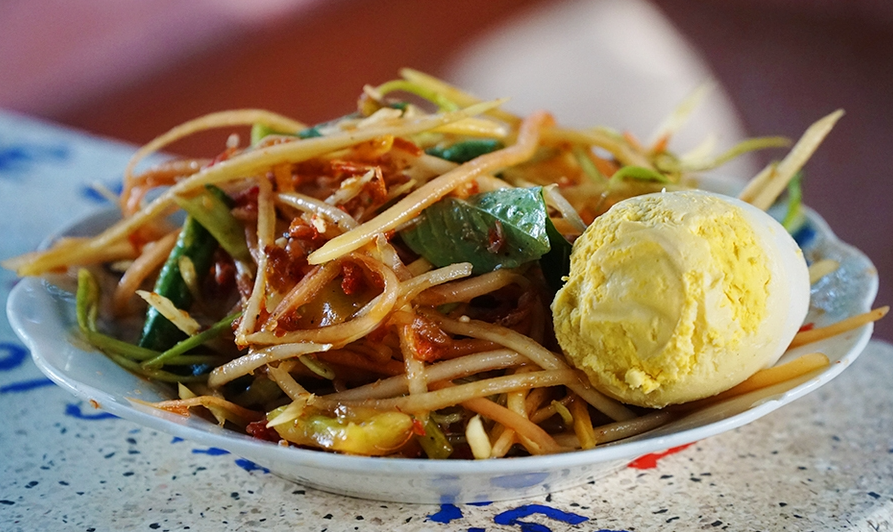 Papaya salad
Papaya salad
If a tourist has a chance to visit Tri Ton, An Giang, he should definitely try the local papaya salad, which is a combination of papaya, ba khía sauce, duck egg and grill meat. Papaya salad is a dish of Khmer people. In Khmer language, papaya is called chak-la-hip.
The ingredients of the dish include shredded papaya, water spinach, cowpea, and a combination of lemon, tomato, and shrimp paste. When trying papaya salad, you will feel the light sweetness of the papaya fruit, with the salty of the sauce, the sour taste of lemon, the spicy of chili, and the fatty of peanuts.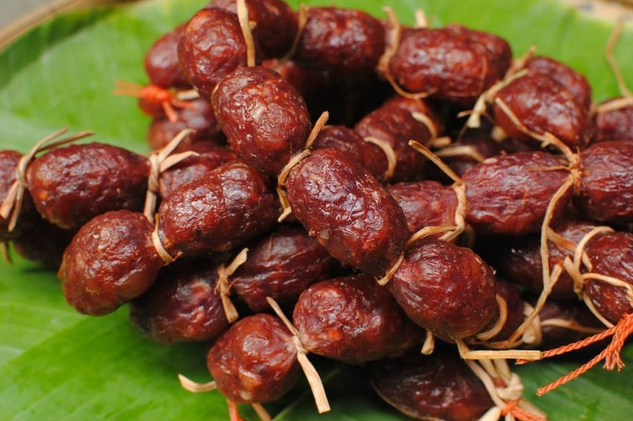 Tung lo mo
Tung lo mo
Tung lo mo is a kind of Champa sausage. Unlike other types of sausages, tung lo mo is made entirely from beef. Initially, tung lo mo was made from the spare beef that could not be used to make any other dishes. Later, it became a specialty in An Giang that is not only loved by the Cham people but also the local customers.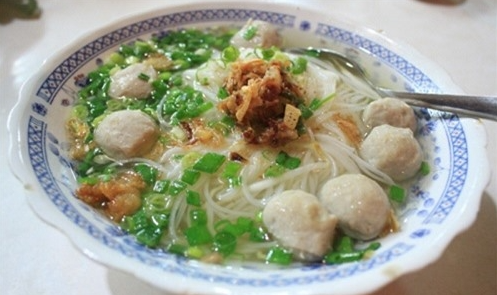 Bay Nui Beef ball
Bay Nui Beef ball
As a special dish of the Bay Nui, An Giang region, Bay Nui beef ball combines the traditionally brewed rice noodle with broth from pork bones, chicken bones, dried shrimp, fish, and the special nutritious beef ball.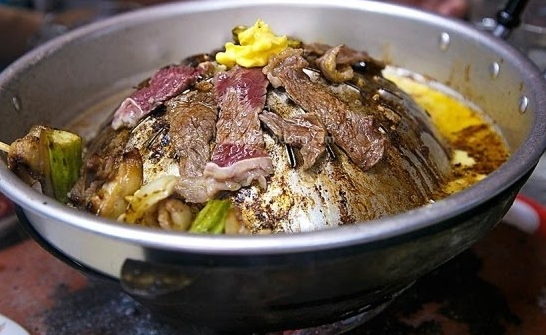 Mountain climbing beef
Mountain climbing beef (Bò leo núi)
Tan Chau mountain climbing beef is attractive by the name, the way of processing, the way to enjoy, the softness, and the sweet aroma. Many people think that climbing beef must be made from beef raised in the mountains, however, the dish is processed from young cows.
Mountain climbing beef dishes are processed in a very different way from grilled beef dishes in Vietnamese cuisine in the Mekong Delta. The meat is cut thicker than the usual roast beef. The meat is marinated with fresh eggs and stirred and grilled in the middle of the mountain-shaped iron pan, blister, which sets the origin for the name of the dish.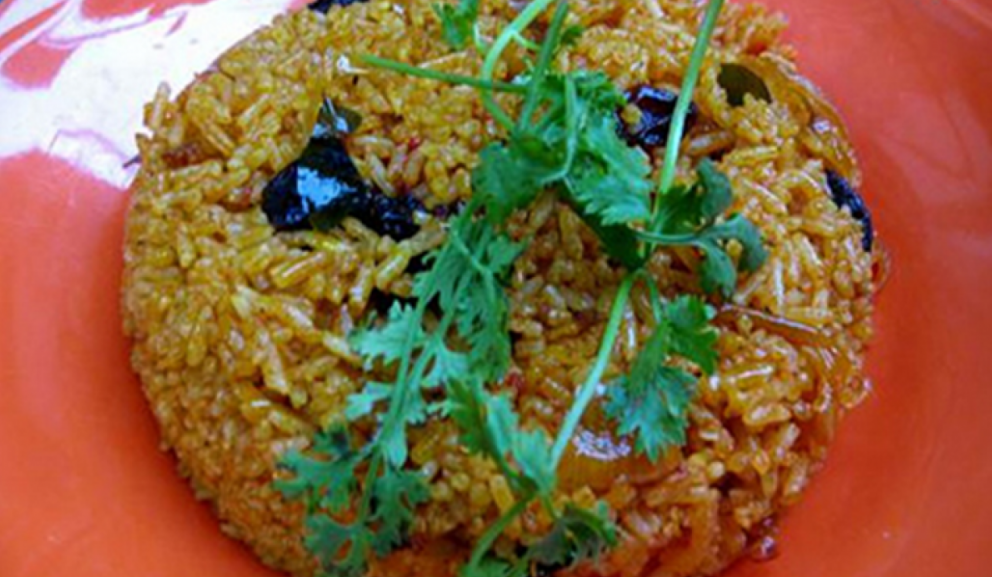 "Ni" rice
"Ni" rice
When it comes to An Giang cuisine, it is a mistake not to mention "ni" rice, or "cà pấu", one of the famous specialties of this region. This traditional dish is a combination of two servings of sticky rice and cà pấu to create a unique and sophisticated dish with bold Champa flavor.
Rice is cooked with milk or coconut milk and seasoned to create a characteristic sweet and fatty taste. The dish comes with cà pấu, which made from fresh beef. After deodorizing, the rice and beef are stir-fried and processed to create a blend that once enjoyed, it is difficult to forget.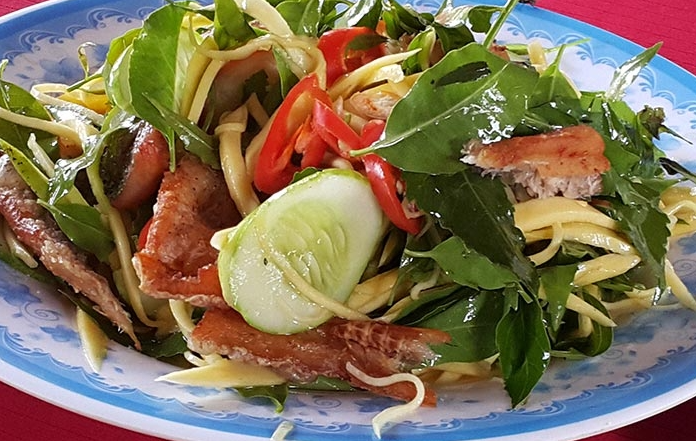 Sau dau salad
Sau dau salad
Sầu đâu is also known as sầu đông, which grows in abundance in provinces such as An Giang and Kien Giang. An Giang' sầu đâu is different from central sầu đâu. Plants grow in the Central region have green leaves, purple flowers that are poisonous and cannot be eaten. Sầu đâu tree that grows in the West has greenish-white flowers and bitter green leaves that is used as a medical herb.
Sầu đâu salad does not have the characteristic bitter taste of the leaves, combined with the salty taste of dried fish, along with some other types of vegetables such as cucumber, and raw mango, creating a rustic but very delicate dish.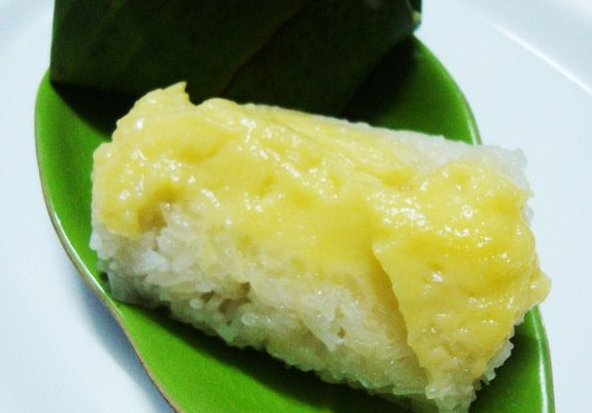 Siam sticky rice
Siam sticky rice
Siam sticky rice is a Cambodian dish that has the sweet and fatty taste of durian, green beans and coconut water. This sticky rice dish is a typical culinary cultural exchange between Vietnam and Cambodia. The best Siam sticky rice dish is in Tan Chau region, where the sticky rice has the sweetest and most fatty taste. The basic ingredients of Siam sticky rice include sticky rice, green beans, eggs, and coconut water. In some places, the seller adds durian to increase the aroma and fat for the dish.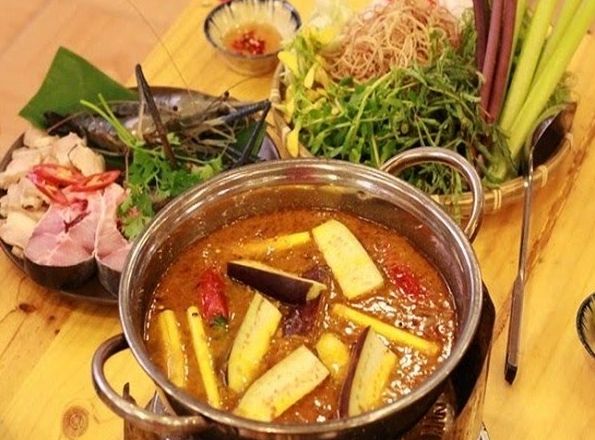 Fish sauce hotpot
Fish sauce hotpot
Chau Doc is the kingdom of fish sauce because most markets in the region have a dedicated area selling all kinds of fish sauce. Chau Doc's fish sauce is famous for its distinctive smell and taste.
Fish sauce hot pot broth is cooked with goby fish, catfish, snakehead fish... To increase the richness of the dish, local people put in fish ball and bacon. Fish sauce hotpot is served with eggplant, sweet potato, and fresh noodles.