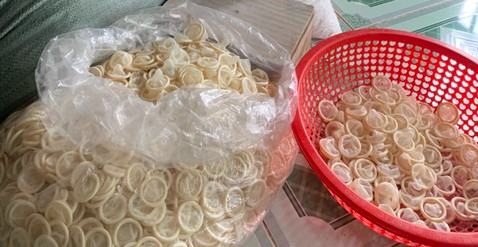 Used condoms are being processed for resale at a facility in Tan Uyen Town of Binh Duong Province. (Photo: Binh Duong's market management department.)
Binh Duong factory accused of recycling used condoms
The police in Vietnam have seized more than 300,000 used condoms that had been boiled, dried and put up for sale in a southern province.
Following a tip from a local resident, Binh Duong provincial market inspectors over the weekend raided a factory near Ho Chi Minh City where they found used condoms being repacked for sale at the market. Officers who raided a warehouse in the province of Binh Duong on Saturday found the recycled condoms in bags weighing almost 800 pounds, equivalent to about 324,000 condoms, Tuoi Tre reported.
Besides the used condoms, inspectors also found thousands of condoms that had been packed and readied for sale, without brand names, VN Express cited.
Footage broadcasted by VTV and obtained by Reuters showed thousands of prophylactics spilling out of bags on the floor. VTV said it was not clear how many of the recycled condoms had already been sold.
The facility was rented by Pham Thi Thanh Ngoc, 32, the Vietnam Directorate of Market Surveillance announced Tuesday. Ngoc said around once a month, "somebody" delivered thousands of used condoms to her. Her job was to clean, dry, and sort the condoms before making them look fresh again for new customers. The detained woman said she had received $0.17 for every kilogram of recycled condoms she produced.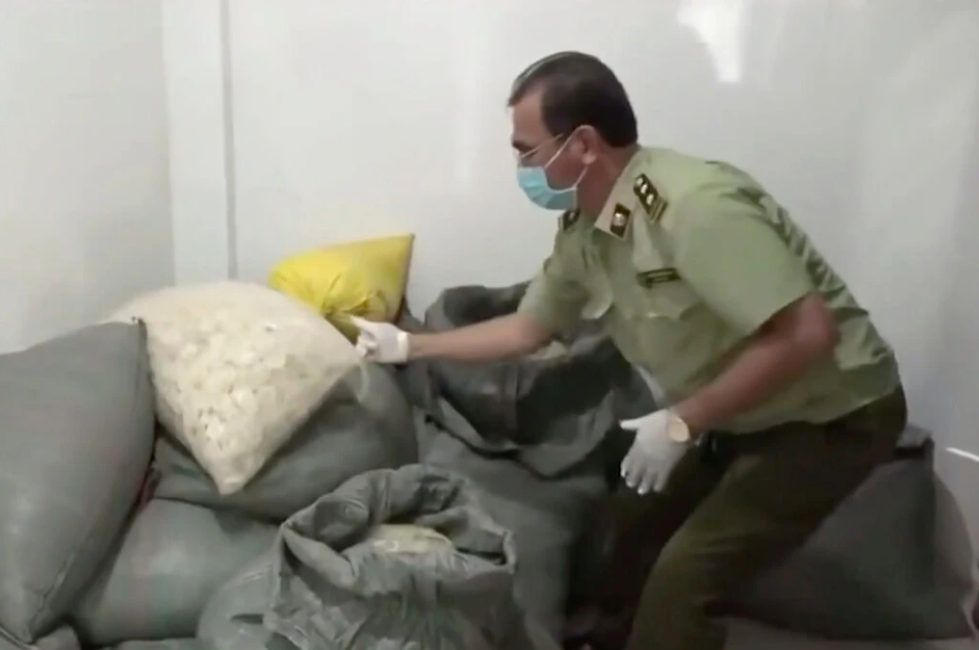 A police official collecting the evidence packed in bags for sale in Binh Duong Province. (Photo: VTV)
Experts' views on the issues
The New York Times stated that recycling condoms is not unheard-of among sex workers, especially in developing countries.
"It's not impossible to wash a condom," said Juliet Richters, a sexual health expert and an honorary professor at the University of New South Wales. But "it's never happened, to my knowledge, on an industrial scale."
Professor Richters said that they would be difficult to recycle without equipment to roll up and repackage the condoms to pass them off as new. She said it was unclear what impact boiling the condoms would have on their integrity.
However, Anh Nguyen, an obstetrician from Dak Lak, said that recycling used condoms was "very dangerous to society." she added, "They can spread sexually transmitted diseases such as syphilis, gonorrhea and possibly H.I.V. This must be prevented."
Valerie Mai