Ho Chi Minh City To Deport Illegal Immigrants
Ho Chi Minh City police reported that 40 out of over 100 people who illegally entered Ho Chi Minh City are about to be deported, while the rest is also waiting for legal documents to be returned home.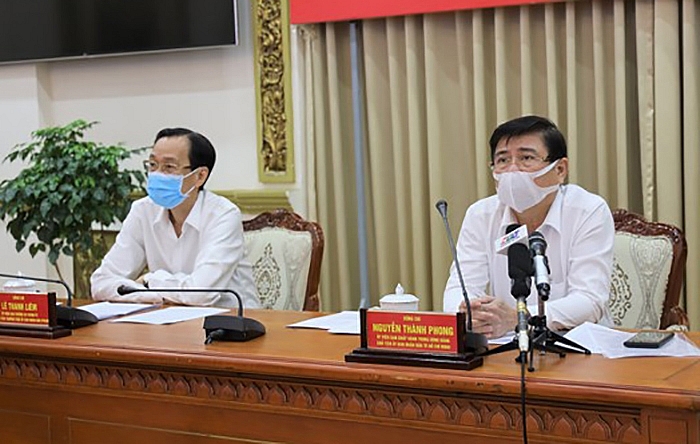 Ho Chi Minh City leaders listened to units reporting on the fight against COVID-19 at the meeting.
At the meeting of the Steering Committee for the prevention of Covid-19 in Ho Chi Minh City, on the afternoon of August 24, Major General Tran Duc Tai - Deputy Director of the Ho Chi Minh City Public Security, said that the authorities recently expelled 4 cases illegal entry.
Currently, Ho Chi Minh City is managing 112 people who entered Vietnam illegally, including 1 Taiwanese, 2 Cambodian nationals, the rest are from China. 40 out of those 112 people are preparing for deportation as they have passports. 66 other people without passports, police coordinated with the Department of Foreign Affairs of Ho Chi Minh City to verify and contact the consulate general of their country to complete procedures and travel documents to prepare for deportation. If any of these people have violated the law, they will be kept for further handling.
According to the representative of the Ho Chi Minh City Police Department, the difficulty is that when the compulsory quarantine for illegal immigrants completed, they will be taken to certain districts for management and care. These cases cannot be taken into social protection centres, but if there is any particular accommodation for these people, it will be less difficult for the police.
As previously reported by the Ministry of Public Security, 177 illegal Chinese immigrants have been uncovered since June. Chief of the Office of the Ministry of Public Security and spokesman, Maj. Gen. To An Xo said illegal entries were mostly made by Chinese natives and Vietnamese workers who worked in neighbouring countries without contracts. Due to continuous natural disasters and the pandemic outbreak in China, they entered Vietnam to seek jobs while some tried to find a way to Cambodia for gambling.
Since the beginning of this year, 504 Chinese have been found to illegally enter Vietnam in 27 out of the 63 localities. Since June, local public security forces and border guards have uncovered 21 cases involving 177 illegal Chinese immigrants, and launched criminal proceedings against 19 Vietnamese and several Chinese in five cases, he said.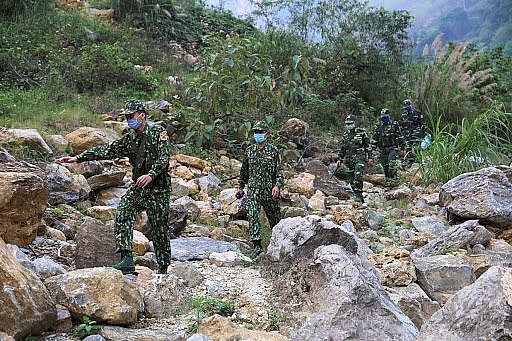 The staff of Si Ma Cai border post of the northern border province of Lao Cai inspect border area. Photo: VNA
COVID-19 prevention in Vietnam is now entering a difficult and complicated period, with the growing number of COVID-19 cases showing no signs of stopping. Plus, the number of people attempting to illegally cross the border into Vietnam increase sharply in recent weeks. Border guards have immediately tightened border inspections and patrols all day and night in an attempt to detect and prevent those illegal entrants.