Remembering Vietnam's Fallen War Heroes
The 74th War Invalids and Martyrs Day is held as Vietnam battles the biggest Covid-19 outbreak yet.
In order to maintain independence, many good men and women died in conflicts against American adn French forces. In 1947, President Ho Chi Minh had chosen July 27 the day for the entire Party, army and Vietnamese people to honor the martyrs, wounded soldiers, soldiers and other people with meritorious to the country.
Since then, July 27 has become a day of profound historical, political and humanistic significance, imbued with the Vietnamese national cultural identity. People from the North to the South solemnly celebrate the occasion every year.
Photo: VNA
The 74th War Invalids and Martyrs Day is held as Vietnam battles the biggest Covid-19 outbreak yet. During such an unprecedented time, citizens are still patriotic. Many follow the traditiona; saying of "the leaves protect tattered ones."
Experts and medical staff from across the country head to Ho Chi Minh City – the hardest-hit hotspot – to help shoulder the increasing number of coronavirus patients. Foods and beverages, medical equipment are also sent from various localities to the southern metropolis. Rice ATMs, zero-dong markets distributing free daily necessities have been set up.
Every year on this occasion, thousands of Vietnamese people would come to the cemeteries to pay tribute to the martyr who had died for the independence of the Fatherland.
During the last 74 years, the State has confirmed over 9 million people with meritorious services, accounting for about 10% of the population. Many people with meritorious services and their relatives are entitled to its monthly preferential allowances. All provinces and central-run cities have basically completed the housing support programs for those with meritorious services to the revolution.
More than 3,000 martyr cemeteries have been built over the years, housing roughly one million martyrs who passed away during wartime. The Ministry of National Defense also work with the Ministry of Labour, Invalids and Social Affairs and all-level authorities to carry out a project searching for over 200,000 remains of martyrs in the Vietnam – Laos – Cambodia battlefields.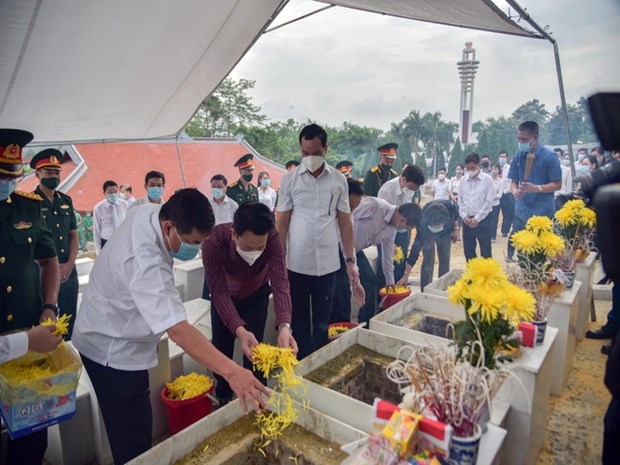 Officials paying tribute at Vi Xuyen National Cemetery, Ha Giang. Photo: VNA
There are a number of national cemeteries in Vietnam, including Dien Bien Phu Martyrs Cemetery, Road 9 Martyrs Cemetery, Truong Son cemetery, Vi Xuyen Cemetery, among others. These cemeteries are one of the historical evidence of the great sacrifices of many Vietnamese soldiers in the fierce wartime.
74 years have passed since the first War Invalids and Martyrs Day, the tradition of being grateful and patriotic has always been promoted via practical, meaningful actions for those who devoted part of their body or their life to the independence and freedom of the Fatherland.