Vietnam Solemnly Celebrates War Invalids and Martyrs Day (July 27)
A number of activities have been held across the country in remembrance of the sacrifices made by Vietnam's ancestors, in the long fight for independence.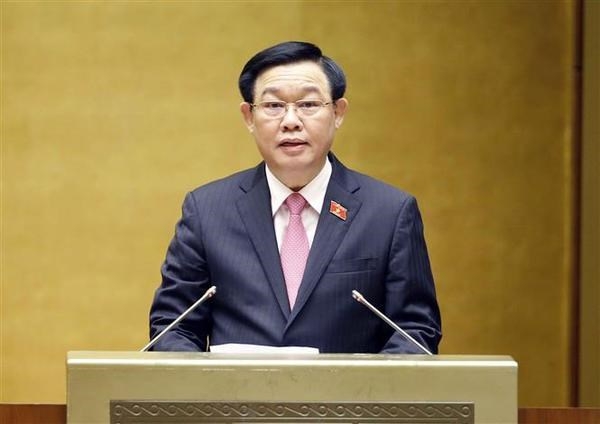 National Assembly Chairman Vuong Dinh Hue. Photo: VNA
National Assembly (NA) Chairman Vuong Dinh Hue on July 27 morning delivered a speech at the plenary session of the 15th NA on the occasion of the 74th War Invalids and Martyrs Day.
The NA leader expressed deep gratitude to revolutionary veterans, heroic Vietnamese mothers, heroes of the Armed Forces, labour heroes, wounded and sick soldiers, martyrs' relatives and people who rendered services to the nation, as reported by VNA.
He affirmed that taking care of wounded and sick war veterans, martyrs' relatives and revolution contributors is a consistent policy of the Party and State, referring to the traditional saying; "when drinking water, remember its source."
Over the years, Party Committees and administrations at all levels, as well as the Vietnam Fatherland Front, agencies, organizations and individuals, have conducted practical activities to care for the living conditions of wounded war veterans, martyrs' relatives and revolution contributors.
Hue showed respect to their efforts to overcome difficulties to build a prosperous and happy life, contributing to the cause of national construction and defense.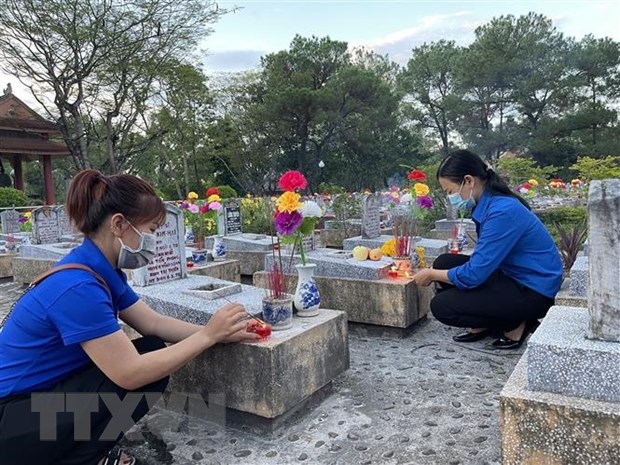 Members of Quang Tri Youth Union light the candles at Truong Son National Martyrs Cemetery. Photo: VNA
At around 6:30 p.m. Monday, over 60,000 candles at 72 cemeteries were simultaneously lit by members of Quang Tri Youth Union in remembrance of the heroic martyrs on the 74th anniversary of War Invalids and Martyrs Day.
"This is the 6th time I join the candle-light ceremony on this occasion at Truong Son National Martyrs Cemetery. It's my honor to show gratitude to the previous generations," Ho Thi Hong Le, a member of the union, told Vietnam Plus. "Due to the Covid-19 pandemic, family members and comrades of the heroes and martyrs could not be here to offer incense."
Representatives of Quang Tri province, members of the provincial Youth Union, have also offered incense and paid floral tributes at the cemetery.
Such a tribute ritual has become an annual thing in the past 10 years on July 27.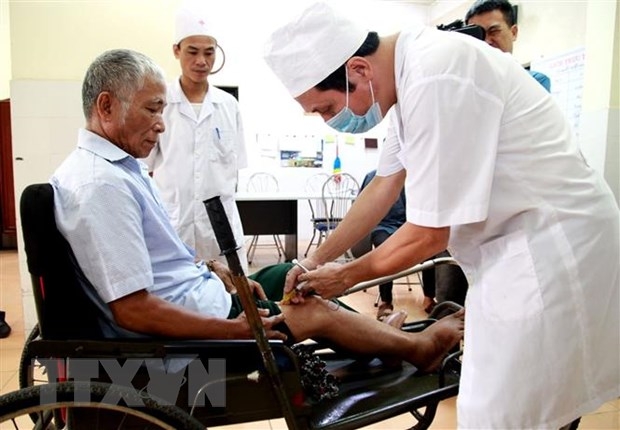 Photo: VNA
Meanwhile in Hanoi, authorities allocate nearly VND 100 billion (US$ 4.3 million) to beneficiaries across the city. Over 123,000 gift sets have been handed over to those recipients.
The municipal Department of Labor, Invalids and Social Affairs all-level People's Committee also sent gifts to 42 units in charge of caring and nurturing people with meritorious services.
The delegation of city leaders and the People's Committees of districts and towns also visited and gave gifts, each worth US$ 109, to 72 typical individuals who are the families of martyrs, wounded soldiers, soldiers and resistance activists infected with toxic chemicals or in extremely difficult circumstances.