Restaurants, Hotels in Da Nang Serve the Poor for Free to Avoid the Storm
In the spirit of helping each other, many restaurants, hotels, and even private homes in Da Nang and Hoi An are simultaneously posting on social networks to announce that they will provide free accommodation and food for poor people when the storm hits.
Super Typhoon No. 4 (Noru) made landfall in the central provinces of Vietnam on the evening of September 27. After receiving the notice from Da Nang city, people reinforced their houses, parked boats carefully, and sought safe shelter.
Faced with the dangerous Typhoon Noru, Da Nang city has mobilized its entire force to evacuate more than 100,000 people to safety.
The Noru Typhoon. Photo: Nguoiduatin
Among them, there was a post stating: "Dear Aunties and Uncles who are making a living away from home by selling lottery tickets, junk, and other difficult jobs in Da Nang, it is expected that the Noru Typhoon will hit the region around mid-afternoon on the evening of September 27 to the morning of September 28.
If you don't have a safe place to hide from the storm, just stop by Chill Bien restaurant. We will open 3 VIP rooms to welcome everyone to come over, seeking shelter during the storm. I would like to cook rice and hot pot dishes for everyone. Everything is completely free. We look forward to welcoming everyone to Binh An."
Similarly, many other articles about storm shelters from hotels and private houses have been widely responded to and shared by people in Da Nang. In addition, many hotels in Da Nang city are providing guests with free accommodation, support, and other services.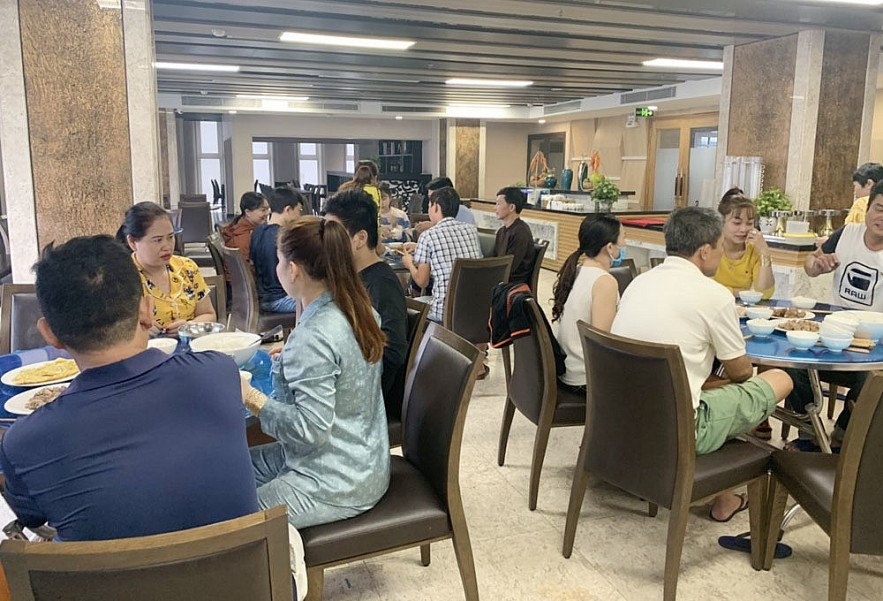 Photo: voz.vn
The hotel with a humanitarian spirit
A representative of SANTORI HOTEL & SPA hotel said that guests will be served free of charge when the super typhoon Noru hits Da Nang. For guests who want to check out when the weather is dangerous if they want to stay, the hotel is willing to let them stay for free.
Mr. Nguyen Son Tung, owner of Santori Hotel & Spa Da Nang said that his hotel has 28 rooms and he will let people who are stuck in Da Nang stay and eat here for free for 2 days, September 27 and September 28.
"The storm hasn't hit yet, so I don't know how much damage it will cause and now I don't know who to support. So, for now, with what I have, I will help everyone as much as I can. Many tourists will stay at the hotel for 3 to 4 days, if they check out on the day of the storm, it will be very dangerous. So I decided to let them stay for free because we still have 18 vacant rooms." Tung said.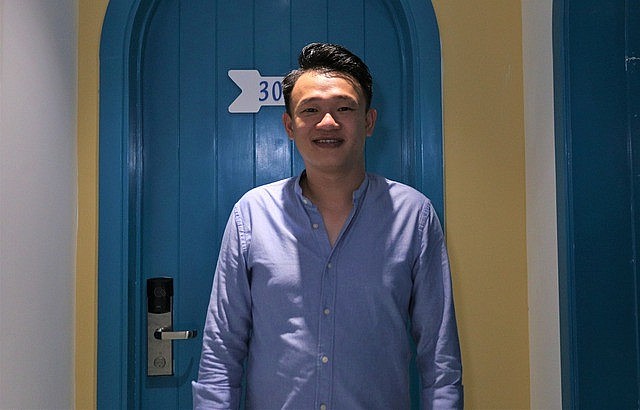 Mr. Nguyen Son Tung - hotel owner who let guests stay for free to avoid the storm. Photo: toquoc.vn
Grateful guests
Nguyen Minh Thuy (living in Tay Ninh), a tourist who came to Da Nang with her friend, said that when she heard that the hotel would let visitors stay for free when the storm hit, she felt very warm and impressed by this act of kindness.
Huynh Thuan (permanent resident in Ho Chi Minh City) is currently on a 5-day business trip to Da Nang when Noru hit. As soon as he checked in, he was informed by this hotel that they would support all expenses for 2 days. At the same time, they also advised him to absolutely not go out to ensure safety. "Although I was unlucky when my business trip coincided with a storm, I was fortunate to receive sincere attention from the hotel. Despite the stormy weather, I was able to settle down at a safe hotel. Da Nang has left a good impression in my heart", Thuan shared.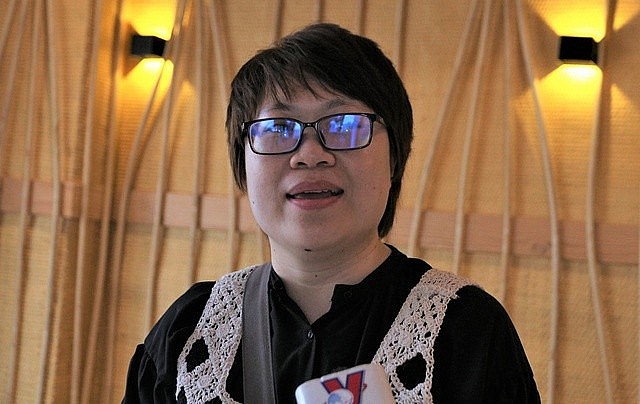 Nguyen Minh Thuy, a tourist from Tay Ninh felt surprised and touched when she received a free hotel room on the day of the storm. Photo: toquoc.vn
In addition, this hotel is also open to residents and students to enter the storm shelter free of charge. According to estimates, this hotel can let about 100 people in to avoid the storm for free. Tran Van Hieu (resident in Son Tra district, Da Nang) and his family of 5 are currently staying at a hotel to escape the storm.
He excitedly said: "When I heard that Santori Hotel & Spa Da Nang allowed everyone to enter the storm shelter for free, my family contacted the owner and he agreed to let us stay for free. Now that my family has a safe shelter from the storm, I feel very secure. I don't know what else to say, I can only thank this hotel wholeheartedly!".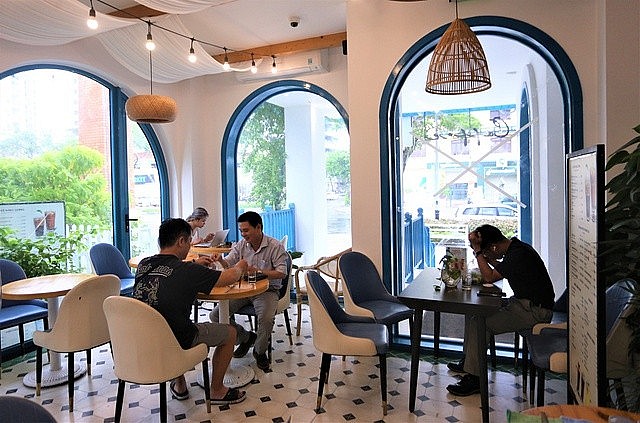 Photo: toquoc.vn
Nguyen Thi Nhan, a student at Duy Tan University, said: "When I heard the news about the big storm, I thought that my hostel was not safe, so I and my friends came here to ask for shelter. Although the room is free, the hotel is free. This house still arranged for us a room with 5 clean and beautiful beds, which made us feel very surprised and happy."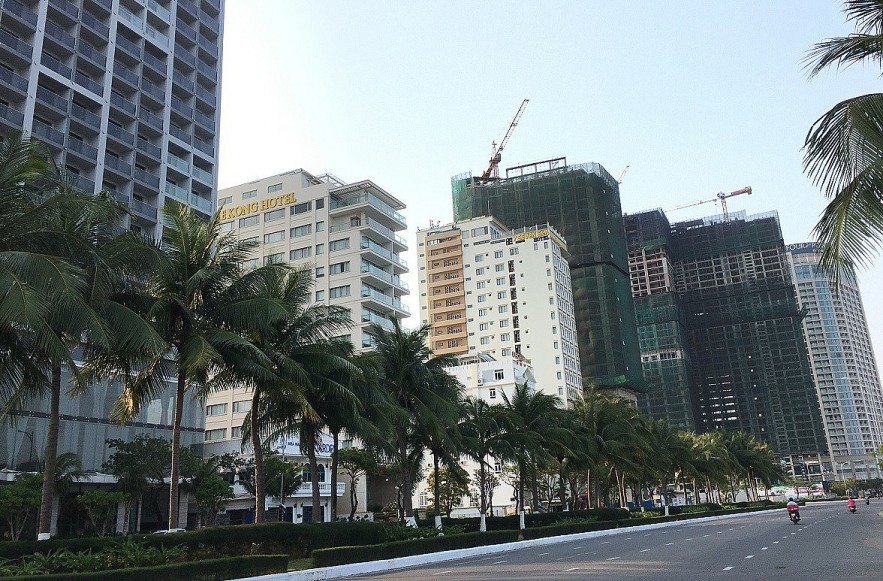 Photo: vietnammoi.net
The act of kindness of this hotel in particular and many other service facilities, in general, has contributed to building the image of a beautiful and loving Da Nang. At the same time, this also makes tourists fall in love with the people and the city even more.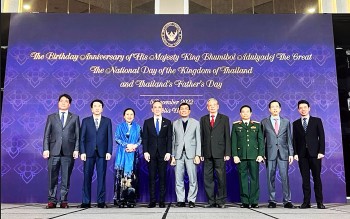 Friendship
The Royal Thai Embassy organises the reception on the occasion of celebration of the Birthday Anniversary of His Majesty King Bhumibol Adulyadej the Great, the National Day of the Kingdom of Thailand and Thailand's Father's Day on 2nd December 2022 in Hanoi.