Restrictions are slowing coronavirus infections in the US: Data
The new data offers evidence, in real time, that tight social-distancing restrictions may be working, potentially reducing hospital overcrowding and lowering death rates in the US, New York Times cited experts.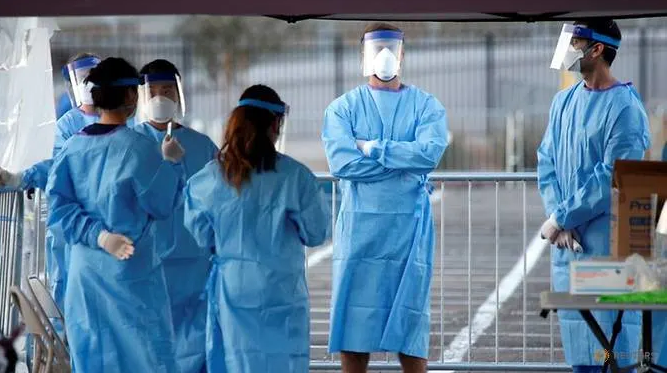 Medical students and physician assistants from Touro University Nevada wait to screen people in a temporary parking lot with spaces marked for social distancing in Las Vegas
The company, Kinsa Health, which produces Internet-connected thermometers, first created a national map of fever levels on Mar 22 and was able to spot the trend within a day. Since then, data from the health departments of New York state and Washington state have buttressed the finding, making it clear that social distancing is saving lives.
The trend has become so obvious that US President Donald Trump on Monday said the one-month extension of social distancing guidelines he has ordered could save 1 million lives in the country.
"We will have a great victory," the president told reporters. "We have no other choice."
Dr. Peter J. Hotez, dean of the National School of Tropical Medicine at Baylor College of Medicine in Houston, thought the Kinsa predictions were based on "very robust technology."
Kinsa's thermometers upload the user's temperature readings to a centralised database; the data enables the company to track fevers across the United States.
Owners of Kinsa's thermometers can type other symptoms into a cellphone app after taking their temperature. The app offers basic advice on whether they should seek medical attention.
Kinsa has more than 1 million thermometers in circulation and has been getting up to 162,000 daily temperature readings since COVID-19 began spreading in the country.
The company normally uses that data to track the spread of influenza. Since 2018, when it had more than 500,000 thermometers distributed, its predictions have routinely been two to three weeks ahead of those of the Centers for Disease Control and Prevention, which gathers flu data on patient symptoms from doctors' offices and hospitals.
To identify clusters of coronavirus infections, Kinsa recently adapted its software to detect spikes of "atypical fever" that do not correlate with historical flu patterns and are likely attributable to the coronavirus.
As of noon Wednesday, the company's live map showed fevers holding steady or dropping almost universally across the country, with two prominent exceptions.
As of Monday morning, more than three-quarters of the country was deep blue. A separate display of the collective national fever trend, which had spiked upward to a peak on Mar 17, had fallen so far that it was actually below the band showing historical flu fever trends - which meant that the lockdown has cut not only COVID-19 transmission but flu transmission, too.
"I'm very impressed by this," said Dr. William Schaffner, a preventive medicine expert at Vanderbilt University. "It looks like a way to prove that social distancing works."
"But it does shows that it takes the most restrictive measures to make a real difference," he added.
US health officials are urging Americans to follow stay-at-home orders until the end of April to contain the spread of the virus, which originated in China and has infected about three-quarters of a million people around the world.
US Surgeon General Jerome Adams said he was frustrated to see people gathering in large groups, defying state orders and federal social distancing guidelines.
"People need to stay at home," Adams told Fox News.
"We're working around the clock to get supplies to cities across the country - to mayors and to governors. But we are not going to supply our way out of this problem. The way we solve this problem is by everyone coming together, stopping the spread, by eliminating large gatherings, staying at home."
The US caseload rose by more than 20,000 confirmed cases on Monday, overwhelming hospitals that are running out of doctors, nurses, medical equipment and protective gear.
The number of US dead climbed past 3,000, more than the number who died in the attacks of Sep 11, 2001, as the caseload rose to more than 164,000, according to a Reuters tally of official statistics.
Top US public health officials are warning that even if the measures are rigidly followed, the total number of COVID-19 deaths in the country will likely be between 100,000 and 200,000.
President Donald Trump told reporters at the daily White House coronavirus task force briefing that 1 million people across the nation have now been tested for the novel coronavirus./.
National
Vietnam News Today (Jan. 20): Vietnam confirms 15,936 new local Covid cases; First Omicron infections in community reported in HCM City; Vietnam to facilitate procedures for foreign entrants; Hanoi capital cancels fireworks display on lunar New Year's Eve.