Russia Hopes Vietnam Continues to Run Army Games
Russian Deputy Minister in the Ministry of Defense Krivoruchko Aleksei Yurievich hopes the Vietnamese Ministry of Defense will continue to support and participate in the Army Games organization in 2022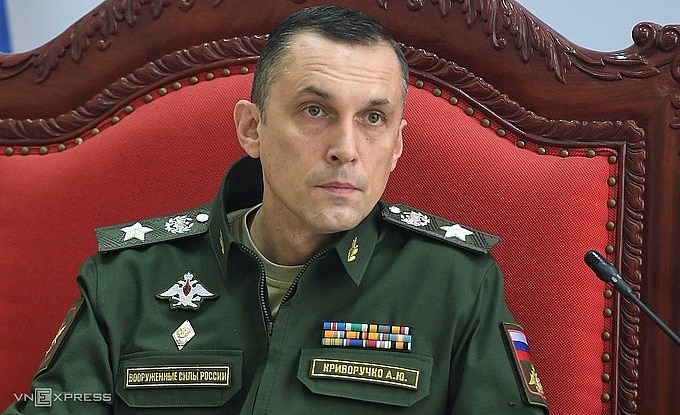 Russian Deputy Minister of Defense Krivoruchko Aleksei Yurievich at the National Military Training Center 4, on Sept. 4. Photo: VnExpress
On the morning of Sept. 4, Minister of Defense General Phan Van Giang received Krivoruchko Aleksei Yurievich, deputy minister in the Ministry of Defense of Russia, to attend the closing ceremony of the Sniper and Rescue competition of the Army Games 2021 in Vietnam.
Congratulating the Vietnamese Ministry of National Defense on successfully hosting two events, Deputy Minister Krivoruchko Aleksei Yurievich expressed his wish that in 2022 the Vietnamese Ministry would continue to support, send teams and participate in competitions and organize Army Games.
General Phan Van Giang said that Army Games contributed to strengthening friendship and defense cooperation between countries. In 2021, in the context of the coronavirus pandemic, the Vietnamese Ministry of National Defense still sends teams to compete in Russia and a number of host countries.
"Through the participation in the Army Games, the Vietnamese team continues to achieve success, and more importantly, officers and soldiers have the opportunity to learn and exchange experiences in training, using weapons and equipments to research at the unit," said General Phan Van Giang.
General Phan Van Giang, Vietnam's Minister of Defense (right) received Krivoruchko Aleksei Yurievich, Deputy Minister of Defense of Russia at the National Military Training Center 4. Photo: VnExpress
General Phan Van Giang said that Vietnam always attached great importance to developing a comprehensive strategic partnership with the Russian Federation, considering it one of the priorities in Vietnam's foreign policy. Defense relations and bilateral military-technical cooperation had always been facilitated by the leaders of the State and Governments of the two countries.
The leader of Vietnam's Ministry of National Defense said that since the outbreak of Covid-19, the two defense ministries had supported each other in pandemic prevention and control. He thanked Russia for supporting Vietnam with the Sputnik V vaccine.
Assessing "the goodwill of Russian friends for the Vietnamese people," General Phan Van Giang said he wished Russia would continue to support vaccines for Vietnam going forward.
Vietnam Stands 8th in Army Games 2021

After four days of competition, the Vietnam People's Army delegation is currently in the top eight out of 43 countries and territories participating in this ...