"Safeguarding the Border like Protecting Home"
Prestigious people in Bac Son commune in Quang Ninh province's Mong Cai city, where 76.2% of population are ethnic minorities, have carried forward their role in coordinating with authorities and border guards in encouraging local residents to safeguard border lines and markers. In their own way, they are resolved to safeguard the border like protecting their own houses.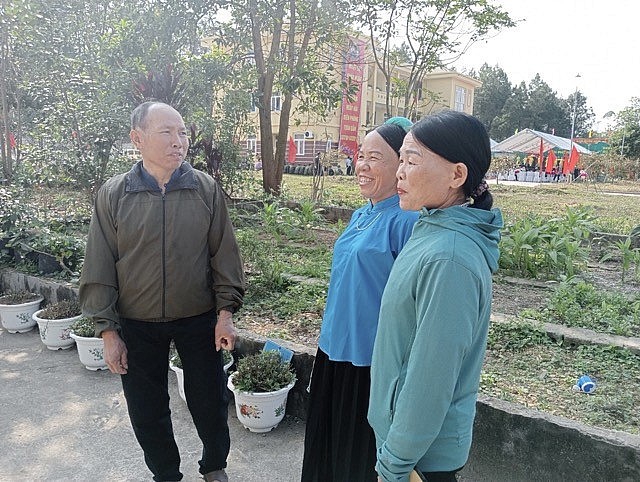 Prestigious people often meet with local residents, encouraging them to observe the State's policies and laws
Strong border for peaceful home
Bac Son is a mountainous border commune, with more than 22 km of border line and 13 border markers, and potential risks of smuggling, illegal immigration and human trafficking. Therefore, in the past years, local authorities and residents have joined hands with border guards in setting forth plans to build a border area with comprehensive development, handle emerging cases, protect border markers and and effectively prevent the Covid-19 epidemic.
As a prestigious man, Choong Sao Chan, 55, from the Dao ethnic group in Phinh Ho hamlet has always actively encouraged locals to take solutions to protect the country's border in their own way.
"I regularly work with authorities in the communication work to raise public awareness of border safeguarding, and denounce cases of illegal immigration," he said.
"We determine that border protection is not only a responsibility but also the right and pride of each citizen."
Aware of border defence like protecting the land of ancestors, Dang The Minh of the Dao ethnic group, a prestigious person in Than Phun hamlet, has known every trail and route in the locality. He has made tireless efforts in raising public awareness of border lines and markers, and asking them to report to local authorities when visiting their relatives in China.
"In the past, there were people who crossed the border without permission. But people's awareness has been raised thanks to the communication activities," Minh said.
In 2022, prestigious people and residents in Bac Son informed competent agencies about cases of illegal immigration and trafficking, contributing to the all-people national security defence movement.
Giang Dinh Long, President of the Vietnam Fatherland Front in Bac Son said the commune counts four prestigious people, who have proven their pioneer role in encouraging locals to follow policies, especially in safeguarding border markers and national security.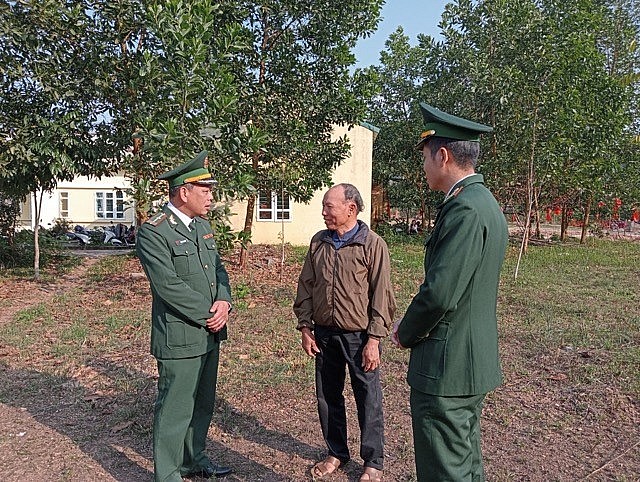 Prestigious people in Bac Son have had regular discussions with border guards
Protecting "cultural front"
Apart from border safeguarding, over the past years, the group of prestigious people in the locality have played a role in the "cultural front" protection. Notably, they are the pioneers in eliminating backward practices, and building a civilised lifestyle.
They have visited each family to provide information for ethnic minorities, encouraging them to stop backward practices such as child marriages, inbreeding and other rituals in weddings and funerals.
With their experience, the prestigious ethnic minority people in Bac Son have served as bridge, helping strengthen solidarity for border defence.
Dang Ngoc Phu, a resident of Bac Son commune, Mong Cai city said the backward customs, especially those who take advantage of traditional customs and religions, have pushed people into more difficulties.
"However, prestigious people in the locality have helped us understand this and resolutely eliminate the backward things," he stressed.
Acknowledging the role by prestigious people, Nguyen Van Thiem, Commander of the Border Guard Command in Quang Ninh province affirmed that the task of national border defence should be performed by the entire Party and people.
In border areas, village elders and chiefs and other prestigious people play a very important role, especially in coordinating with border guards in the communication work, promoting the collective strength among the public, he said./.