The Bravery of a Female Border Guard Soldier in Nghe An Province
The "healthy women to protect the fatherland" program has been carried out by the Women's Union of Nghe An Border Guards for the past six years. In this program, female border guards will practice martial arts, making them capable protectors of the homeland.
The female soldiers master martial arts
In the last days of February, the weather at the Cua Lo - Ben Thuy Port Border Guard Station is boiling hot and even cause severe sunburns.
Despite the blazing heat, female officers in the Women's Union of the Border Guards of Nghe An province still focus on their practicing and marching martial arts to perform at the training ceremony of Nghe An province in March. They are expected to join their male colleagues to perform martial arts with bare hands, daggers, nunchaku, and situational fighting.
A female border guard soldier is practicing. (Photo: phunuvietnam.vn)
In the break, Captain Dang Minh Khue, President of the Nghe An Border Guard Women's Union is happy with her team's progress.
"We have practiced together for 3 weeks. The official performance is coming in a few days so my sisters and I have to do our best to keep up with our male colleagues. This is the third time I have participated in martial arts training, so I have collected some experiences for myself. I prepare carefully in terms of mental status, great determination, and focus on practice and training. However, we still face some challenges due to the intense training, sunny weather, and strong sea breeze," said Captain Khue.
According to Captain Khue, this training program does not include the qigong practice while the previous programs had. This is considered one of the most difficult martial arts, and also somewhat risky. Both men and women practicing qigong will have to put 60 kg of concrete on their bodies, then break them with a sledgehammer. There was even a performance of a female soldier lying on a spike-board to smash a 60 kg concrete block on her body.
Female soldiers are performing with their male counterparts. (Photo: phunuvietnam.vn)
Nunchaku or dual-section stick is the most difficult for female soldiers due to its requirement of high technique and concentration. Because of just 1 second of negligence, the practitioner can be hit by the sticks. "In the early days of the training session, even I had many injuries and bruises on my hands and leg. Now, all female soldiers master the exercise and are qualified to perform along with their male teammates", said Captain Khue.
In this training squad, Second Lieutenant Nguyen Thi Tra My is a newcomer who just joined the army for 5 months. She is currently an employee of the Logistics Department of the Border Guards of Nghe An province.
"This is the first time I have participated in such intense training," Tra My said, with a happy smile. "At first, I thought that I might not be able to perform the task. Especially on the first few days when I saw my senior colleagues practicing very quickly, beautifully, and precisely so I'm extremely stressed. Every day we practice from 7:30 to 10:30 am, then from 1:30 to 4:30 pm, even in light rain."
However, thanks to the determination and encouragement of the whole team, the young soldier Tra My quickly kept up with the process. "I will perform in the first line, so I have to practice harder and try my best".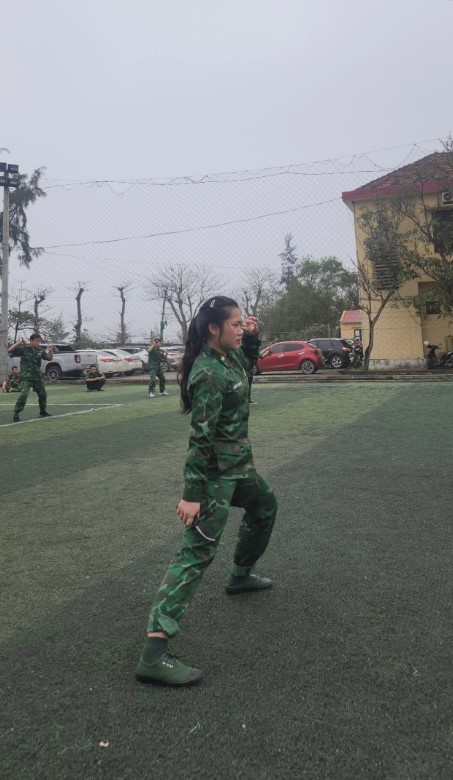 Nguyen Thi Tra My tries to do her best in the intensive training session. (Photo: phunuvietnam.vn)
Showing the bravery of female border guards in all situations
Referring to the determination of female soldiers participating in the martial arts training team this time, Colonel Tran Dang Khoa, Deputy Political Chief of the Border Guard of Nghe An province, expressed his admiration. "To the female border guards soldiers, although working in many different specialized departments, they still sometimes have to participate in intense training sessions.
Practicing martial arts skills is also a requirement so that female soldiers can join their male teammates in fighting against drug criminals, and many other crimes in the area. At first, some still had difficulty with the requirements of high-intensity training, good health, and agility, but they quickly prove their professionality and bravery in practicing martial arts with their male counterparts.
Besides these intense training sessions, female officers also perform well in completing their tasks at work, which is shown very impressive results."
Practicing martial arts is one important part in their professional tasks. (Photo: phunuvietnam.vn)
According to Captain Dang Minh Khue, the Women's Union of Border Guards in Nghe An province consists of 7 branches with a total of 60 members who mainly serve in different units. However, with a sense of responsibility, enthusiasm, dynamism, and creativity, the Union and the women's movement of border guards force in Nghe An province in 2022 have achieved many outstanding results.
100% of members always fulfill their role and take full responsibility in performing their assigned professional tasks, actively participating in the campaign of "building a sustainable family" and the emulation movement to show the intelligence, bravery, and great professional performance of female soldiers.
The Union also launched among all members to learn Ho Chi Minh's lifestyle of thrift. Some models such as "Women help each other overcome difficulties" or "The thrift group" seems to be highly effective.
Regardless of the field and situation, female officers of Nghe An Border Guard have always shown their bravery and continuous creativity, contributing to the completion of the task of protecting border security.
Outstanding Achievements of Female Border Guard Soldiers in 2022
In recent years, the Union has launched and organized many practical models and activities, which attract a large number of cadres and female members. The "Spreading the Love" program launched by the Women's Union of Ha Tinh Province Border Guard sponsored and supported 17 unprivileged children. They are the children of deceased border guard soldiers who achieved high academic results. Each child is sponsored an amount of VND 500,000 every month.
The "Follow" program of the Women's Border Guards of An Giang province encourages each member to register for 1-2 jobs. Or the Border Guard Women's Union of Quang Ninh, Nghe An, Ha Tinh, and Tay Ninh organized the "Good Female Soldier in the Propaganda of Culture" program.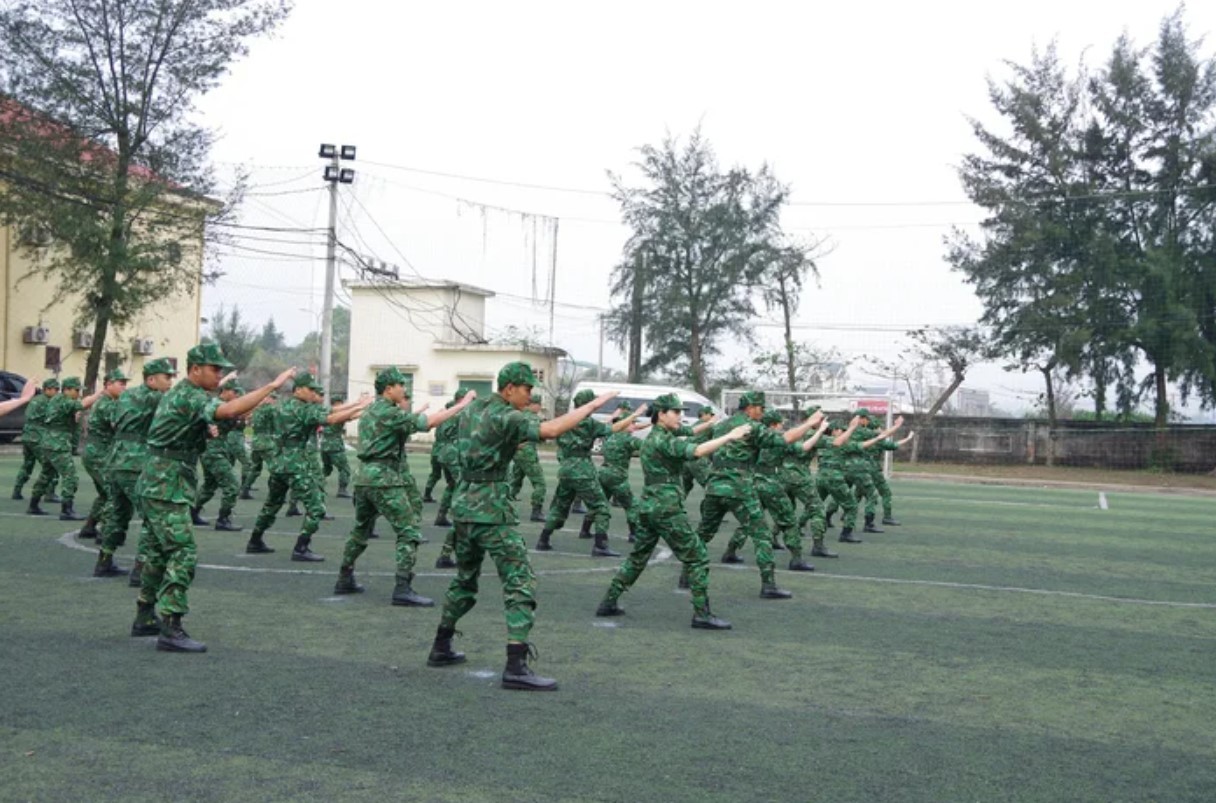 Group performance. (Photo: phunuvietnam.vn)
All members of the Women's Unions coordinate with the local women's unions and the women's unions of police and military units stationed in the area to participate in the program "Accompanying Border Women." The "Godmother" program was also organized and has sponsored 12 children.
Female border guard soldiers also coordinated to sponsor six orphaned children due to the Covid-19 pandemic with support of VND 500,000/child/month. They also donated books, and school necessities on the occasion of the Tet holidays and to welcome the new school year. In addition, there are seven unprivileged orphans who became children of border guard soldiers in the framework of one adoption program.
Women Can be Successful Leaders, Say Youth

Standard Youth is a social media campaign launched by the Ho Chi Minh Communist Youth Union Central Committee in collaboration with Plan International Vietnam with ...