Saigonchildren Inaugurates Another Kindergarten in Mekong Delta Province
Representatives of local authorities in the Mekong Delta province of Hau Giang's Phung Hiep district, donors, Saigon Children's Charity (saigonchildren) and parents had attended the ceremony to welcome the new Son Ca kindergarten.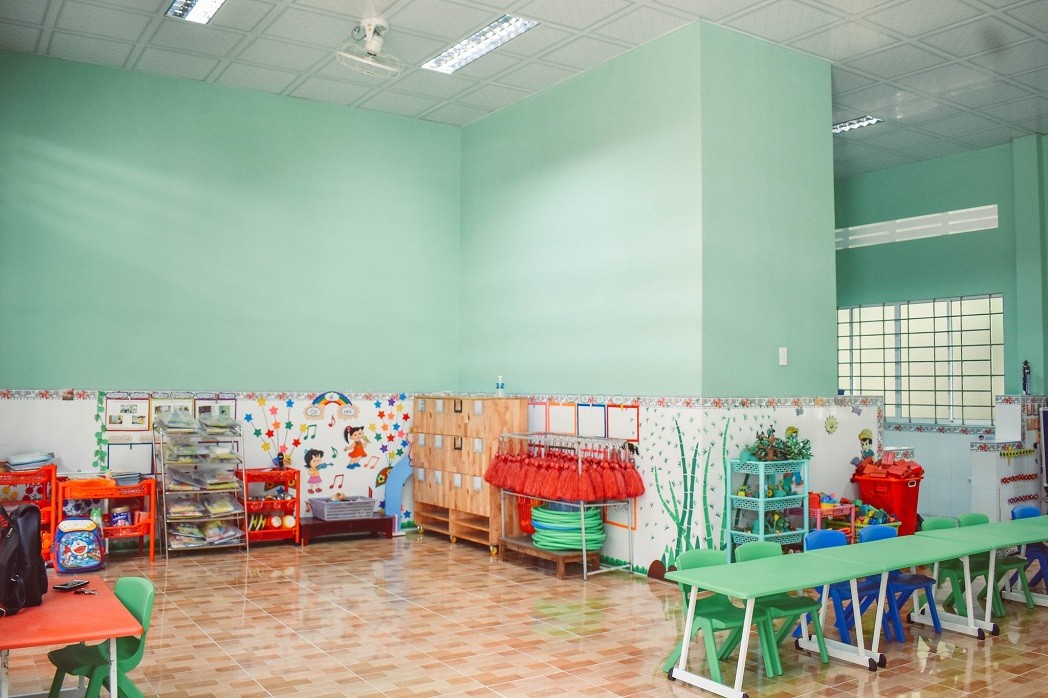 Thanks to saigonchildren and donors, 56 children are back to school after the pandemic in their new classrooms.
Nearly a year after the inauguration of Kim Dong Primary School and Tan Phuoc Hung Kindergarten, Kinh Cung Town, Phung Hiep District (Hau Giang Province); Now, Phung Hiep is happy to inaugurate Son Ca Kindergarten, Hoa Long A hamlet.
Located over 270km away from Ho Chi Minh City, Phung Hiep is one of the poorest districts in a province where 11% of the total number of households are classified as poor, Hau Giang newspaper reported.
A study conducted by the Ministry of Education & Training showed that less than 50% of primary schools in Hau Giang were built with proper concrete structures. Without stable foundations and a safe environment for learning, students' safety is at risk.
In the past two years, the impact of the Covid-19 pandemic has caused many difficulties to Phung Hiep district. Although together with leaders at all levels, Phung Hiep leaders have come up with many solutions to recover the economy after the pandemic, investment in infrastructure is still limited, especially in building schools.
In 2021, the district still receives a lot of support from businesses and donors through saigonchildren, building many schools, and providing scholarships for hundreds of disadvantaged children.
Representatives of local authorities in Phung Hiep district, donors, Saigon Children's Charity (saigonchildren) and parents had attended the recent ceremony to welcome a new kindergarten.
The project is coordinated by saigonchildren with current funding from partners Siam Brothers, PV Trans, and Mathew Donald (The Teuchter) – saigonchildren's Sports Ambassador.
The project offers two new classrooms with toilets, a playground and a warehouse with a total area of 200 square meters.
According to Principal Huynh Thi Tien, in the past, it was necessary to encourage children to go to school, but the facilities were not enough. The kindergarten has to borrow temporary classrooms at Kim Dong primary school. Up to now, when they have been able to welcome students back after the recent outbreak with the new classrooms, the school has welcomed 56 kids, and continues to encourage local parents to send their children to school.
At the ceremony, representatives of sponsors shared their joy with the school administrators, students' parents and local leaders.
"Siam Brothers' production activities are always associated with charity activities. Since then, we hope to be able to create an environment and conditions to share difficulties with the locality." – Mr. Nguyen Duc Huy – Factory Manager – Siam Brothers Vietnam
During the inauguration ceremony, Mathew Donald also sent a message through Nguyen Quyet Huong, representative of PV Trans, sharing to the kindergarten children at the school. "You are the main motivation for me to work and act for the sake of Vietnam. I hope you all study well to make the world a better place."
Mathew Donald is currently the Sports Ambassador of saigonchildren. He used to organise the Boxing Event to donate more than US$60.000 for the school building programme.
Saigon Children's Charity CIO (saigonchildren) was founded in 1992 to help disadvantaged children in Vietnam to escape from the cycle of poverty by giving them an education and a fair start in life.
With 30 years of experience, saigonchildren has now built and renovated more than 500 classrooms/schools and has supported more than 41,000 children and young people with scholarships and vocational training.