Former Street Kid Becomes Co-CEO of Charity Organization Rescueing Women and Children in Crisis
A former street kid has been appointed as co-CEO of the Blue Dragon Children's Foundation in Vietnam, the same charity that helped him when his life was very different.
Do Duy Vi, a former street kid who has worked with the Blue Dragon Children's Foundation in Vietnam for over a decade, has been appointed as its co-CEO, announced the foundation on Feb.16.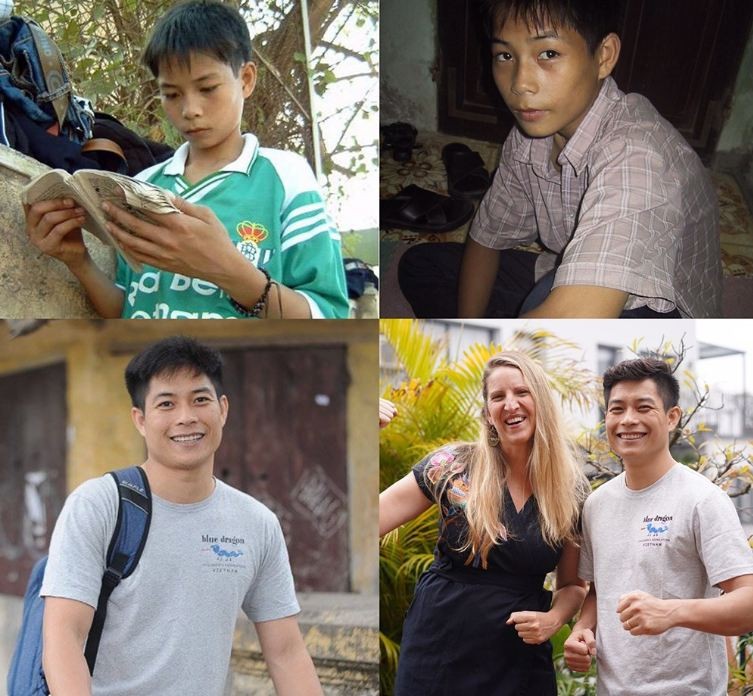 Do Duy Vi, Blue Dragon Children's Foundation's new co-CEO.
He will join the foundation's existing co-CEO, Skye Maconachie, while founder Michael Brosowski moves to a new position within Blue Dragon.
Michael's work will involve leading our strategy to end human trafficking. To focus on this vital aspect of Blue Dragon's mission, he is stepping out of the co-CEO role.
Vi was one of the first street kids to receive help from Blue Dragon when they were starting out almost 20 years ago. After returning to his studies, Vi worked in hospitality and then started working for Blue Dragon as a Street Outreach Worker in 2009.
More recently, Vi has been a program manager and has overseen Blue Dragon's work of protecting homeless and vulnerable people in Hanoi throughout the Covid-19 pandemic.
According to Duy, in 2003, he met Michael Brosowski on the street in Hanoi when he were 15 years old. At that time, Blue Dragon had not even started. Vi was a shoeshine boy and offered to shine Michael's shoes.
"As soon as I knew he was an English teacher and offered free lessons on the weekend, I joined his class with another of my friends. A few months later, Blue Dragon began and helped me to have a safe place to live and go back to studying. From that time, I didn't have to work on the street anymore. My life totally changed," Vi recalled.
When Vi was asked why he decided to apply for the position of Co-CEO, he said that Blue Dragon is on the verge of reaching a new level, with a huge opportunity to make a massive impact on the world. And he has a passion and vision to bring them forward to expand their impact in the community. Becoming Blue Dragon's co-CEO is a great opportunity to implement that vision, Vi added.
"I love the smiles of the children at the Drop-In Center. It means to me that they are safe and happy — and Blue Dragon exists for that reason."
- Do Duy Vi
To achieve Blue Dragon's mission, Vi wants to inspire and empower passionate leaders within the organization and society. "We need to create a safe, agile environment and a culture of staff sharing, caring, and standing up for what's right. And we need to connect with the world, sharing our mission so that we will inspire the world to act."
When Vi came back to work for Blue Dragon, he remembered asking Michael, 'Who is going out on the street today to find street kids?'
"It used to be Michael's job, but at that time Michael was the CEO and he didn't have time to do that anymore. So that became my job," Vi said.
He went out to find kids sleeping rough under bridges, at parks, and around the lakes; as well as started working with kids who have run away from their families and kids who have been sexually abused, or experienced domestic violence.
"Sometimes they're in gangs. I help them to get off the street and solve the problem that got them there in the first place."
After about 10 years, Vi became the manager of Blue Dragon's program in Hanoi, leading a team of 40 professionals to care for children who have been abused, trafficked and neglected. he focused on building a strong team and work culture within Blue Dragon and also reaching out to partners and finding resources in the community to help us achieve their mission.
Talking about his vision for the future of Blue Dragon, Vi voiced his hope that they are able to expand the work to new areas of Vietnam, to support more people around the country.
"We need to scale up our partnership with businesses, government partners, other organizations, and people to mobilize resources to achieve our mission of ending human trafficking."
When I lived on the street, I felt like I was at the bottom of society, Vi shared. He didn't believe in myself or think he could ever turn his life around for the better.
Now he is a co-CEO and in a position to help others, he hopes that the children of Blue Dragon will believe in themselves that their dreams can come true.
"It may take a lot of work and time, but it is possible," Vi said.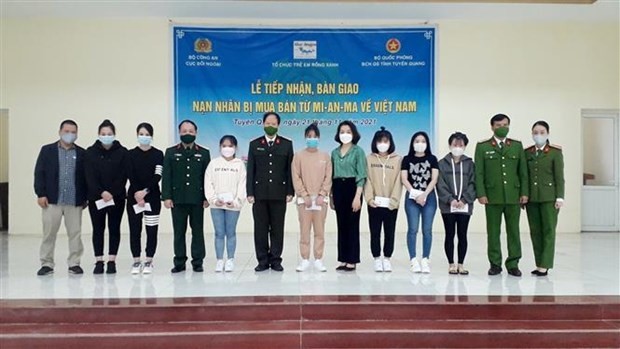 Trafficking victims returning home from Myanmar in November 2021. They were rescued and brought back to Vietnam by the Blue Dragon Children's Foundation, a non-government organisation based in Hanoi, the Vietnamese Embassy in Myanmar, and relevant agencies of the country. Photo: VNA
The Blue Dragon Children's Foundation, an Australian charity working with children in Vietnam, assists over thousands of the most vulnerable children throughout the country every year, including street kids, children with disabilities, children from rural families living in extreme poverty, and victims of human trafficking and slavery.