Free Health Examinations for Thousands of Children Affected by Covid-19
A program launched free health examinations for over 2,000 children affected by Covid-19 in Ho Chi Minh City
The Ho Chi Minh City Youth Union and VinaCapital Foundation (VCF) have launched the free health examinations for children affected by Covid-19 on Feb. 26 and 27 in the city.
Children received health examinations. Source: VCF
This activity is organized by "Care to Rise – Yêu thương Nâng bước" – the Youth Union and VCF's program to support and provide free health care for Covid-19 orphans and disadvantaged children affected by the pandemicin HCM City.
As the Covid-19 pandemic continues its devastating legacy, a huge number of children have lost their parent/s and are living in extremely challenging circumstances. These vulnerable groups are facing hardship in every category of need, including physical health, mental health, nutrition and formal education.
Since November 2021, VCF and HCM City Youth Union have implemented the Care to Rise program to access, protect, encourage and provide long-term care to more than 2,400 orphans through scientific individual assessment, short-term and mid-term remedies and long-term pathways for health and success to adulthood.
The free comprehensive health examinations are one of the main activities in Phase 2 of the Care to Rise program. The surveyors have completed Phase 1, the individual home assessments.
Care to Rise program has completed 1,924 detailed surveys and the database indicates that 66% of the orphans are 12 years of age or less, 78% of the children have anxiety disorders – 6% are severe.
Eyes/vision are very serious problems with myopia affecting 75% of the children; 72% will require glasses to correct their vision.
Nutrition is a problem that requires food supplements now and future training to change caregiver behavior – 45% of the children fall into this undernourished category.
In collaboration with the HCM City Young Physicians' Association, VCF and theYouth Union expect to examine and provide medicines to children affected by Covid-19 in two days with the support of 44 doctors, 100 volunteers, and other stakeholders.
The healthcare clinic began with a general health check. The children that have more complex health issues were provided further comprehensive examinations with specialists including dental checkup, eye examination, chest x-ray, psychological checkup, nutrition checkup, echocardiography, abdominal ultrasound, and physical therapy.
The health status of every single child will be stored in the program's database for further follow-ups and periodic checkups in the future. Phase 3 includes the future pathway forward to adulthood for each child.
Besides the business of health examinations, there are numerous fun activities for the children during the event like painting, coloring, puzzles, free hair-cutting, learning Zumba dance, and counseling to receive support from the "Blue shirt tutor" program.
VCF and the city's Youth Union also prepare free meals after the health checkup, gift sets and books for all children.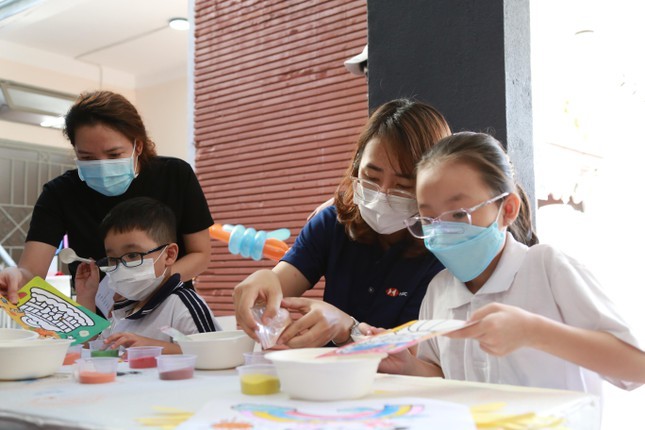 Volunteers support and play with the children at the program. Source: Tien Phong newspaper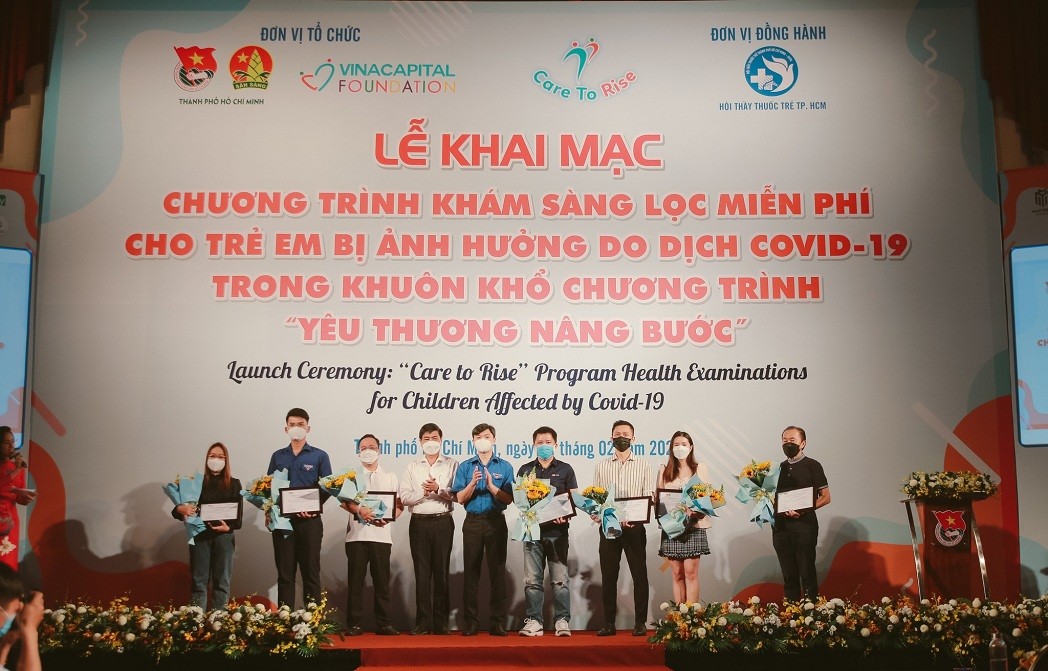 Nguyen Minh Triet, Secretary of the Central Committee of the Youth Union, President of the Vietnam Student Association, and representatives of the Ho Chi Minh City Party Committee exchanged letters of thanks to the units that accompanied the program. Source: VCF
According to Tran Thu Ha, vice secretary of HCM City Youth Union and chairwoman of HCM City Young Pioneer Council, the Care to Rise program has been implemented for four months. Although the time span is short, all the work have been done, especially the home surveys for nearly 2,000 children, shows a great and prompt effort of the Youth Union, VCF, and youth and young pioneer organizations at grassroots level.
Base on the survey results collected in Phase 1 and the information recorded through health examinations activity, HCMC Youth Union and VCF will devise the next step in the supporting plan for Covid-19 orphans as well as report and propose plans to protect and take care of children affected by Covid-19 to the city's leaders and other functional authorities."
"Care to Rise program still has a long journey ahead with a lot of difficulties and challenges. That's why it requires persistence from the implementing units, the cooperation from the community to be able to reach its ultimate goal to foster an environment where children affected by Covid-19 can fully develop like any other children."
"The Care to Rise program is a very scientific approach to the kind of trauma and long term loss of support that has been the result of the pandemic in Vietnam. We want to be sure that every child gets the appropriate psychosocial attention, quality healthcare services, and suitable educational supports until they are 18 years old.", stated Rad Kivette, VinaCapital Foundation CEO.
He also called for more cooperation and contributions from the community to be able to take care and provide essential support to these disadvantaged children so that they will not grow up as a lost generation. "We are determined to leave no child behind."