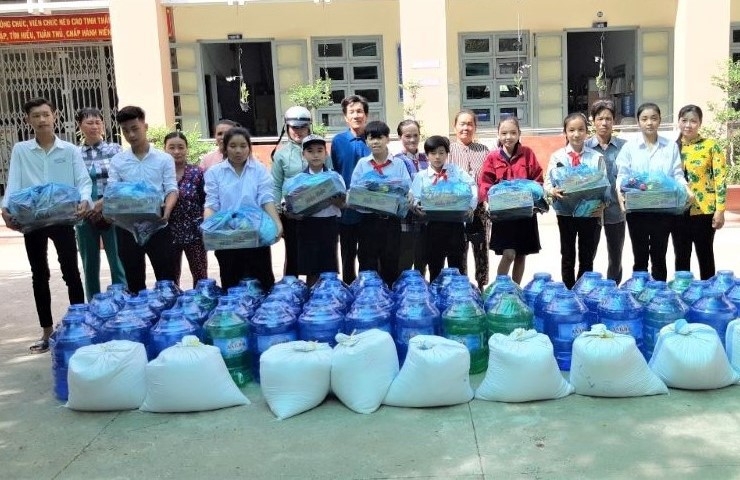 Children and families were provided with emergency support. Photo: Saigon Children's Charity
As of 3 pm on September 3, Vietnam had 1,046 COVID-19 cases, including 748 recoveries and 35 deaths.
Due to the COVID-19 pandemic, the economy grew just 0.36 percent in the second quarter, the lowest in the past three decades, the figure reached only 1.81 percent in the first half.
According to report by the Ministry of Planning and Investment, the COVID-19 pandemic has negatively impacted the economy, seriously affecting almost all sectors and socio-economic fields. About 17.6 million people have had their income reduced, leading to difficulties in stimulating domestic consumption.
In the first seven months of this year, the unemployment rate increased at the highest rate in the past 10 years, of which unemployment in the working group aged 15-54 accounted for 30.7 percent of the total.
To bring timely support to the children and their family during the turmoil, Saigonchildren launched an emergency appeal. Fortunately, it received strongly supportive responses from donors and friends. As a result, since April saigonchildren were able to raise VND 10 billion (USD 434,000) equivalent to over 7,000 aid packages.
They collaborated closely with our local partners in six provinces and city, namely Tay Ninh, Dong Nai, Ho Chi Minh, Tien Giang, Tra Vinh, and Hau Giang to deliver the support packages to the children and their families. Each household received a package customised to the need of the child and his family. Most food supply packages contained rice, fish sauce, soy sauce, sugar, cooking oil, canned fish, glutamate, and instant noodles. For cases who live in areas which were severely affected by the drought, drinking water was added. For cases who were at risk of being evicted for not being able to pay the rent, the rental was provided. The quantity of each item varies among households to ensure the package can meet their most urgent food and hygiene needs.
According to Executive Director of Saigonchildren Damien Roberts, the ultimate goal of the organisation is facilitating children's best access to education. Therefore, it used part of donations to present scholarships to children of families economically hit by COVID-19 pandemic.
The organising continues raising fund to assist pademic-hit areas like Da Nang and Quang Nam and help children in need to go to school.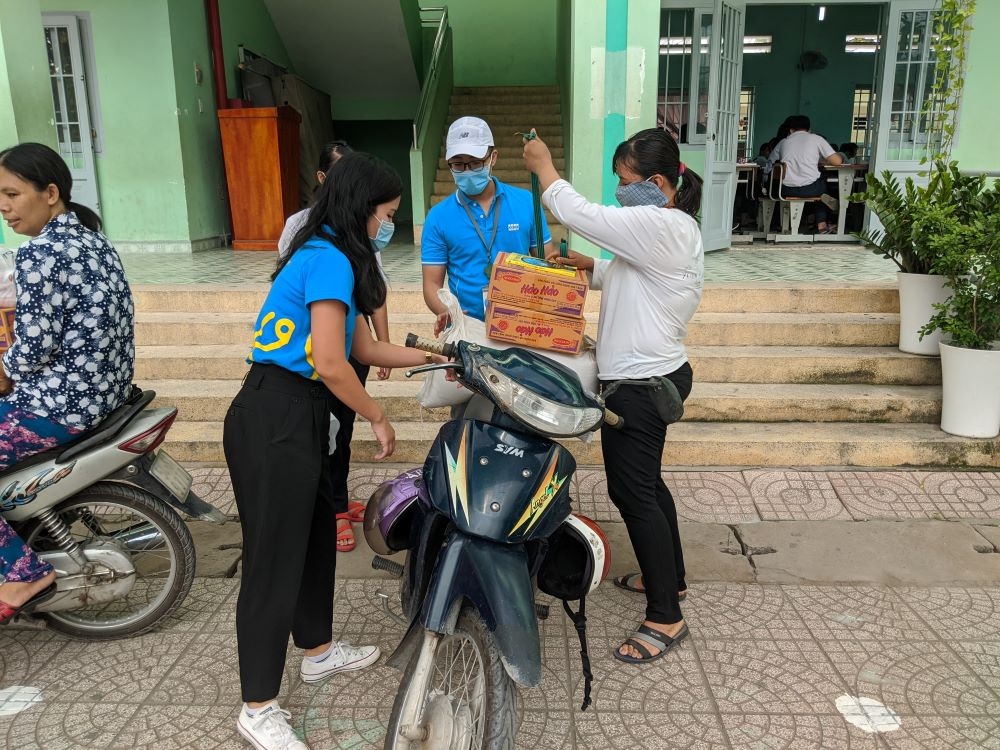 210 emergency aid packages have been successfully delivered to the families of our poorest children in Ho Chi Minh, Dong Nai, Tien Giang, Binh Duong, Tay Ninh, and Tra Vinh in May 2020. Photo: Saigon Children's Charity
The donation has kept many children and their families survive during this hard time. It kept them 'learning, not earning' through the most challenging time of COVID-19, and in the mid-to-long term, it will reduce the risk of children dropping out of school and joining the child labour force and being at serious risk of exploitation or child trafficking. Saigonchildren's aim is to enable them to continue their education, rather than having to leave school to contribute to the household income or help provide food for the family.
The support brings both materially and spiritually to the lives of disadvantaged children and their families during this hard time./.
Hannah Nguyen