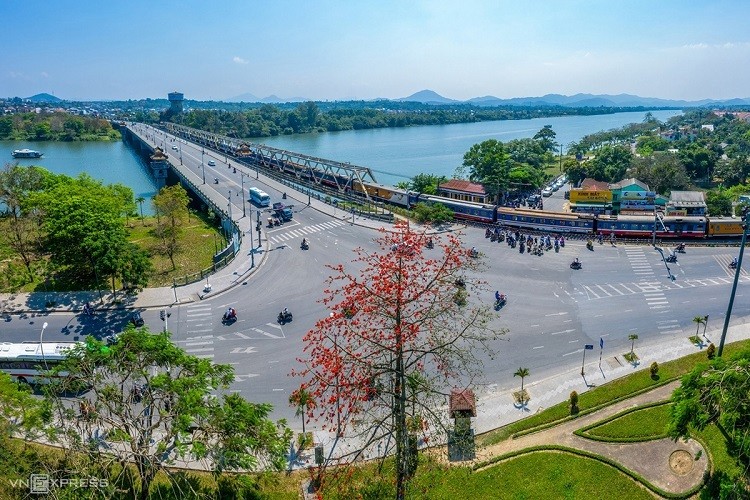 Red cotton trees (cay gao in Vietnamese) are in full bloom around the Da Vien Bridge, which crosses the Huong (Perfume) River, southwest of Hue.
"Red cotton tree flowers typically bloom in March, but due to weather changes they have bloomed earlier this year," said Kelvin Long, the photographer who took these shots. (Photo: Vnexpress)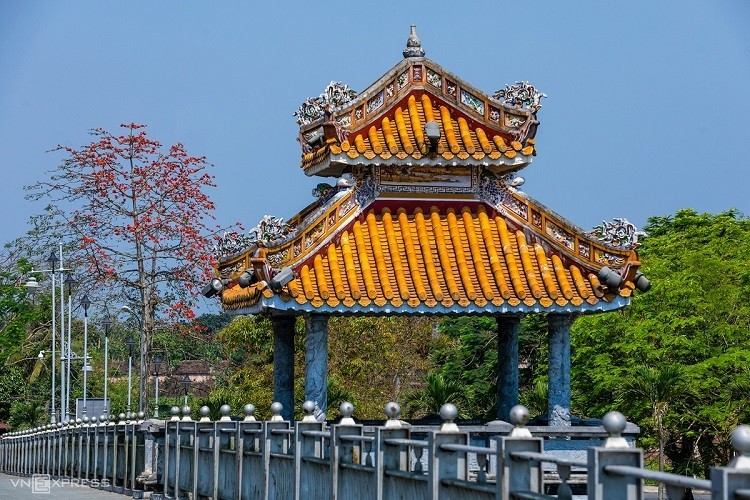 A red cotton tree next to a gazebo seen from Da Vien Bridge connecting Le Duan and Bui Thi Xuan streets. (Photo: Vnexpress)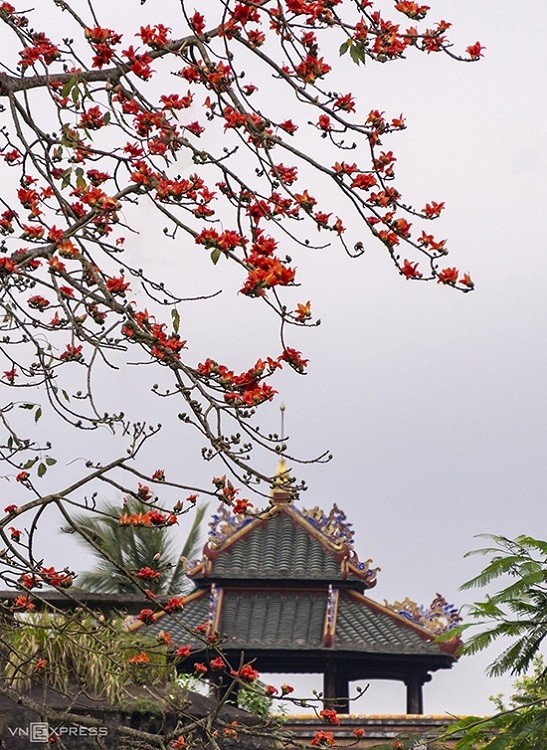 A tree branch packed with these bright scarlet blooms accentuates Vietnam's oldest meteorological station, Quan Tuong Dai, in Thuan Hoa Ward. It was constructed in 1827, the reigning time of King Minh Mang, and consists of intricate, feng shui-compliant architecture.
Hue is home to the Nguyen Dynasty, Vietnam's last royal family (1802-1945). Minh Mang is the second emperor of the dynasty. (Photo: Vnexpress)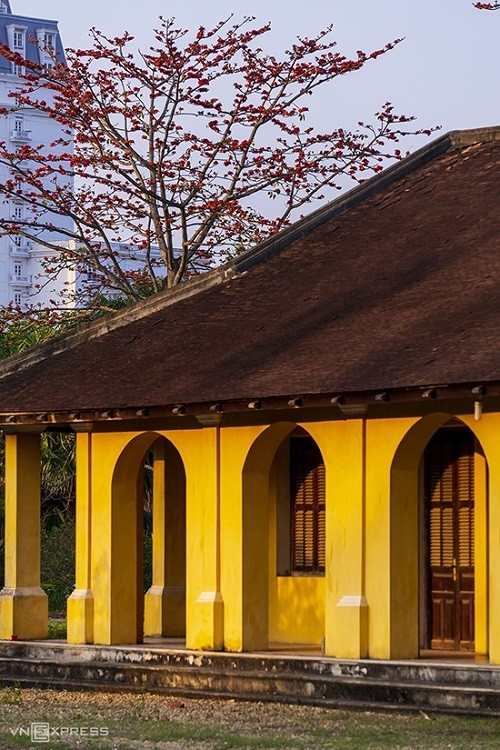 Cotton tree flowers add a splash of red to An Dinh Palace, one of the most outstanding buildings of the Nguyen Dynasty because of its sophisticated architecture.
Located by the bank of An Cuu River, An Dinh Palace used to be the private residence of Nguyen Phuc Buu Dao (later King Khai Dinh, the 12th emperor of the Nguyen Dynasty, ruling from 1916-1925). (Photo: Vnexpress)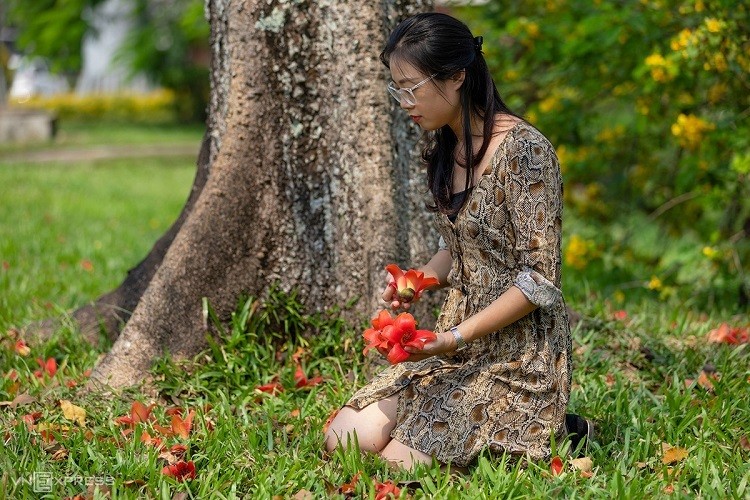 The flowers make for a beautiful photo backdrop, and so attract both locals and foreign visitors alike.
Beyond Hue, these red blooms are also found at local parks, villages, holy attractions, and streets in places like the central Quang Ngai Province, Hanoi, and the northern mountain provinces of Son La and Ha Giang.(Photo: Vnexpress)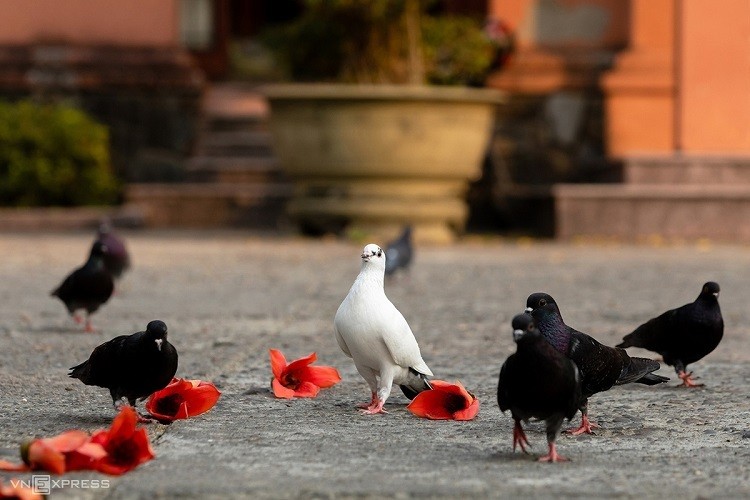 The first flowers of the season have fallen on the ground at the Thua Thien Hue Culture and Information Center on Hung Vuong Street. Along with the birds, the vermillion flowers make for a pretty sight. (Photo: Vnexpress)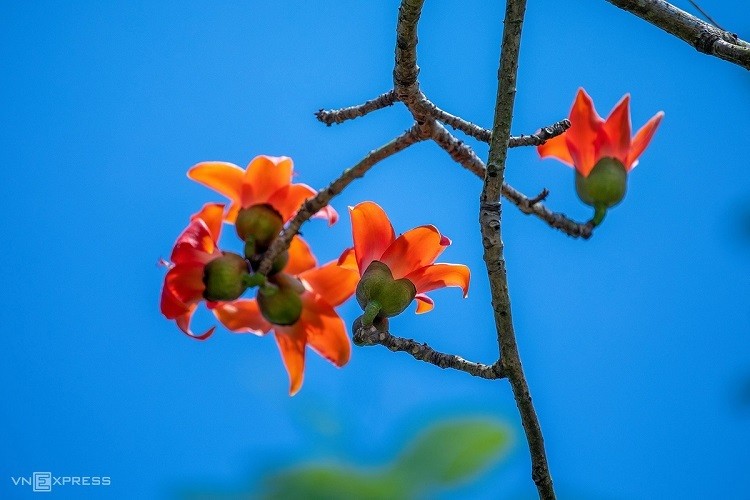 The red cotton tree flower has five petals. The blossom period lasts around a month and flowers gradually fall before new foliage appears. The tree is also commonly referred to as bombax celia or kapok. (Photo: Vnexpress)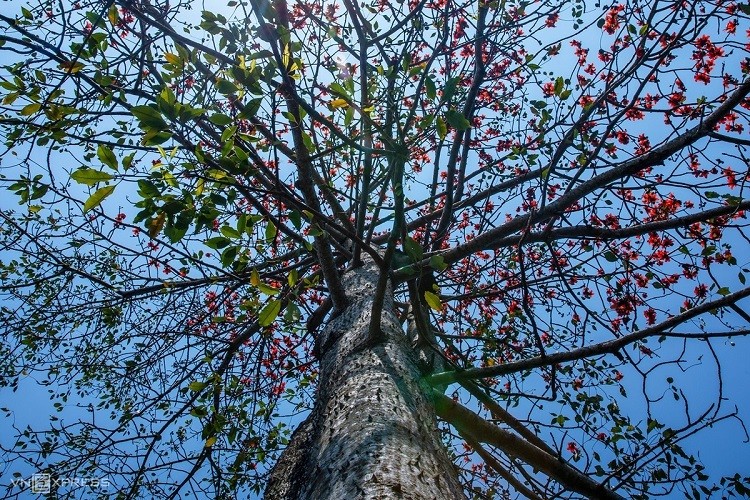 The trunk of a red cotton tree measures over ten meters high and is covered in thorns. (Photo: Vnexpress)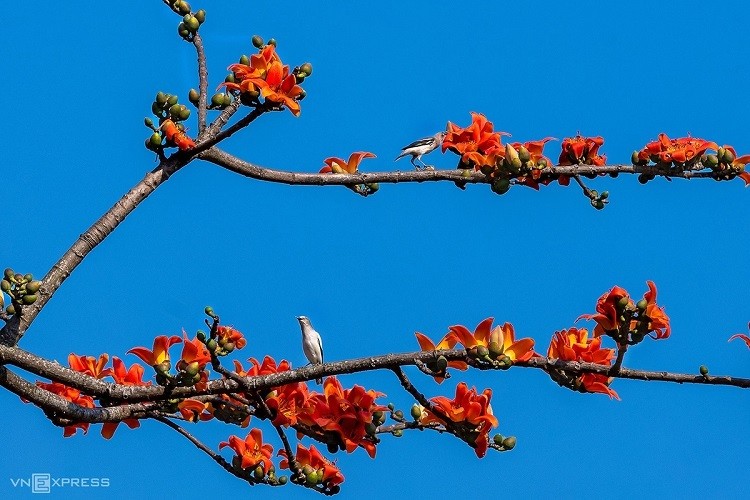 The vivid red flowers attract birds in search of nectar. (Photo: Vnexpress)
VnExpress International
e.vnexpress.net