Seeking Serenity in Thrilling Phong Nha
In recent years, Phong Nha (Quang Binh) has become a top adventure destination in Vietnam. However, VNT writer Glen MacDonald is determined to find a more relaxing side to the town in the middle of the jungle.
In Phong Nha, adventure is always afoot. Cooled by the Son River and shaded by jagged limestone karts, Phong Nha was once an untamed jungle, routinely bombed by American forces. Nowadays, it is a must-see tourist destination for several reasons.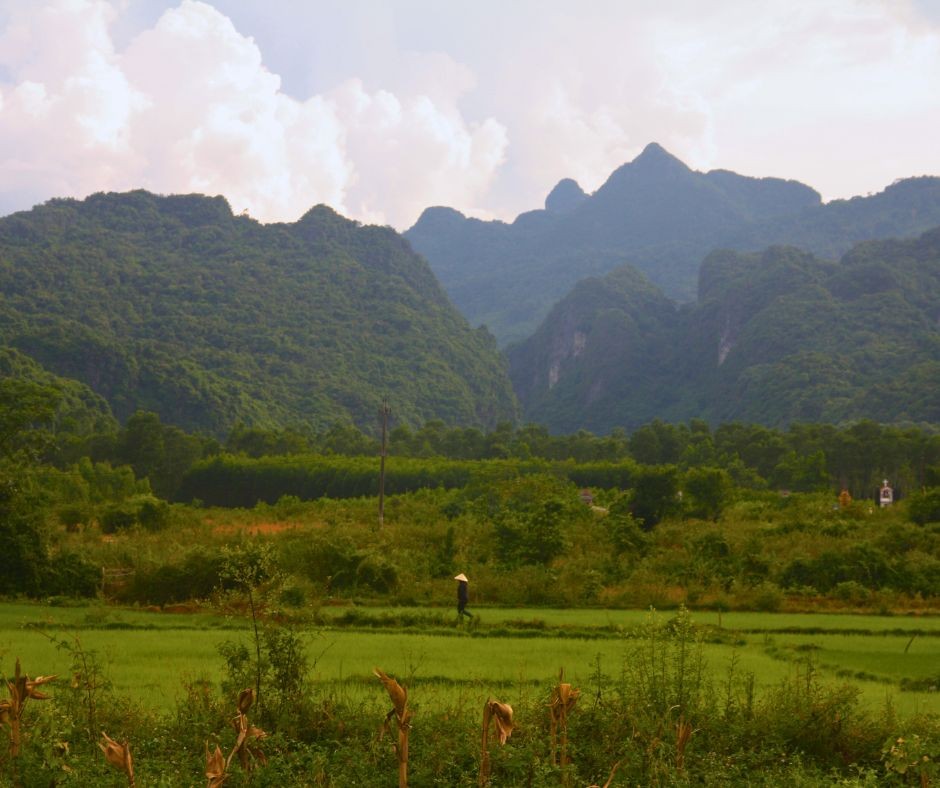 Phong Nha - adventures in paradise. Photo by Glen MacDonald.
Phong Nha owes its global acclaim to a local farmer, Ho Khanh, who discovered Son Doong, the world's largest cave. In 1990, Ho Khanh was hunting when he stumbled upon a cave large enough to host its own jungle and weather patterns! Since then, the cave has attracted cave explorers from all over the world.
The richly biodiverse region may also be the last home of Vietnam's rare tigers. In 1998, the last photo of a Vietnamese tiger was captured in the national park. Older locals still swap stories of seeing tigers in their youth. Last year, there was a supposed tiger sighting, leading to renewed interest among Vietnamese conservationists.
Furthermore, the unique landscapes of Phong Nha also appeared in the 2017 monster flick, Kong: Skull Island. Locations like Mouse Cave were chosen for their wild otherworldliness. Plenty of trekking companies offer special tours to places featured in the movie.
Despite its many caves, rare tigers, and giant apes, I didn't come to Phong Nha for adventure. Rather, after driving across Nghe An province, I just want to relax. Fortunately, Phong Nha offers plenty of chill vibes, in addition to thrills, in the deep jungle.
Drinks by the Son River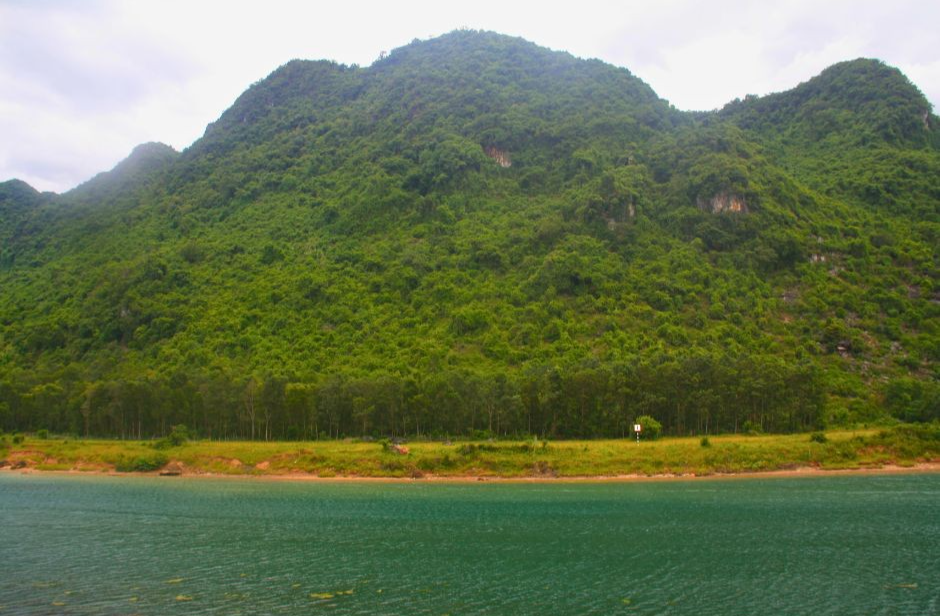 The river that runs by Phong Nha Town. Photo by Glen MacDonald.
The Son River is an inviting sight, especially after a long drive. At certain points, the river flows under limestone karsts, giving the river an ice-cold temperature. The water's distinct color reflects the same lush greenness of the surrounding jungle.
The current moves briskly along, providing a speedy pace for the fleet of tour boats that dominates the river during the day. As I wade in the shallows of the river, the muddy riverbed releases a jetstream of bubbles, feeling like a natural jacuzzi.
Capitalizing on cool temperatures, local cooks have opened several riverside restaurants that offer plenty of local delicacies and cold beer. As the sun sinks behind the western mountains, I feast on grilled eggplant with garlic and down it with several cans of Huda beer.
A Pleasant Drive through the Jungle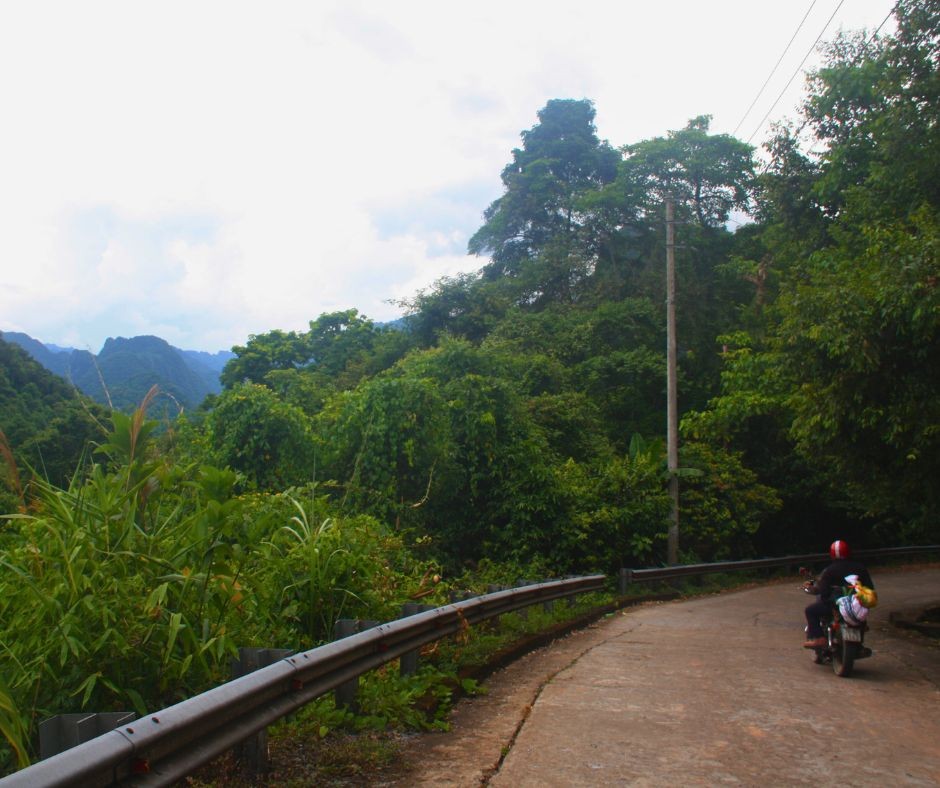 Jungle roads. Photo by Glen MacDonald.
Surprisingly, the roads of Phong Nha-Ke Bang National Park are well-maintained, if a bit steep. For experienced drivers, the roads pose no challenge but caution should still be taken, especially this far out in the jungle. The route descends into a lovely valley, boasting breath-taking views. Every few meters, I have to stop and snap a flurry of photos.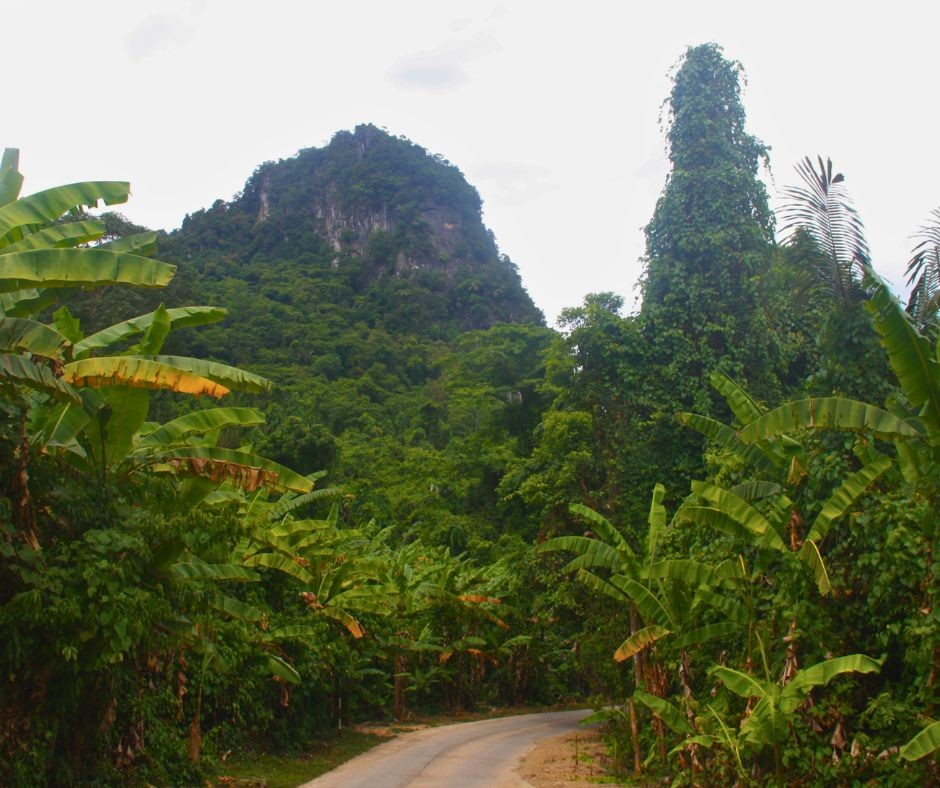 Drifting into the leafy green. Photo by Glen MacDonald.
Eventually, I arrive at Arem Village, home to a tribe that narrowly escaped extinction. The once-nomadic Arem tribe would live in the many caves found throughout the national park, hunting swallows with forest ropes. In 1956, the Arem people first encountered the Vietnamese army during the war. At that time, the tribe only consists of 18 members. With their nomadic ways now behind them, the Arem people now have permanent dwellings and tend to large rice paddies, with help from local authorities. In the post-war years, the tribe has now reached over 300 members.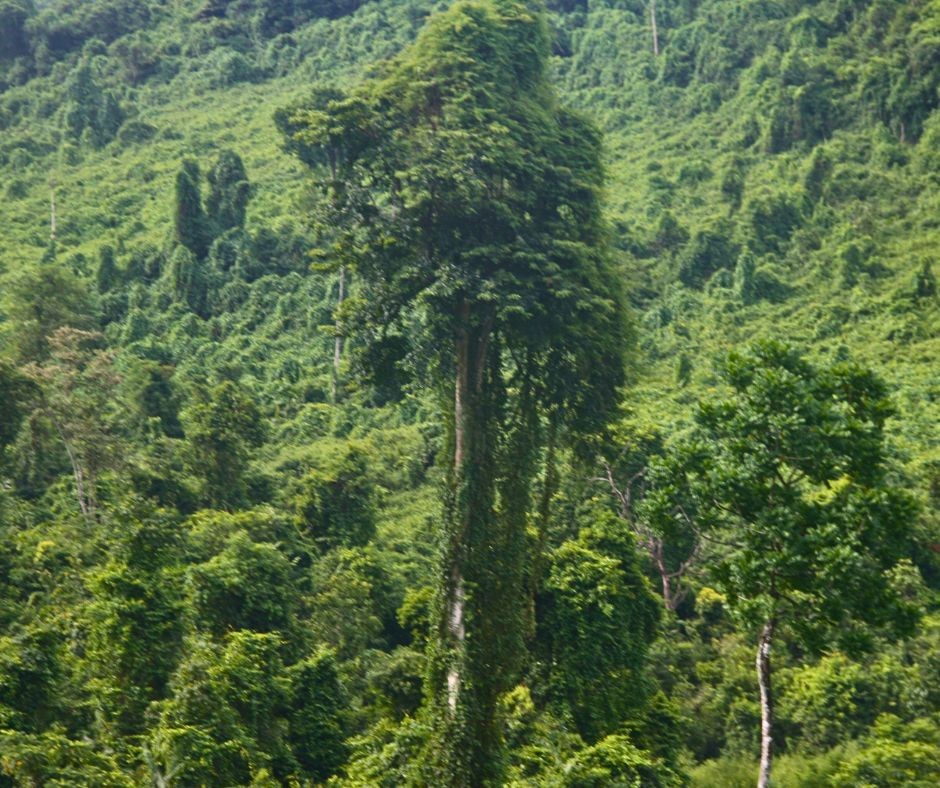 A mighty tree. Photo by Glen MacDonald.
I sheepishly wave at an Arem family, having no real plan to communicate. An elderly grandmother, wearing a grand headscarf, does not look up from her crafting while her son, wearing modern shorts and a t-shirt, returns my wave with a smile. Further down the road, I pass a tall, athletic-built woman carrying a huge bundle of logs without breaking a sweat. Despite the harsh, jungle conditions, the Arem people seem to thrive.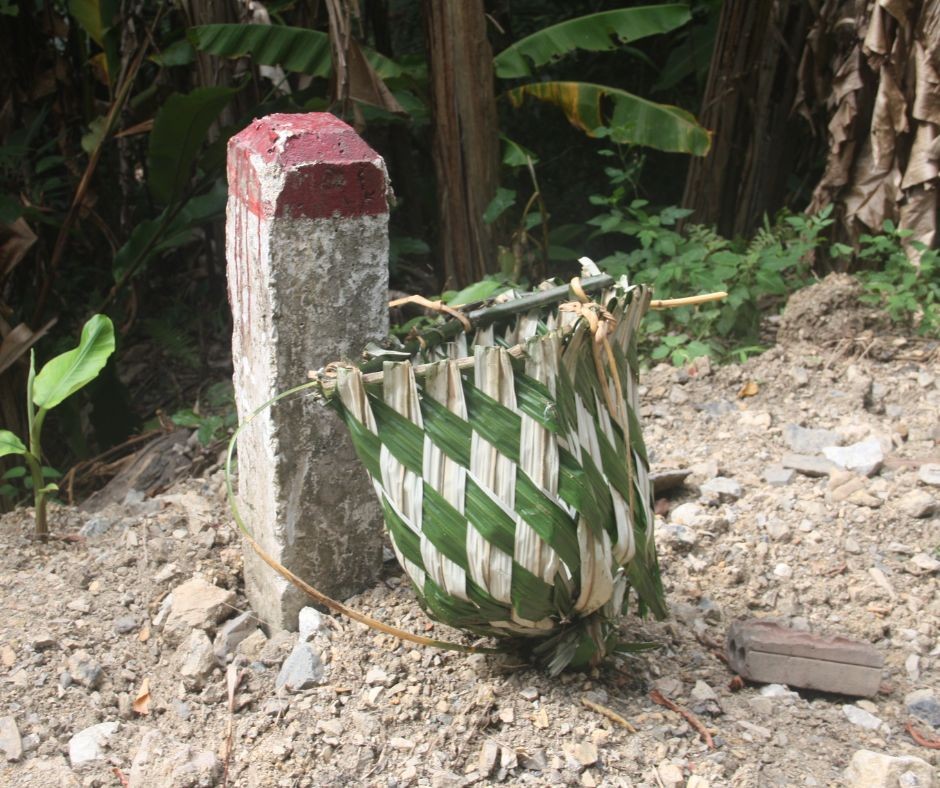 A basket made by the Arem people. Photo by Glen MacDonald.
A Photo Opp at the Duck Stop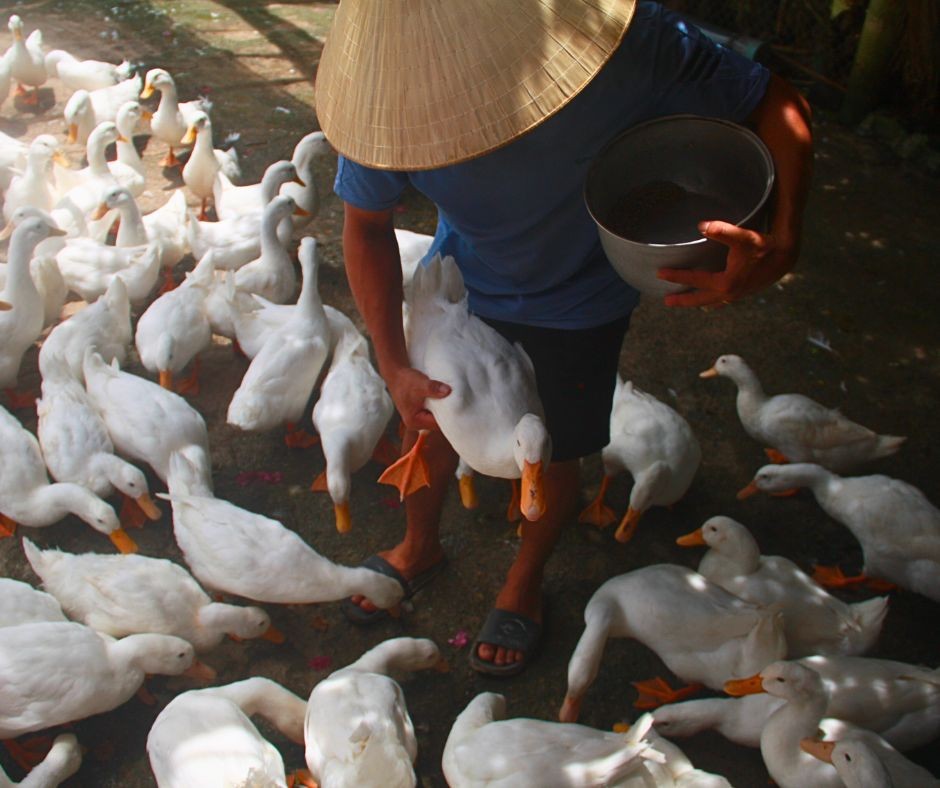 Feeding time. Photo by Glen MacDonald.
The next day, I meet some friends after they returned from a busy day of trekking, spelunking, zip-lining, and swimming. Predictably, they are exhausted from their adventures. I suggest we do something chill and check out the Duck Stop. The aptly named tourist destination has been running since 2016 and has excellent word-of-mouth.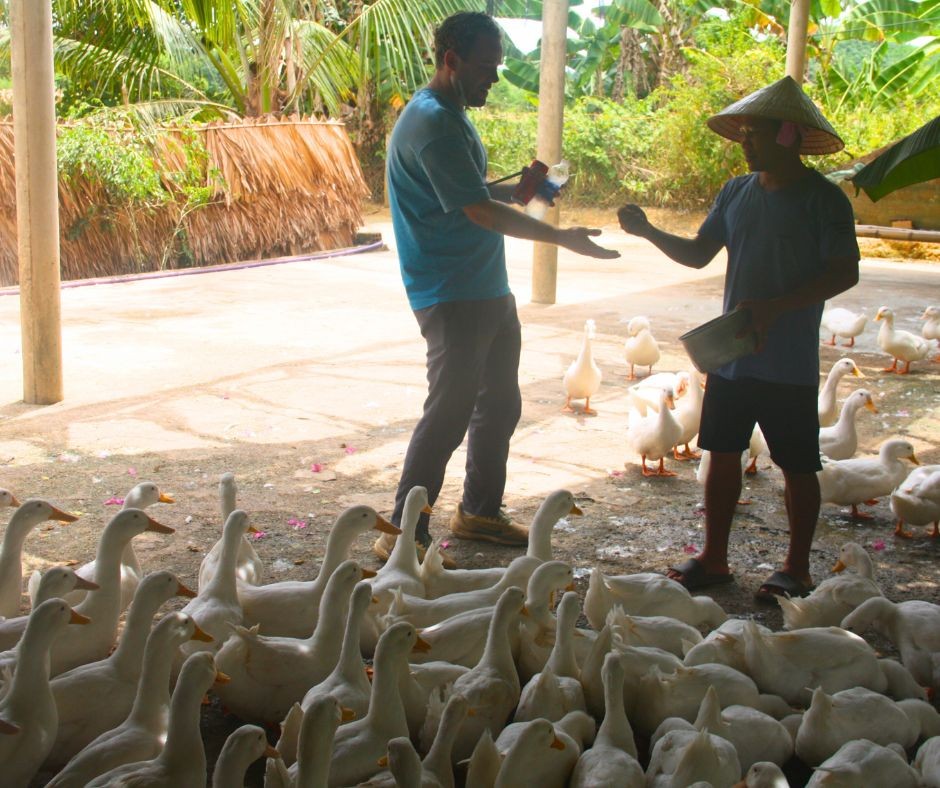 Learning from the master. Photo by Glen MacDonald.
The Duck Stop is remarkable because of its simplicity. Here, tourists have the opportunity to act like Vietnamese farmers and feed a happy flock of ducks. When grasping a fist full of duck feed, the ducks follow our every move. In unison, their white-feathered heads bob and sway as we tempt them with food. Once we release it, the ducks devour it within seconds.
The experience only takes a few minutes but the memories and photos stay with us, long afterward.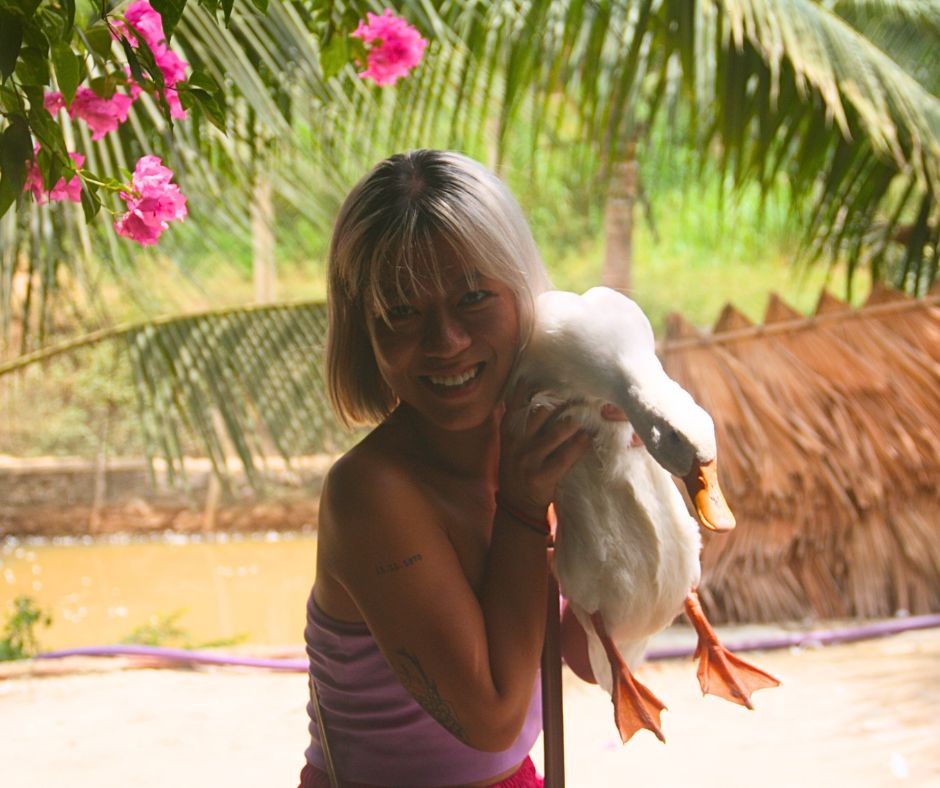 Making feathered friends. Photo by Glen MacDonald.
Driving Across Vietnam in a Single Day

VNT witnessed writer Glen MacDonald the writer geographical and cultural diversity of Vietnam's oceans and mountains while traveling across Nghe An province.