Series of activities to mark 70 years of Vietnam-Bulgaria ties in Hanoi
A range of activities will be held to celebrate the 70th anniversary of diplomatic relations between Bulgaria and the Socialist Republic of Vietnam (February 8, 1950 – 2020).
A sum of money raised by the HCM city's Vietnam-Bulgaria Friendship Association presented to Bulgarian Ambassador to Vietnam Marinela Petkova on the occasion of the Bulgarian Education, Culture and Slavonic Literature Day (May 24). Photo: HUFO
Accordingly, the Vietnam-Bulgaria Friendship Association will collaborate with the Bulgarian Embassy in Vietnam and Hanoi administration to organize, announced at a meeting on July 3 of the association's executive committee in Hanoi.
The event will include a meeting, numerous cultural and art activities and a fair with many booths.
The association will also debut a book named Memory of Bulgaria, which is a collection of poems, essays and photos of Bulgaria by its members.
The COVID-19 has forced the association to postpone several major events, such as a ceremony to mark the establishment of bilateral diplomatic ties and celebrations of the Bulgarian Education and Culture, and Slavonic Literature Day. However, a gather was hosted by the Ho Chi Minh City Union of Friendship Organizations (HUFO) and the city's Vietnam – Bulgaria Friendship Association this May to celebrate the Education, Culture and Slavonic Literature Day, a national holiday celebrating Bulgarian culture and literature as well as the alphabet.
A seminar, co-chaired by HUFO Chairman Vuong Duc Hoang Quan and Bulgarian Ambassador to Vietnam Marinela Petkova, on Vietnam – Bulgaria educational cooperation in the new period, was held on the same day.
During the meeting, HUFO and the city's Vietnam – Bulgaria Friendship Association took the occassion to present to the Bulgarian Ambassador VND 100 million (USD 4.299) in order to help the country effectively deal with the COVID-19 pandemic.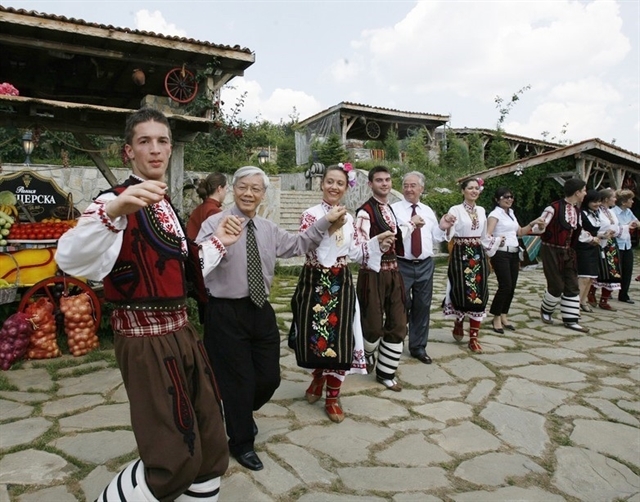 Secretary General Nguyen Phu Trong, former President of the National Assembly of Vietnam, visiting Bulgaria in 2008. VNA/VNS Photo Tri Dung
The celebration of the National Day of Bulgaria in Vietnam this year coincides with the 70th anniversary of the establishment of diplomatic relations between our two countries that took place on February 8, 1950, according to Bulgarian Ambassador Marinela Petkova.
Bulgaria was among the first countries to recognise Vietnam's independence. Ever since our relationship has been carefully cultivated and many of two countries' leaders, starting with the historic visit of President Ho Chi Minh to Bulgaria a few years after, and two peoples' efforts to build a co-operation of value and purpose.
In the first few decades of Bulgaria - Vietnam relations, education was a paramount field of co-operation, bearing our shared understanding of its vital importance to national consolidation and prosperity. During the 1980s, Bulgaria provided scholarships for Vietnamese students and PhD candidates, and for technical vocational education. By the late 80s, over 30,000 Vietnamese citizens had received higher or professional education in Bulgaria.
In addition, the Bulgarian Studies Department at the Institute for Foreign Languages in Hanoi under Hanoi University, trained over 650 students and 90 PhDs in the Bulgarian language, culture and history.
Bulgaria was also among the pivotal foreign contributors to introduce information technology and computer sciences to Vietnam, again in the 1980s, supplying computers to youth associations and organising training courses in programming, programming languages and computing.
In the spirit of mutual understanding and goodwill, the leaders of the two countries continue to hold regular comprehensive dialogues and take concrete steps to strengthen bilateral co-operation.
Nowadays, this active political dialogue boasts multidimensional sectoral co-operation. Vietnam is a priority partner for Bulgaria in Southeast Asia. Bilateral turnover has increased steadily, but yet to meet its full potential, Petkova stressed.
In recent years there has been a positive trend of increasing bilateral trade in higher value-added goods such as machinery, medical equipment and apparatus and pharmaceuticals. Boosting all-encompassing people-to-people relations, and crosscutting through the fields of education, tourism, culture, business relations and labour mobility is currently also in focus./.