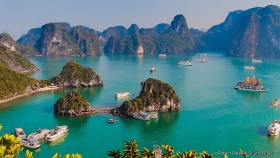 Ha Long Bay contemporarily stops receiving tourists amidst a complicated situation of Covid-19.
Quang Ninh Provincial People's Committee has announced that Ha Long Bay, Yen Tu and Co To tourist sites will be closed as of 12:00 on March 12-26. Tourists will not be permitted to stay overnight in Ha Long Bay from 12 March.
Vehicles and tourists who started traveling in those destinations before the restriction are allowed to continue but are advised to finish the journeys soon.
In addition, karaokes, discotheques, bars and electronic game shops in Ha Long City were required to suspend their services from 18.am of 11 March. Restaurants and catering businesses were required not to receive big groups of customers. Religious sites will also be temporarily closed from 8.am of 12 March.
Phu Yen province also decided to close all historical relics and tourism attractions from March 13 as well as enhanced examination work on hotels, hostels, and accommodations across the region.
Not an exception, all tourist sites within districts and cities in Ninh Binh province were closed from 6 am on March 12 while hotels across the province have halted receiving people from or passed by epidemic areas, who were not taken medical check-up and quarantined or showed signs of coughing and illness.
Hanoi, the capital city of Vietnam yesterday requested bars, karaoke bars, and several tourist sites to close until the end of March.
Mayor Nguyen Duc Chung said at an emergency meeting Friday that the current goal in Hanoi's Covid-19 fight is to minimize spread of infections and prevent the capital city from becoming an epicenter of the outbreak. He said authorities are preparing plans for all scenarios and will inform citizens in due course.
There were 1,600 karaoke parlors in Hanoi as of mid-2019, according to the Hanoi Department of Culture and Sports.
In areas with a high risk of transmission like Hoan Kiem District, Chung asked people to refrain from mass gatherings. He also asked vendors to wear face masks and maintain a safe distance when interacting with tourists.
In the Southern part of Vietnam, Ho Chi Minh City has ordered local entertainment facilities, including bars and clubs, to shut down starting from Saturday evening in a bid to curb the spread of the novel coronavirus disease (COVID-19).
According to a document issued by the People's Committee in District 1, all forms of entertainment establishments including cinemas, massage parlors, bars, karaoke bars, discos, and beer clubs in the downtown district shall be suspended indefinitely from 6. pm on Saturday.
Hotels and restaurants in the district must cease to offer such services while their other businesses can remain in operation.
The district's agencies and chairmen of the ten wards under its administration were tasked with coordinating with local police to implement the decision.
The suspension is in effect until the next directive from the municipal People's Committee becomes available.
Tien Giang province has also halted welcoming foreign arrivals as well as closed down its port for ships, transportations arriving at My Tho city's port, which carry foreign tourists as of March 12.
In the latest move to combat Covid-19, the Vietnamese government has required that people wear face masks at crowded places like airports, bus stations, and supermarkets, in addition to suspending visas on arrival for all foreigners, promoting online learning, and stepping up isolation, to prevent the spread of the novel coronavirus disease (COVID-19).
Vietnam has confirmed 53 COVID-19 cases so far, with 16 having fully recovered and been discharged from the hospital by February 26.
No mortality has been reported in the country to date.
VNF/Vn Express/ Tuoitrenews/ VGP