Vietnam confirms 53rd COVID-19 case
The Ministry of Health on March 14 evening confirmed the 53rd COVID-19 infection case. ​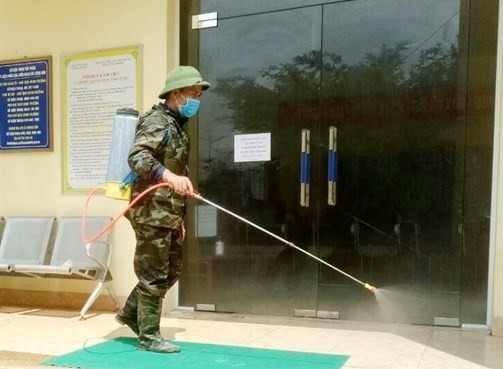 Disinfectant is sprayed at a local People's Committee in Quang Ninh province (Photo: VNA)
Among the new COVID-19 cases is a 50-year-old man residing in Hanoi's Ba Dinh district who returned home on March 9 from a working trip to Paris, France, according to the ministry.
The case 51 is a 22-year-old student living in Hanoi's Bac Tu Liem district. From February 23 to March 12, she travelled through many countries in Europe. On March 13, she arrived at Hanoi's Noi Bai international airport on flight QR968 and was sent straight to the National Hospital of Tropical Diseases.
Two case in Hanoi are being quarantined at the National Hospital of Tropical Diseases in the outlying district of Dong Anh, and in stable condition.
Other newly-confirmed patients include a 24-year-old woman residing in Ha Long city, Quang Ninh province, who returned to Vietnam from London on same flight with case 17 and a 53-year-old Czech citizen, who had contact with some Italians while in his home country.
On March 10, he arrived at Tan Son Nhat international airport on flight QR970 from Qatar's Doha. After entering Vietnam, he stayed in District 1, Ho Chi Minh City.
The city's Centre for Disease Control and Prevention has issued a notice urging passengers on the same flight to immediately contact the nearest medical agencies for checkups and guidance on disease prevention.
As of Saturday, 37 COVID-19 patients are being treated in hospitals, while 16 have been discharged.
Amidst complicated developments of the acute respiratory disease caused by COVID-19, MoH has released specific guidance on routine cleaning in the workplaces.
The guidance may help prevent workplace exposure to COVID-19, keeping workers safe and minimising the spread of the disease./.