Shaping Vietnamese fashion on the international fashion map with cultural imprints
Fashion designer Minh Hanh once captivated domestic and expat fashion lovers when she introduced collections of brocade ao dai with bold Vietnamese cultural colors. Designer Cong Tri brought to the world-class fashion weeks many collections imbued with Vietnamese souls in each meticulous design. Fashion carries cultural messages, which is the higher goal of Vietnamese designers and fashion events.
Cross-cultural promotion and communication through fashion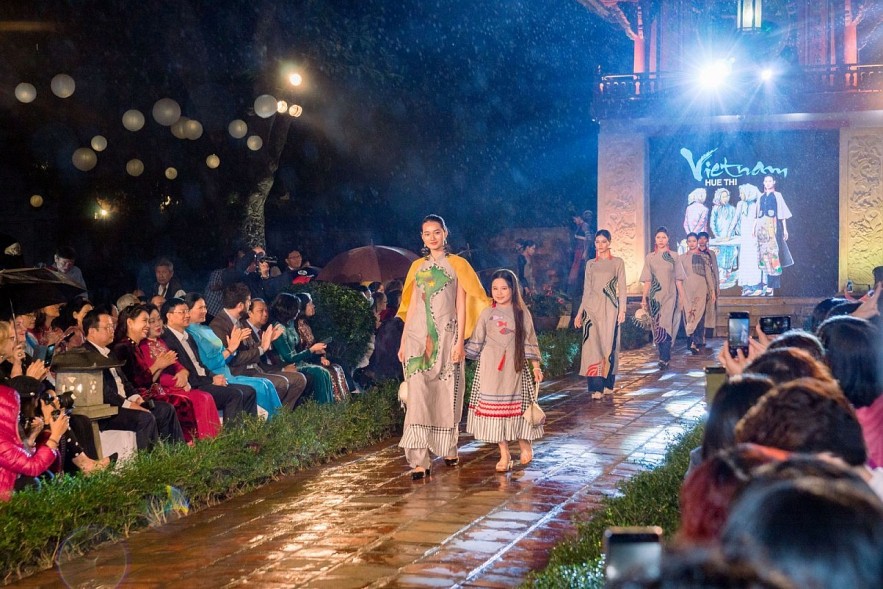 Map of Vietnam is introduced on the ao dai. (Photo: Dang Huynh)
In April 2021, fashionholic had the chance to travel around the world with the runway made by Vietnamese ao dai at the "ao dai cua chung ta" (our ao dai) event taking place at the Temple of Literature (Hanoi). Themed "World in Vietnamese Ao Dai", the cultural identities of 15 countries became the inspiration for designers and were conveyed to ao dai through collections.
Designer Cao Minh Tien chose the beauty of the French language, Phuong Thanh chose tulips representing the Netherlands, a collection inspired by Greek myths by designer Trinh Bich Thuy, and designer Ha Duy chose Japan with the depth in architecture. Each country has a different cultural characteristic and fashion designers put them on ao dai in a way that keeps both Vietnamese traditional dress and the imprint of other countries.
Talking to the press, designer Minh Hanh, general director of the program, said: "Ao dai can be considered the "ambassador" of Vietnam, showing the image of Vietnam and affirming the traditional culture of Vietnam. I think that Vietnamese culture is very easy to adapt to the cultures of other countries, even to greatly different cultures through the ao dai. That is a special trait that not all traditional costumes of any country have. Therefore, the Vietnamese Ao Dai is not only loved in the country but can go beyond the borders and reach everyone in the world."
In fact, cultural imprints are always present in fashion designers' collections because the cultural space where designers find inspiration for creation will be their endless topic.
Designer Minh Hanh used to be fascinated with brocade, so she amazes domestic and foreign fashionistas with the cultural imprint on her ao dai design.
As for the " rice " collection, designer Cong Tri said: The collection's inspiration comes from typical Vietnamese cultural features such as Ba Ba dress, Vietnamese villages, and traditional fabrics of the country and people.
"My message in this collection is simply what belongs to the country - the people of Vietnam. That inspiration brings me many creative emotions. In particular, I want everyone to use Vietnamese products because our country has a lot of high-quality materials with very interesting background stories. With the combination of Lanh My A and lacquer materials, I want to introduce a new concept of "lacquer silk". Both are "souls" of Vietnam," said designer Cong Tri.
Not only bringing collections to international catwalks, domestic fashion designers and organizing units also focus on promoting culture during fashion weeks and events.
Show organizers become increasingly interested in holding fashion shows at famous landmarks.
In June 2022, the Vietnam International Fashion Tour (VIFT) taking place in Hanoi cleverly integrated culture and heritage promotion into impressive designs.
Shaping Vietnamese fashion with culture
Compared to major fashion industries in the world, Vietnamese fashion is still young, so it is difficult for the country's industry to compete in terms of brands. To leave its mark on the vast fashion map, relying on culture is the most obvious and effective way.
For example, Vietnamese Ao Dai is a cultural fashion brand. However, today's designers are not "restricted" in making only ao dai to promote culture. They are more creative with materials, patterns, color inspiration, and applied fashion, where they blend many unique features that only exist in Vietnam such as images of cranes, saola patterns, terraced fields, famous destinations that have become Vietnamese tourism brands.
Unlike music videos or movies, the effect of cultural contagion through fashion is not instant, but its has an effective pervasiveness. Culture through fashion will stimulate those who are interested in learning and discovery. Through fashion, they consider Vietnam an interesting destination to learn about culture, people, and cuisine.
Now, designers also focus on performing fashion shows in famous locations in the country. The difference of fashion shows at famous landmarks is that the collections are often themed, and inspired by the place itself, bringing suitability to the landscape, performance space, and local cultural space.
To shape Vietnamese fashion, we can hardly win the race of brand names but if we skillfully put cultural values ​​into the runways, the imprint of Vietnamese fashion on the global fashion map will be bolder.
Vietnamese Culture Promoted in Taiwan

Over the years, the Vietnamese community in Taiwan has made great efforts in teaching Vietnamese, organizing traditional festivals, and introducing the image of Vietnam to ...
A Vietnamese Cultural Space in Germany

Over the past ten years, the Vietnamese Cultural Space has become a meeting place and cultural exchange for the Vietnamese community in the Federal Republic ...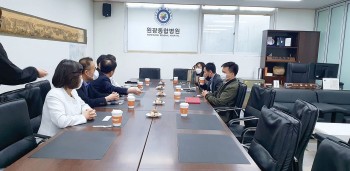 Overseas Vietnamese
A meeting was organized at the Wonkwang Hospital on the provision of medical support for the Vietnamese community in Korea in accordance with the signed cooperation agreement.