Shipping During Covid-19 Lockdown in Hanoi
What kind of shippers are allowed to operate during lockdown period in Hanoi?
Hanoi permits 2,200 essential goods transport vehicles to operate. Photo: VNT
According to the latest announcement of the Hanoi Department of Transport, during social distancing, shippers of e-commerce platforms (like Lazada or Tiki) and supermarkets are allowed to operate, while freelance shippers are not.
Vu Van Vien, director of the transport department, on July 25 said that the department has allowed 2,200 essential goods transport vehicles to operate. The registration is completely online.
Regarding shippers transporting goods by two-wheeled motorcycles, Vien said: "Shippers of postal agencies, supermarkets, and e-commerce platforms are allowed, but must ensure strict control and management conditions. Meanwhile, the delivery of take-away food and beverages will remain banned."
Leaders of the Hanoi Department of Transport also said that for the delivery staff of postal businesses and the delivery force of supermarkets, there are management and responsible agencies, so they are still allowed to work. However, these units will need to send a list of delivery staff responsible for managing pandemic prevention to the municipal transport department.
Also on this issue, Tran Thi Phuong Lan, acting director of the Department of Industry and Trade of Information, Hanoi has directed the Industry and Trade sector, and Transport Department to coordinate and unify the objects of goods transportation in the field of e-commerce, which is allowed to circulate in the area with strict management conditions. Specifically, they are shippers, employees of the supermarket system, and the logistics system of the e-commerce floor that participates in transportation in the area.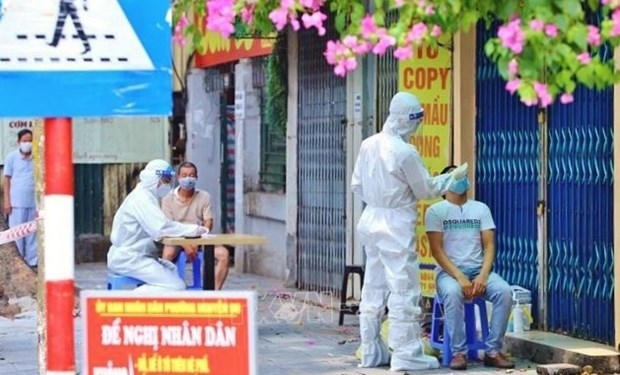 Medical workers in Hai Ba Trung district (Hanoi) collects samples for COVID-19 testing from residents of To Hien Thanh street. Photo: VNA
Under Document No 3462/SGTVT-QLVT, which was sent to the Hanoi Department of Industry and Trade and post and telecommunications units, the department is compiling a list of delivery workers for supermarkets in the city, along with a list of parcel delivery staff, including their full names, addresses, mobile phone numbers, vehicle plate numbers and working area.
Units that register employees to be allowed to work must be responsible for managing and monitoring the pandemic prevention work of staff, and responsible if cases of the disease occur.
Based on the list, the Department of Transport sends a confirmation message to the delivery employees mobile phone number so that they can show it to the police in case it is needed.
This means that shippers and driver partners of ride-hailing apps such as Grab, Be, Gojek, MyGo and FastGo still cannot operate in Hanoi after the latest directive.
Previously, Grab Co., Ltd., the operator of the Grab application, sent a document to the Hanoi Department of Transport to comment on the official letter requesting to stop all transportation business activities for two-wheeled motorbikes (technology motorbike taxi).
In a document sent to the department, Grab said that the implementation of delivery services will help circulate goods, reduce shopping concentration in Hanoi.
Grab also said a new dispatch from the Hanoi Department of Transport requires five applications, Grab, Gojek, Be, MyGo and FastGo to stop transporting goods, while there are many other units providing the same service within Hanoi.
Hanoi on July 23 announced a 15-day social distancing order starting 6 a.m. July 24. Chairman Chu Ngoc Anh said the citywide order was being issued under Directive 16, which comprises the country's most stringent social distancing regulations, requiring residents to stay home and only go out for basic necessities such as buying food or medicines or to work at factories or businesses that are allowed to open.
People must keep a distance of at least two meters. No more than two people can gather at public places apart from workplaces, schools or hospitals. Daily online medical declarations are required.
Trade centers, supermarkets, traditional markets and wholesale markets in the city will only sell essential items. Funerals cannot gather more than 20 people. The majority of public transportation will be shut down, and there will be no travel to other localities.
Residents in Ho Chi Minh City – the country's biggest Covid-19 hotspot at present – are not allowed to go out after 6 p.m. as from July 26 to prevent the pandemic from further spreading, said Chairman of the city People's Committee Nguyen Thanh Phong said at a meeting late July 25.
HCM City reported over 60,000 cases, and Hanoi counted 775 cases since the resurgence began in late April.