Showroom of Vietnamese Products Established in UAE
The Vietnamese Embassy to UAE hopes for trade, investment, science and technology, tourism, and labor industries to benefit both nations.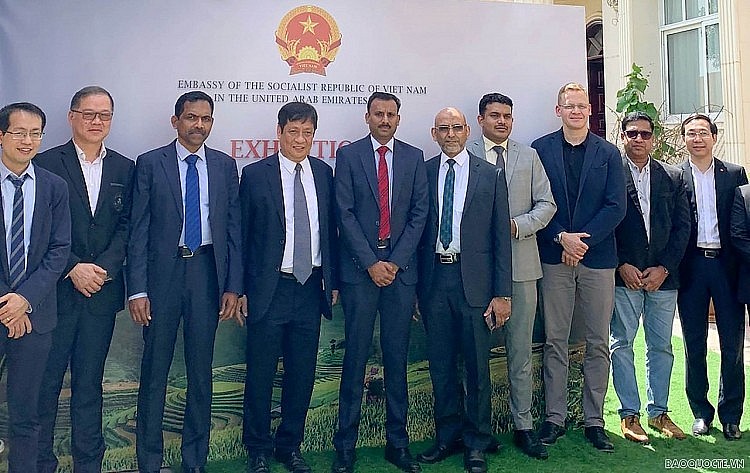 Delegates attended the opening event of the showroom of Vietnamese products in the UAE. (Photo: Baoquocte)
The Vietnamese Embassy to the UAE held the opening ceremony for a showroom of Vietnamese products on March 22.
The event, chaired by Vietnamese Ambassador Nguyen Manh Tuan, welcomed nearly 20 guests, who represented importers, retail chains, investors, and enterprises.
More than 200 products, mainly Vietnamese agricultural, of nearly 40 domestic enterprises were introduced to the guests.
Ambassador Nguyen Manh Tuan said the commercial, service, economic and financial center of the UAE was attracting more Vietnamese businesses. They have addressed their attention to exporting goods to UEA and through the UAE to countries in the Middle Easter, Africa, South America, and Southern Europe.
The annual trade exchange turnover between Vietnam and UAE before the Covid-19 pandemic reached over US$6 billion and remain above US$5 billion in 2021. However, the two countries still have great potential to develop bilateral trade. The Vietnamese Embassy to UAE hopes for trade, investment, science and technology, tourism, and labor industries to meet the two countries' potentials.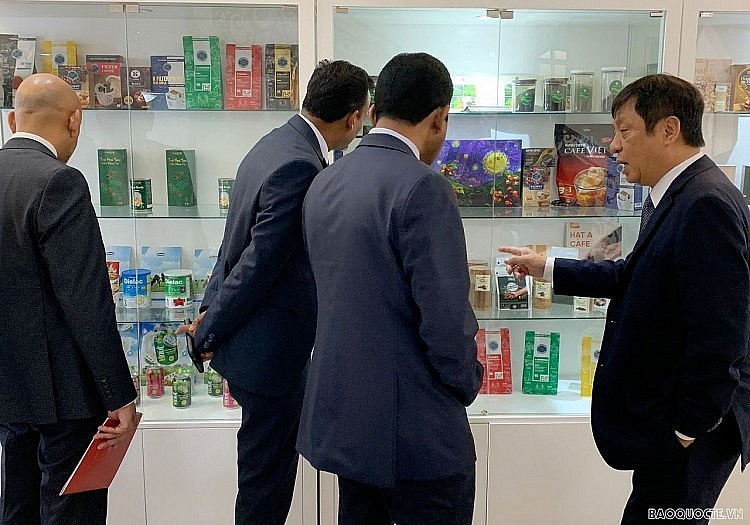 Ambassador Nguyen Manh Tuan introduced Vietnamese products and goods. (Photo: Baoquocte)
The embassy looks to support domestic enterprises in boosting the export of goods and bringing Vietnamese brands to the UAE and Middle East-Africa despite difficulties posed by the pandemic. In addition, the embassy also helps connect Vietnamese businesses with UAE businesses and consumers.
The Embassy will periodically organize events to introduce Vietnamese goods to UAE businesses and importers.
Product Development Manager of Lulu - the largest retail group in the UAE and GCC Shameem region thanked the Vietnamese Embassy for their invitation to the event.
Lulu remarked on beautiful design of exhibition stalls, saying the chance to observe and try Vietnamese products in person helped Lulu, as well as other importers, to have a better view of Vietnamese goods. On that basis, the group will discuss with the Vietnamese Embassy in the UAE to coordinate Vietnamese goods week at Lulu supermarket in the near future.
Dong Chul Sin, President of 1004 Gourmet Korea retail chain in the UAE, said this was the first time he was introduced to many Vietnamese export products. Don Chul Sin was impressed with the designs, quality, and prices of the agricultural products, especially coffee, pepper, cashew nuts, dried fruit. From such experience, Retail chain 1004 Gourmet Korea is ready to cooperate with Vietnamese agricultural exporters.
Ambassador Nguyen Manh Tuan confirmed the embassy's willingness to support the connection of domestic export enterprises, contributing to promoting the export of Vietnamese goods to the UAE.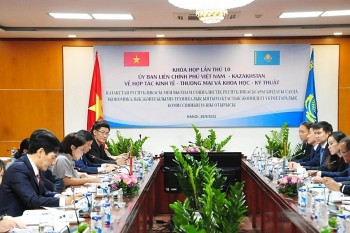 Friendship
The 10th session of the Vietnam-Kazakhstan Intergovernmental Committee on economic-trade and scientific-technical cooperation was held in Hanoi on September 26.