Singaporean Foreign Minister invited to Vietnam at convenient time
Foreign Minister Bui Thanh Son on April 16 held phone talks with his Singaporean counterpart Vivian Balakrishnan.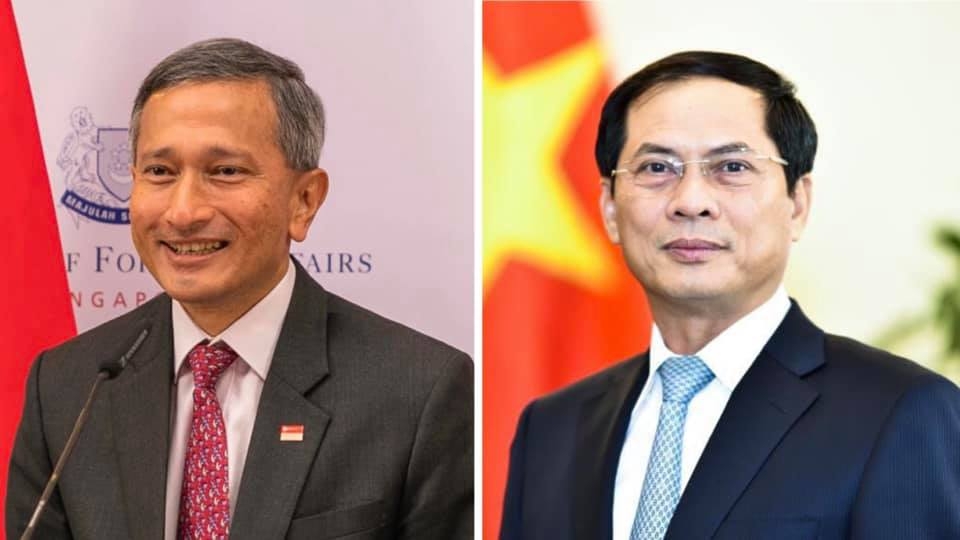 Foreign Minister Bui Thanh Son on April 16 held phone talks with his Singaporean counterpart Vivian Balakrishnan.
According to VNA, Balakrishnan congratulated Son on his appointment as Minister of Foreign Affairs of Vietnam, and lauded the country's performance in COVID-19 prevention and control, as well as socio-economic development and diplomacy.
Singapore attaches great importance to the strategic partnership with Vietnam, he affirmed.
Son, for his part, spoke highly of cooperation efficiency between the two countries across spheres, emphasising that Singapore was Vietnam's largest investor last year despite the pandemic.
He suggested the two sides continue with all-level delegation exchanges when possible, effectively implement bilateral cooperation mechanisms, firstly the 15th Vietnam-Singapore Connectivity Ministerial Meeting and the 14th political consultation at the deputy foreign ministerial level.
The minister used the occasion to thank Singapore for supporting Vietnam's ASEAN Chairmanship in 2020, and non-permanent membership of the UN Security Council (UNSC) for 2020-2021.
The two ministers agreed to step up cooperation within the framework of ASEAN and multilateral forums, for peace, stability and cooperation in the region.
They exchanged invitations to visit their respective countries at a convenient time.
Singapore was the largest investor in Vietnam last year, with nearly USD 9 billion , accounting for 31.5 percent of the country's total foreign investment.
According to the Vietnamese Trade Office in Singapore, as many as 21 out of 25 global leading logistics service providers headquarter in Singapore - a major information, commercial, financial and logistics centre of the region and the world.
The Southeast Asian country is also a major international air transit hub, which is a very important gateway to Asia in general and Southeast Asia in particular.
Singapore topped the list of 56 countries and territories landing investment in Vietnam in the first three months of the year to March 20, with nearly USD 4.6 billion, equivalent to nearly 45.6 percent of the total. Japan came second with about USD 2.1 billion (20.8 percent), and the Republic of Korea third with USD 1.2 billion (11.8 percent), according to the Foreign Investment Agency (FIA) under the Ministry of Planning and Investment./.
Handbook
Yoga has recently become one of the best exercise methods that bring many health benefits to people, but it also requires a lot of technique and training to avoid injuries. There are several ways to practice it home, and will still help you achieve your goals.