Social Organizations Aim to End Domestic Violence in Vietnam
Children are helping their peers become more aware of domestic violence and other forms of abuse.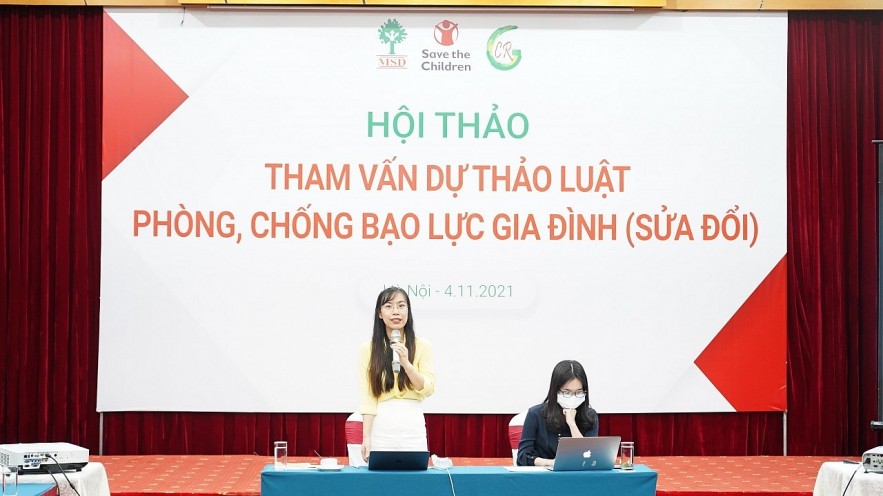 Nguyen Phuong Linh, head of MSD (L).
Management and Sustainable Development Institute (MSD) coordinated with the Child Rights Governance Network (CRG) to conduct a consultation workshop on the draft of Law on Domestic Violence Prevention and Control on November 4th. The event was financially supported by Save the Children.
The event welcomed Khuat Van Quy, Deputy Director of the family department under the Ministry of Culture, Sports and Tourism, which is in charge of drafting the law. Many other experts, representatives of nearly 40 organizations operating in Vietnam in child protection, gender-based violence prevention, and protection of the rights of people with disabilities were also presented.
Nguyen Phuong Linh, head of MSD said: "Domestic violence is still a popular problem in the society. Home is no longer a place of safety and love, but hell for domestic violence victims, especially in the pandemic and social distancing, when running away or calling for help is impossible. Amending the law at this time is extremely reasonable and timely. We hope that with today's workshop, we can listen to contributions and the voices of stakeholders affected by the law, especially vulnerable groups."
She stressed the need to put the importance of children's voices in the law, including LGBT and disabled children. Children are the potential victims and observers of domestic violence, however, they are vulnerable and often forgotten. Children need to be cared for, respected, and prioritized in the draft law, because domestic violence will directly affect their physical, mental and emotional development, which can result in their future families. If children are protected and have a voice, the law will be effectively and thoroughly implemented.
Nguyen Thu Ha from the Vietnam Association for Protection of Child's Rights said: "In many Vietnamese families, children are victims of domestic violence. However, the 2007 Law on Domestic Violence Prevention and Control only deals with the protection of victims in general, while does not focus on children. These days, social organizations play an important role in protecting the rights of vulnerable groups, including children, but their role has not been mentioned in documents and policies. The new draft needs to supplement and enhance the role of social organizations in communication, awareness-raising, and victim support."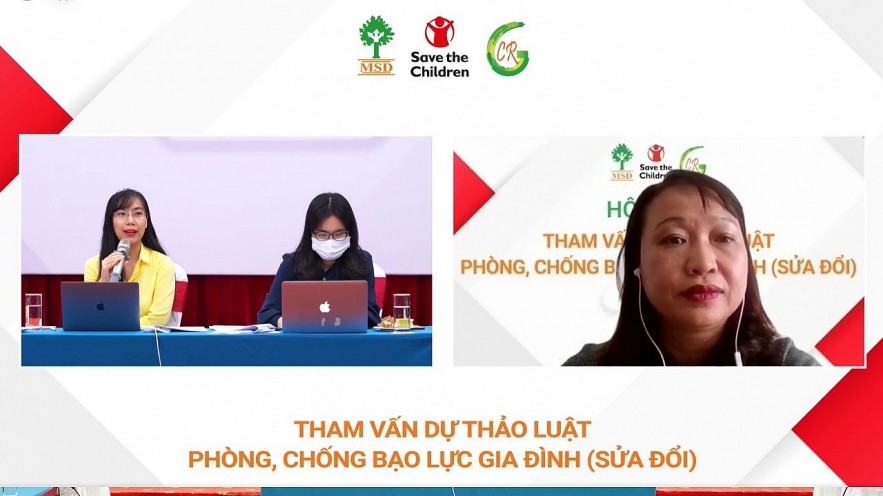 Nguyen Hai Anh, project manager of MSD (R).
Nguyen Thi Lan Anh, head of Action to the Community Development Institute said: "Children with disabilities in particular and people with disabilities in general are at higher risk of domestic violence. It is necessary to add specific policies to ensure the priority of support and protection for vulnerable groups, including specific conditions for information, education, communication, and consulting on domestic violence for a number of priority groups, as well as special support for people with disabilities."
Lan Anh further stated that people and children with disabilities faced difficulties when trying to contact the authorities. People with mobility impairments are not reached by the local authorities and shelters because those agencies lack the knowledge and skills to take care of them.
Nguyen Hai Anh, project manager of MSD said "It is necessary to recognize that the root of domestic violence and gender-based violence stems from gender inequality, gender stereotypes, power imbalance or dysfunction in the family. The lack of parenting skills leaves parents with no better solutions than beating their family members in troublesome situations. Measures relating to communication and education needed to be mentioned to raise awareness of domestic violence, especially those against children to change the concept of "spare the rod, spoil the child."
The organizations make noticeable recommendations at the event, including the following six points.
Firstly, the concept of "physical and mental punishment of children" should be defined as domestic violence since many parents consider it an acceptable manner to educate their children.
Secondly, the law needs to have specific provisions regarding the sensitivity about gender, age, personal characteristics in cases where children are victims or perpetrators. Those provisions should cover measures to prevent, detect, stop and handle those who commit acts of domestic violence, measures to protect the victims, and prevent recurrence of violent acts.
Thirdly, the draft law should focus on measures to prevent domestic violence and recurrence of violence. Besides punishing those who conduct violent acts, there should be measures to raise awareness of domestic violence's consequences. Education should be promoted to spread the use of non-violent solutions in resolving conflicts and teaching children.
Fourthly, it should be more specific about measures to raise community awareness and fight against gender prejudice.
Fifthly, it should focus on improving the efficiency of state management, raising the capacity of staff working on domestic violence prevention. There should be a hotline and mobile applications for victims to easily access.
Sixthly, the draft Law should further promote socialization, encourage social organizations and the people to join hands.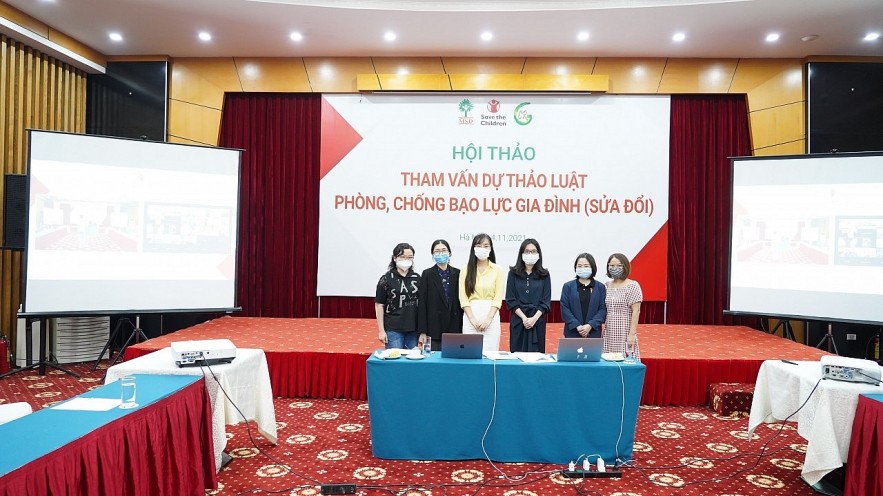 At the event.
The event also presents recommendations from children. To collect their ideas, MSD conducted a survey on nearly 5.500 children. Mai Duc Vu, who was in charge of the survey, said "From a child's perspective, physical and mental punishment is violence."
76,5% of children surveyed choose "People addicted to alcohol, beer, drugs, and other addictive substances" as the group of highest potential to conduct domestic violence. The second most voted group is "Grandparents and parents often apply punishments that hurt children."
Children make recommendations on encouraging children to join education on domestic violence, giving support to children in difficult situations, regularly checking families that have the potentials of violence, using anonymous forums to help children confidently share their stories.
Khuat Van Quy, Deputy Director of the family department under the Ministry of Culture, Sports and Tourism concluded: "I was very impressed with the insightful opinions of the participants. The committee highly appreciates the efforts of social organizations in collecting the opinions of stakeholders. We have taken note of these comments and will continue to revise the bill."
After the workshop, MSD will collect more comments on the law. CRG network also commits to contribute ideas to the draft law during the later stages of development and implementation.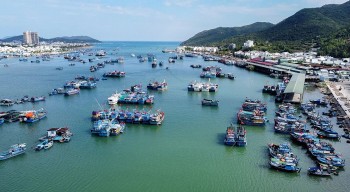 Economy
GDP growth quickened to 7.72% in the quarter ended June, beating the government's 6%-6.5% target.