Son La Becomes Vietnam's 41st Bear Bile-Free Province
The last captive bear in Son La province was successfully rescued to the Bear Sanctuary Ninh Binh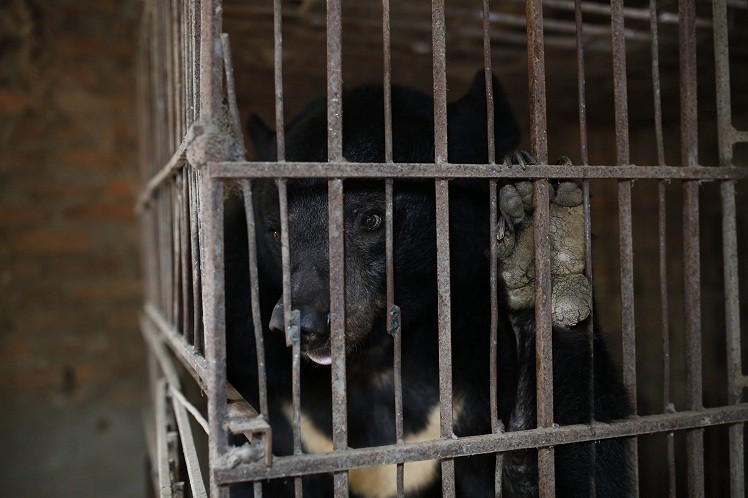 After 21 years in captivity, this bear was transferred to a suitable habitat at Bear Sanctuary Ninh Binh. Source: FOUR PAWS
The last bear bile bear in the mountainous province of Son La has been transferred to the Bear Sanctuary Ninh Binh, making it the 41st province in Vietnam to be free of bear bile farming.
The bear, named Tu Do (Freedom), the last captive bear in Son La, was successfully rescued by Four Paws, an international animal protection organization, and Son La Forest Protection Department.
The former bile bear on Dec. 11 arrived safely with the Four Paws team at her new species-appropriate home - Bear Sanctuary Ninh Binh.
According to Emily Lloyd, Four Paws animal manager who coordinated the rescue mission, the rescue of Tu Do went very smoothly. When we arrived she was calm, friendly and curious. She's a very tiny bear, just 59kg, a little underweight.
A health check revealed gallstones meaning she will require surgery to remove her gallbladder in the future, moderate liver disease and dental disease.
The bear will receive dedicated care and her rehabilitation to a better life will begin at the sanctuary.
Tu Do is now already in the quarantine station with comfy bedding, clean water and fresh food.
She will carefully be introduced to a healthy and bear-friendly diet and will receive all the medical care she needs.
After quarantine, and depending on her health status, the team will decide when it's time for her be released to the outdoor enclosure.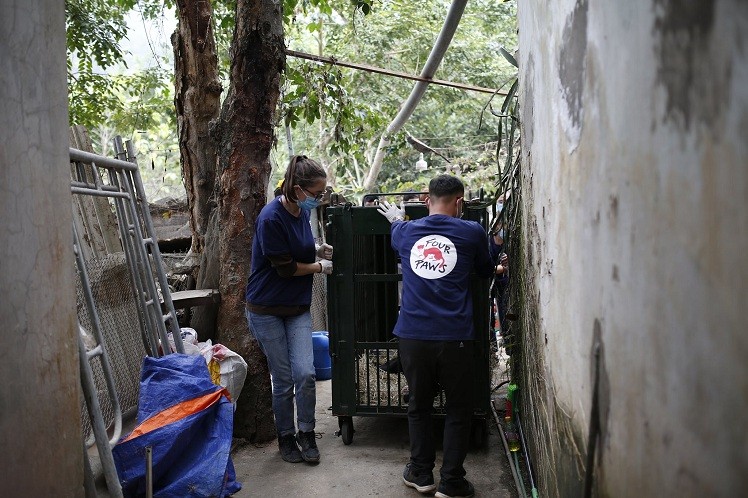 The last bear on captivity in the northern province of Son La was freed on December 11. Source: FOUR PAWS
As many as 1,132 wild animals were rescued in Vietnam last year. Some 57% of the 2,216 violation cases reported by civilians were handled, according to the Education for Nature Vietnam (ENV).
A total of 2,907 violations were documented during the year, nearly doubling 2019 data.
They comprised 1,956 cases in advertising illegal wildlife trade and 863 others of captivity. Of particular note, seven bears held captive in southern Binh Duong province were transferred to the Bear Sanctuary Ninh Binh in the north, bringing the number of saved bears last year to 32.
Four Paws Viet is an animal welfare organization established in 2014. With financial and technical support from Four Paws International, it provides a place for any voluntarily handed over heard to be taken care of in a species-appropriate environment at the Bear Sanctuary Ninh Binh.
Vietnam banned bear bile extraction in 2005, but farmers who owned bears prior to the ban have been allowed to keep them.
Bear bile is sourced from illegal and cruel bear bile farms. Bear bile farming, selling, and even possession is strictly prohibited by law.
However, the illegal extraction of bear bile continues in many local areas.
There are over 300 bears - mostly Asiatic black bears - in captivity in 10 bear farmings nationwide, while only a few hundred are left in the wild.
These bears are malnourished, neglected and are at risk of being killed.