Young Talented People Joins Hand to Protect Wildlife
Supported by the US Department of State, CHANGE cooperating with WildAid, FPT University and VietSeeds Foundation, the Zoohackathon Vietnam 2021 programming contest is taking place from November 13-15, 2021 for wildlife protection.
The U.S. Department of State started the Zoohackathon program in 2016. Zoohackathon is a global competition that brings together college students, programmers, software developers, graphic designers, and industry professionals, related sectors to jointly develop innovative solutions to the transnational wildlife trade problem.
Zoohackathon Vietnam 2021 with the theme "Coding to end wildlife trafficking", wishes to continue bringing breakthrough technology solutions to help protect wildlife from illegal trade. This is a combined event, including online training sessions and a 48-hour coding competition for young people and students living, studying and working in Ho Chi Minh City and Hanoi.
Zoohackathon Vietnam 2021 has attracted a lot of attention from young people and students. With nearly 300 applications and more than 530,000 approaches via social networks, the program has shown strong attraction and interest from the young community to the problem of illegal wildlife poaching and trade.
Mr. Robert Greenan, Acting Consul General of the United States in Ho Chi Minh City spoke at the opening ceremony.
Speaking at the opening ceremony, Mr. Robert Greenan, the Acting Consul General at the U.S. Consulate in Ho Chi Minh City, Vietnam, and a member of the Jury, shared: "The students participating in the contest are creating practical applications and real technology solutions to a huge and important challenge. Vietnam is a country rich in biodiversity, which means finding solutions to conserve biodiversity and combat the wildlife trade is an important task to achieve sustainable development. The United States is proud to have supported many biodiversity and wildlife trafficking programs and is a trusted partner with Vietnam."
The prolonged period of social distancing due to the COVID-19 outbreak and complicated developments has caused cybercrime on wildlife in Vietnam to increase at an alarming rate on popular social networking platforms like Zalo, Facebook, Youtube, TikTok and other platforms.
Many rare and endangered animals are being advertised and sold publicly, challenging authorities and NGOs in conservation and law enforcement efforts. ​At this time, when the economy reopens, with coming the risk that wildlife trade activities will increase again. The contest is expected to connect talented young people with information technology as well as a passion for nature conservation to work together to come up with breakthrough technology initiatives to contribute to combating wildlife trafficking and tackling the technological challenges of this war.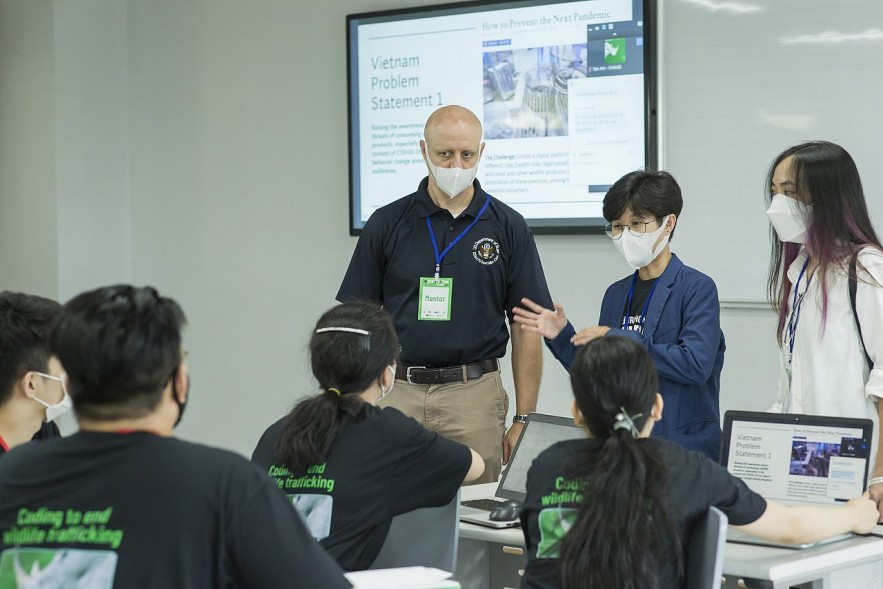 Mentors share with candidates.
Speaking at the opening ceremony, Mr.Tran Tuan Anh, Head of FPT University Training Committee, member of the Jury, excitedly: "I am very happy to see that a Zoohackathon on the topic of nature protection is attracting again the participation of many students from such many universities, and not only from the information technology industry but also from many other disciplines such as economics, design, foreign languages...
Coming to this competition, you can use your imagination and technological prowess to find solutions to raise society's awareness and contribute to solving one of humanity's most pressing problems, the evils of hunting and consuming wild animals. With your creative efforts, you're not only giving yourself a chance at this competition, but also a chance to our planet."
The selection committee selected 125 young people from the 21 most potential teams, from nearly 300 applications, to participate in the official programming session of Zoohackathon Vietnam 2021.
At 2 contest locations in Ho Chi Minh City and Hanoi, 21 teams will come together to explore the contest's 6 Problem Statements, including 1 Global Problem Statement and 5 Vietnamese-specific Problem Statements. From there, each team will select a Problem Statement, discuss it, and program it to create a technological solution to the problem. Advisors, including experts with extensive experience in the fields of information technology and conservation, will be on hand to support the teams, both at the 2 venues and on the online platforms. The programming session will last 48 hours, including live and online sessions.
Previously, 21 teams attended 2 online training sessions, to better understand the global wildlife trade crisis and in Vietnam, as well as understand the challenges in the fight against the problem. From 21 competing teams, 5 teams will be selected for the final round, and finally, the 3 best teams will be selected for prizes. These winning teams will participate in the global Zoohackthon, also sponsored by the US Department of State.
A Vietnamese awarded the Green Nobel Prize

With his contributions to wildlife conservation, Nguyen Van Thai has become the second Vietnamese to receive the Goldman Environmental Prize, also dubbed the Green Nobel ...