Trang An, Tam Coc Among World's Most Beautiful Movie Locations
Trang An Complex and Tam Coc-Bich Dong caves in Hoa Lu district of the northern province of Ninh Binh have been listed among the top 50 most beautiful movie locations worldwide by travel guide website Bigseventravel
Kong Skull Island movie set in Ninh BInh. Photo: Nguoi Lao Dong.
According to Bigseventravel, the majority of 2017's "Kong: Skull Island" took place in the wetlands of the northern province of Ninh Binh. It noted that the various peaks and rivers were transformed into the legendary home of numerous supersized monsters and King Kong.
"The Trang An–Tam Coc area, just 100 km from Hanoi, features lush green paddy fields, striking limestone outcrops and near-vertical limestone peaks. It's home to 600 different species of flora and over 200 types of fauna too," according to the website.
As reported by VOV, Ninh Binh province, famous for its romantic and imposing scenery, has become an ideal destination for both domestic and foreign film makers. As a result, US film studio Warner Brothers also selected the beautiful rice fields of the locality as one of the locations for its Hollywood blockbuster Peter Pan.
Rounding on the world's top 50 most beautiful movie locations are Angkor Thom of Cambodia which featured in "Lara Croft: Tomba Raider", Salzburg of Austria in "The Sound of Music", Skiathos of Greece in "Mama Mia!", and Petra of Jordon in "Indiana Jones and The Last Crusade".
This is along with Savoca of Italy in "The Godfather", Matamata of New Zealand in "Lord of the Rings", Maya Bay of Thailand in "The Beach", DuPont State Recreational Park of North Carolina in United States which was used in "The Hunger Games", Ait Ben Haddou of Morocco in "Gladiator", and Glenfinnan Viaduct of Scotland in the "Harry Potter" franchise.
More about Ninh Binh Province
Ninh Binh is a town which lies to the southeast of Hanoi and acts as a base for visitors to explore the surrounding area. Slightly confusingly, the state is also known as Ninh Binh, with Ninh Binh town also acting as the capital city, so often when people refer to this part of Vietnam they are talking about the whole Ninh Binh district which comprises several towns, villages and key attractions.
There are not many set 'sights' in the town on Ninh Binh itself, but this is a great place to visit if you want to get out and about and spend time in some of the prettiest and most unspoilt parts of Vietnam. Ninh Binh town is usually used as a jumping off point to Tam Coc, Van Long and Hoa Lu and although it is not as well known as other places in the country, it is a great spot for anyone with an interest in nature thanks to its craggy limestone scenery. As other parts of the country such as Halong Bay and Sapa become more popular, if you want to take the road less traveled then Ninh Binh is the ideal choice.
Visit Tam Coc
Located outside of Ninh Binh town, Tam Coc is one of the best nature destinations in Vietnam although it remains firmly off the tourist trail. Tam Coc is known for its karst landscape which is similar to the better known Halong Bay, although here you will find some scenic limestone hills which are dotted amongst emerald green rice paddies, as reported by Crazy Tourist.
Halong Bay has larger cliffs, although it is also more crowded, so Tam Coc is the place to come if you want to get off the beaten track and you can explore the area by boat which takes around two hours.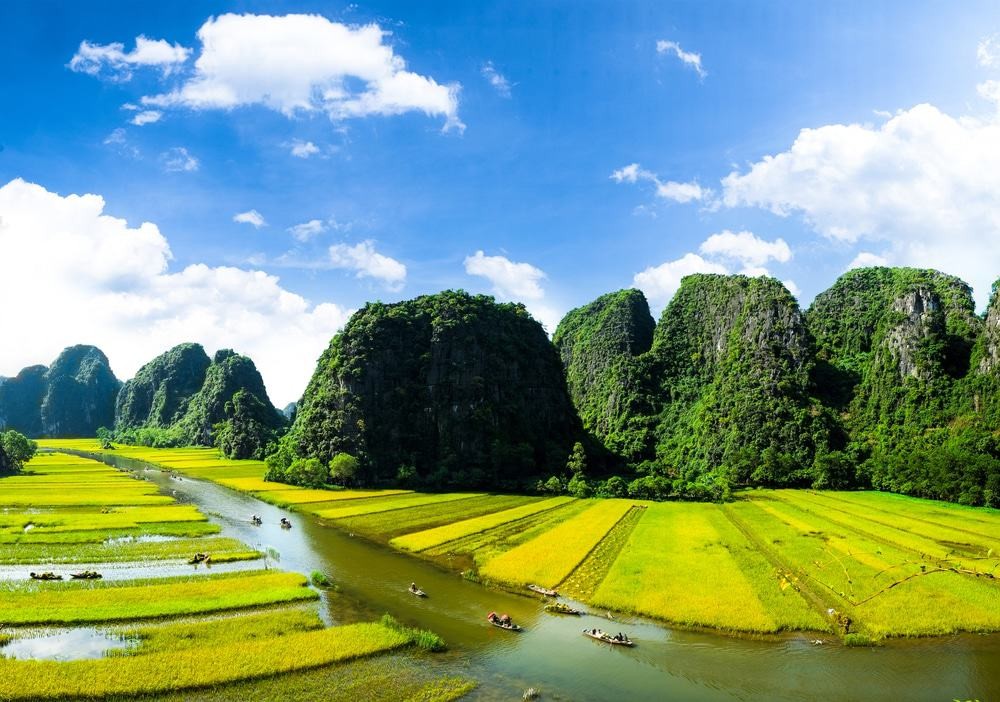 Photo: Shutterstock
Eat at the Snail Restaurants
If you have a hankering for the local food, then head to the lane next to D Luong Van Tuy where you will find a wealth of snail restaurants. These eateries are known for serving oc luoc xa which is the Vietnamese for snails which are then cooked with a mix of aromatic lemongrass and hot chilies.
If this doesn't appeal then you will also find a number of bars here where you can grab a drink, although the snails are a delicacy in these parts and are well worth trying.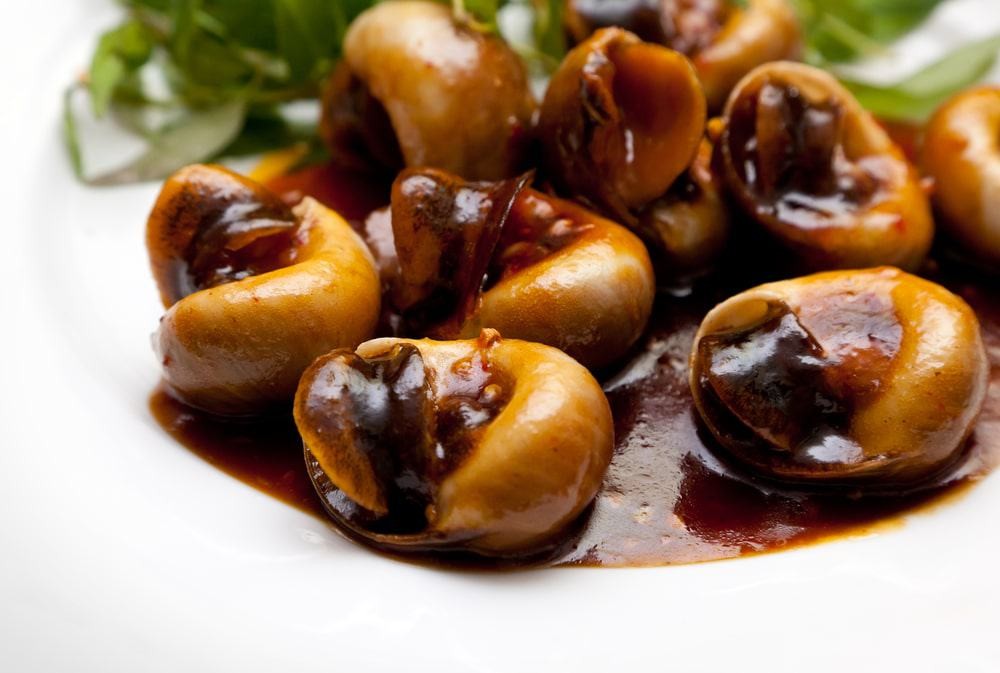 Photo: Shutterstock
Explore Van Long Nature Reserve
If you want to keep exploring outside of Ninh Binh then you can head to Van Long which is a wetland reserve that is the place to come for keen birdwatchers.
As this is a protected area of land, it is teeming with local flora and fauna, so if you are a nature and want to check out the Vietnamese wildlife then don't miss it off the itinerary. The wetlands are home to a number of Vietnamese species like monkeys, reptiles, and birds.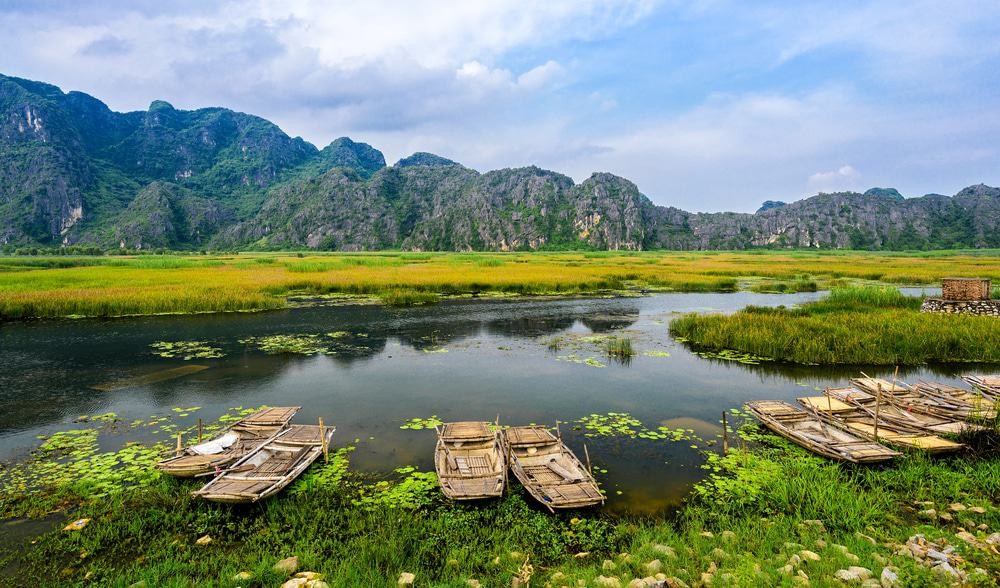 Photo: Shutterstock
Shop at Van Lan
Van Lan is a small village close to Tam Coc which is famous for its handicrafts. The real draw here however is the intricate embroidery which is famous in the region and you will find a number of artisans here tending to their craft.
Just some of the items that you can pick up here include napkins, pillowcases, tablecloths and even t-shirts, and you should note that haggling is considered normal. With that in mind make sure to bargain to get the best price for your souvenirs.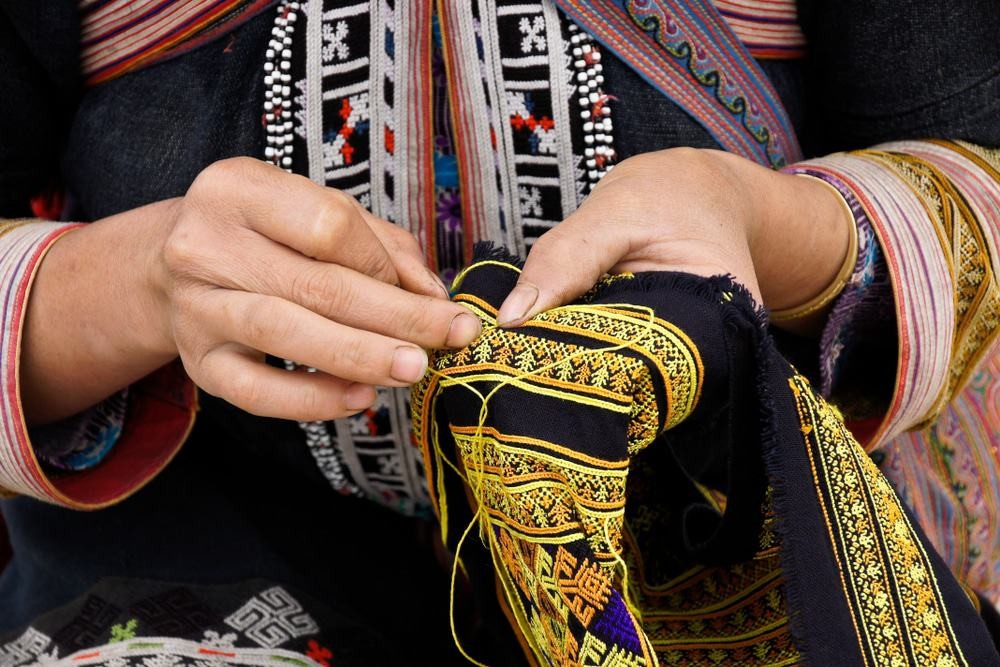 Photo: Shutterstock
Bich Dong Pagoda
Just past Tam Coc you will find one of the most interesting pagodas in the region which dates from the 15th century. The Bich Dong Pagoda is located on the side of a mountain and is made up of three levels called the Ha, Trung and Thuong Pagodas.
The temples are also built so that they back on to caves which you can also explore as part of a visit here. As you would expect from pagodas built into a cliff, the path to the top is steep but the views are well worth it.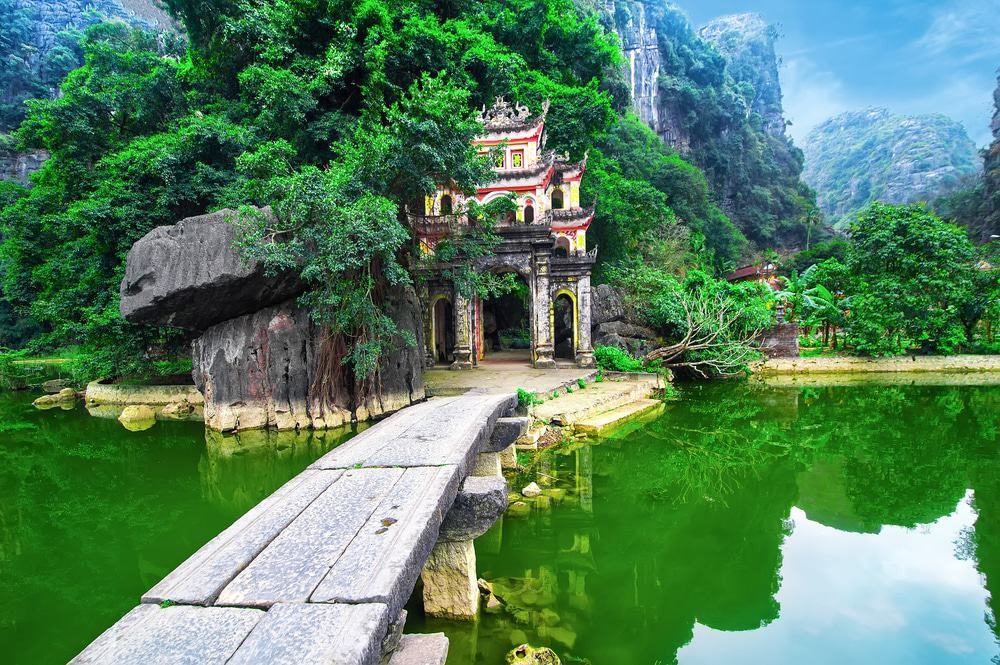 Photo: Shutterstock
Spend the day at Hoa Lu
Hoa Lu is yet another spot that makes a great trip from Ninh Binh although some visitors skip it in favor of neighboring Tam Coc and Van Long.
Many people don't know however that Hoa Lu would have been the ancient capital of Vietnam in the 10th century and there is a large citadel here which is filled with scenic temples that you can explore at your leisure.
For that reason, it is well worth a trip here if you are in the region.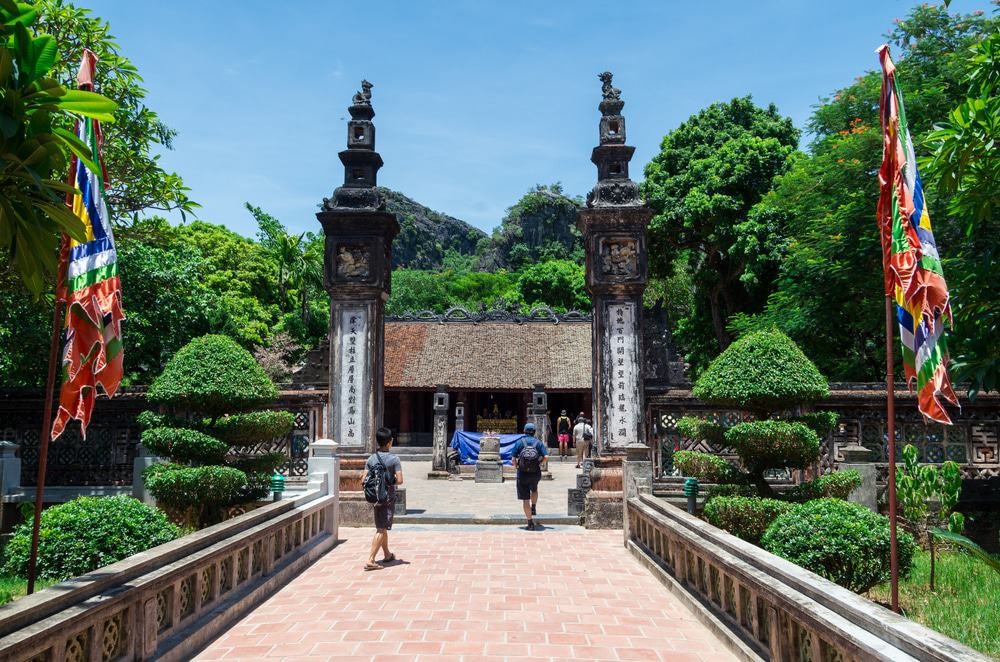 Photo: Shutterstock
Cuc Phuong National Park
Cuc Phuong National Park is one of the main national parks in Vietnam and was established in 1962. This is part of a huge swathe of protected land in Ninh Binh and was set up in order to take care of the wildlife in the region which has been in decline for many years as a result of poaching.
The park now spans 222 square kilometers and is made up of tropical forest which is home to a plethora of wildlife. On a visit here you will find some 307 species of birds as well as 133 species of mammals and 122 species of reptiles. You will also find over 2,000 different kinds of plants here making it a must-visit for nature lovers.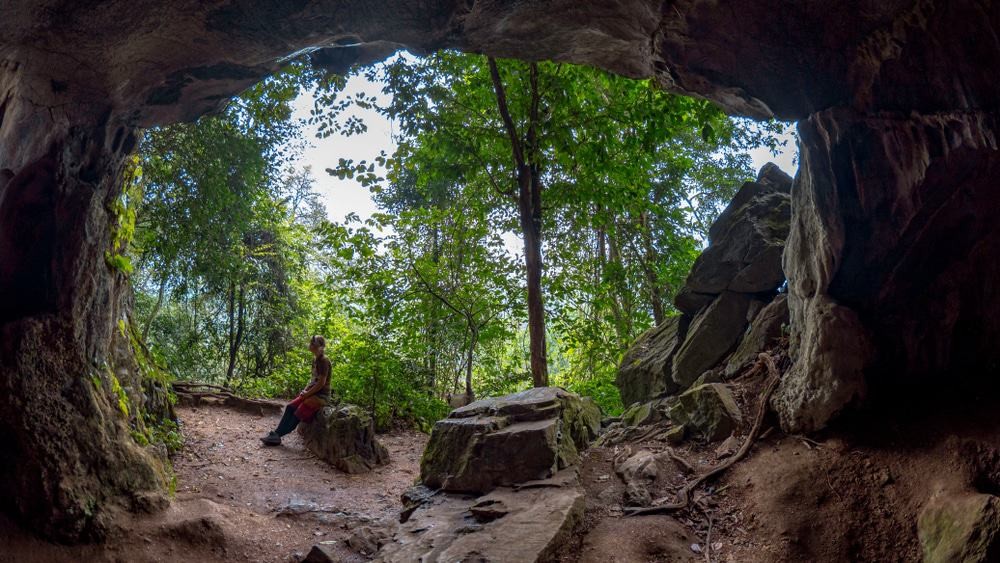 Photo: Shutterstock
Visit the Endangered Primate Rescue Center
Inside Cuc Phuong National Park you will find the Endangered Primate Rescue Center which is overseen by the Frankfurt Zoological Society. At the rescue center, you will find 150 monkeys as well as 12 kinds of langur and 3 species of gibbon.
The animals here were rescued to save them from illegal traders and the focus of the facility is to educate visitors on how to protect wild animals in Vietnam. You can also visit the Turtle Conservation Center at the same time as the rescue center using the same ticket.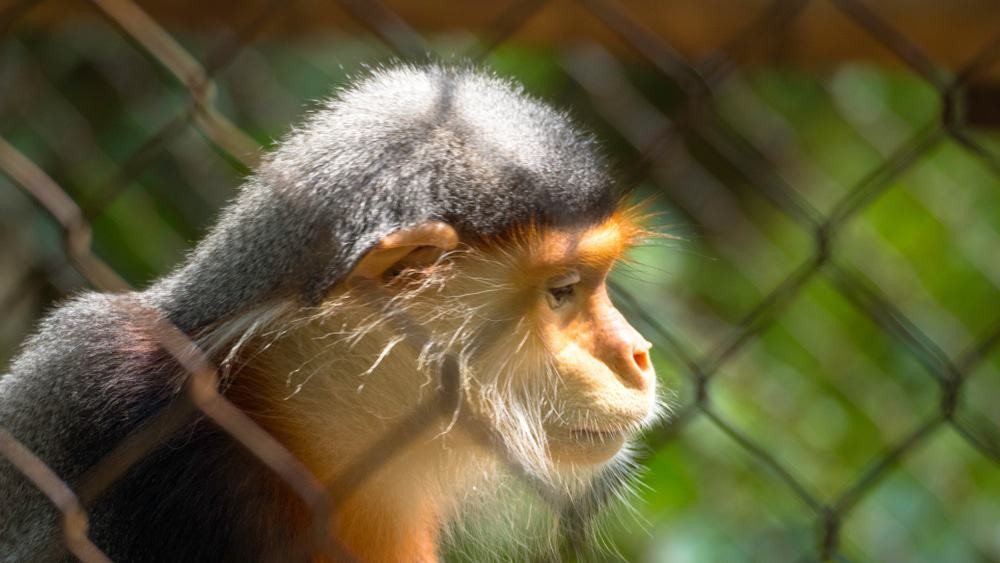 Photo: Shutterstock
Take a boat trip in Trang An
Neighboring Trang An is known for its scenic waterways and you can hire a boat here and float along the Sao Khe River.
This will take you through other-worldly caves and you can take in the scenery and also visit the caves and temples at the same time. Boat trips usually last around 2 hours and Trang An is around 7 kilometers from Ninh Binh town so you can easily visit for the day.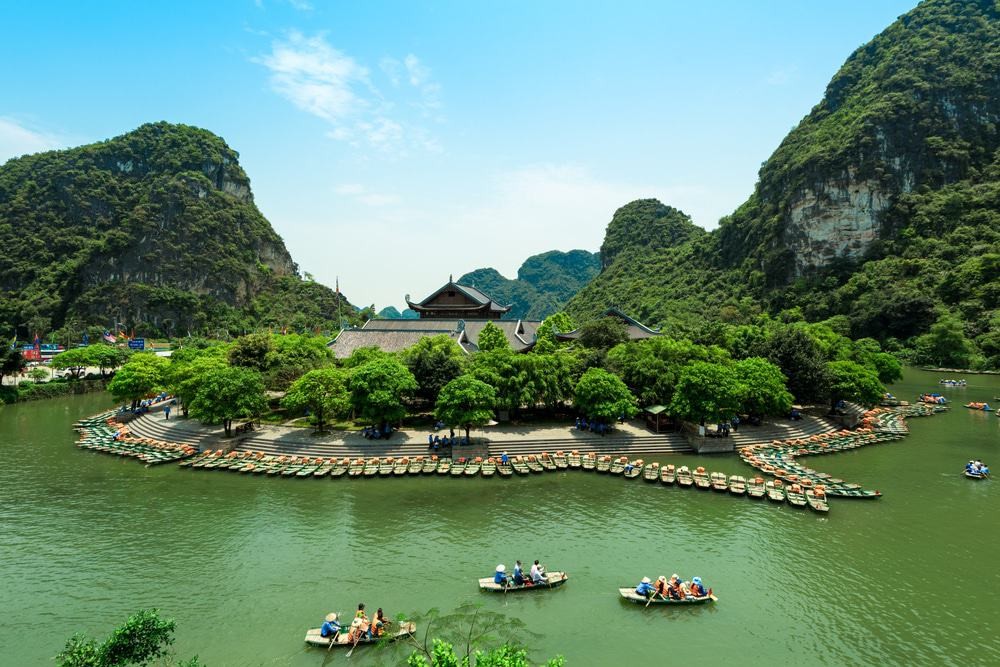 Photo: Shutterstock
Check out the Thung Nham Bird Garden
Strangely, the Thung Nham Bird Garden is not well known in Ninh Binh which is a shame as it is a picturesque attraction that is worth a visit. The park is located in the mountains and is known as a place where a huge number of indigenous species of birds make their nests.
If possible try to visit in the early morning or late afternoon as the trees in the park are covered in a plethora of colorful avians. In addition to the birds, you can also go fishing in the park and can even camp here depending on the season.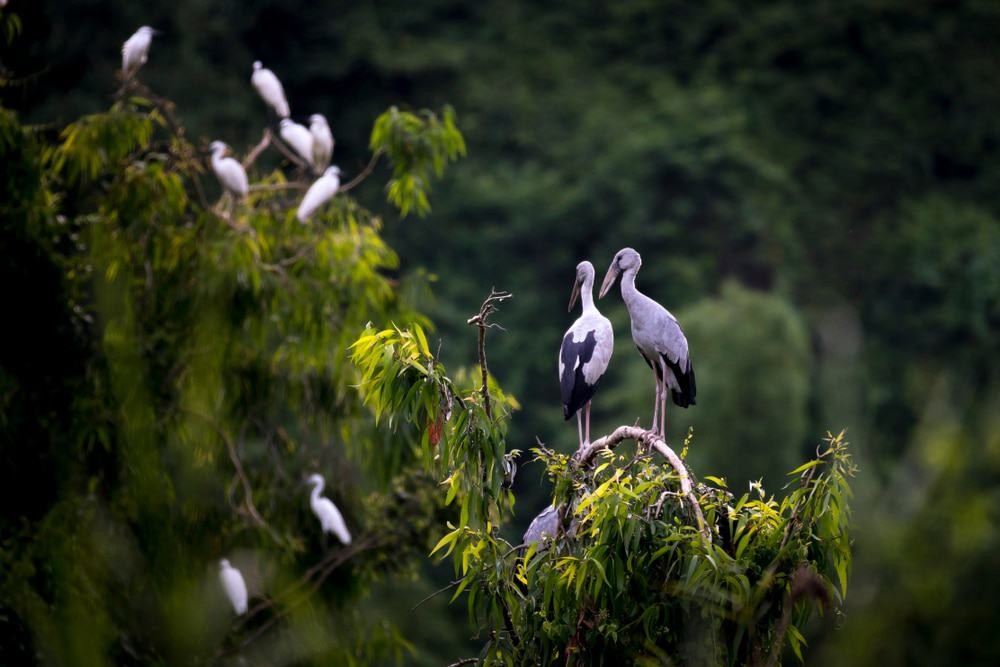 Photo: Shutterstock