South Korea grants US$ 13 million for Hue's smart city project
The Korea International Cooperation Agency (KOICA) will supply US$ 13 million to a project to make Hue a smart cultural and tourism city.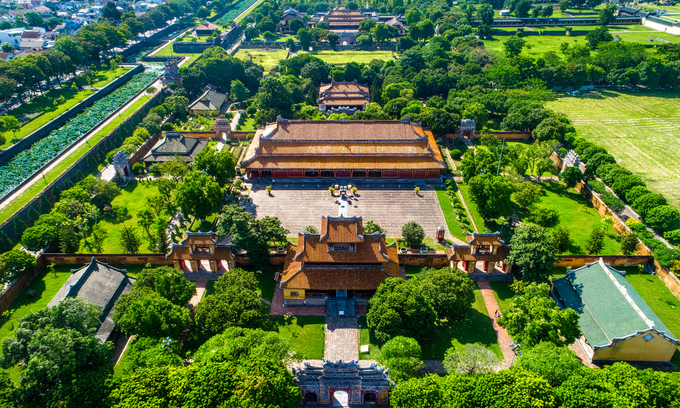 An aerial view of Hue Imperial Citadel, a major tourist attraction in Hue in central Vietnam. Photo by Shutterstock/anhuy
It will be used to implement a five-year (2021-2025), $14.8 million project. With Koica, a government agency that specializes in implementing non-refundable aid programs for developing countries, providing $13 million, the rest will comprise counterpart funding from the central province of Thua Thien-Hue, of which Hue is the capital, VNExpress reported.
The project aims to build a smart tourism information system, develop an urban cultural tourism center and expand the walking zone network in Hue in order to boost tourism in the former imperial capital.
The project will also cover installation of smart lighting and surveillance systems along the banks of the Huong (Perfume) River and building public administration capacity in tourism development and urban management.
KOICA expects South Korea's advanced smart city technologies to contribute to invigorating the city's culture and tourism industries as well as improving the urban environment there, according to Koreabizwire.
"This project is in line with the United Nations' efforts to achieve sustainable development goals (SDGs)," said Cho Han-duck, the head of KOICA's Vietnam office.
"We will step up cooperation efforts to contribute to the balanced development of the central region in Vietnam and the creation of smart cities there."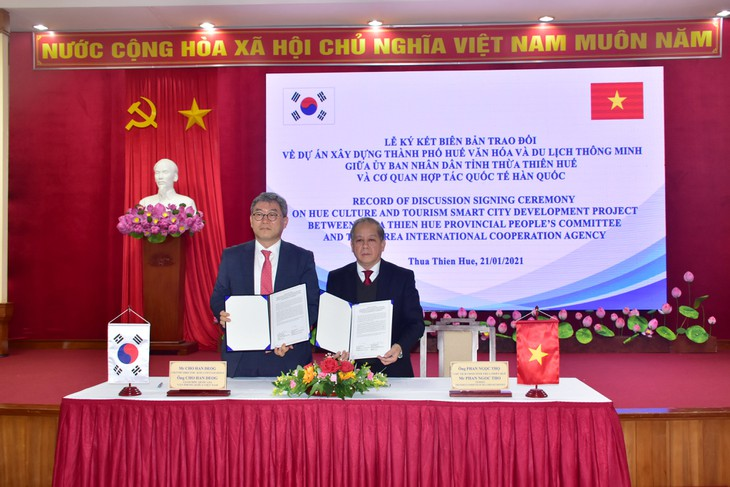 Representatives of the Thua Thien-Hue's People's Committee and KOICA Vietnam at the ceremony
Photo: VGP / The Phong
Hue, the seat of the Nguyen Dynasty from 1802 until the end of its reign in 1945, stands out from other parts of the country with its Imperial Citadel and royal tombs that have made it the top tourist destination in Thua Thien-Hue Province for years.
The town has just one pedestrian zone now, comprising the streets of Vo Thi Sau, Chu Van An and Pham Ngu Lao in Phu Hoi Ward. The zone was put into operation in September 2017 after provincial authorities green lighted a proposal to create spaces for locals and tourists to hang out at nights.
The province attracted 4.8 million visitors in 2019, up 11 percent over 2018, and provincial authorities announced plans to open more pedestrian zones to the north and south of the Huong River, develop public transportation means and install environmentally-friendly toilets, apart from trash bins to prevent littering.
In August 2020, The U.S. provided a grant of over $1.45 million in technical assistance to help HCMC build a smart city operation center.
The grant includes over $1.16 million non-refundable aid from the U.S. Trade and Development Agency (USTDA) while the remainder is provided by American consulting services company Winbourne Consulting, who will carry out the project.
Todd Abrajano, USTDA COO and Head of Agency, said at the agreement signing ceremony Tuesday: "Ho Chi Minh City has an ambitious smart city agenda, and USTDA is an ideal partner to support its goals."
The partnership will help the city deploy cutting-edge ICT technologies and advanced data analytics that innovative U.S. companies are ready to supply, he said.
USTDA's funding will help the city develop implementation plans for an Intelligent Operations Center, a smart cities priority that will collect and analyze real-time data and information to help decision-makers govern, plan, and shape the future development of HCMC.
The operation center is one of four pillars of a master plan to transform Vietnam's southern economic hub into a smart city in the 2017-2020 period with a vision toward 2025.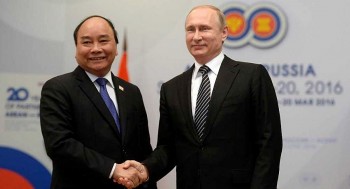 Friendship
The visit is expected to boost bilateral cooperation in Covid-19 prevention and control, especially in promoting Russia's support for vaccine production and technology transfer.