South Korean companies are possitive about Vietnam potentials
Vietnam's manufacturing potential makes the country become a promising investment for South Korean companies, says a Korean Chamber of Commerce official.
A person walks by Lotte Tower in Hanoi. Photo by Shutterstock/Vietnam Stock Images.
According to VnExpress, many South Korean companies are considering expanding their investments in Vietnam because they are optimistic about the country's prospects after its success in handling the Covid-19 pandemic, said Sun Hong, secretary general of the Korea Chamber of Commerce in Vietnam (Korcham).
Although Vietnam has experienced a new outbreak in several localities, the number of infectees is still small compared to other countries; and the government's determination to contain the spread of the novel coronavirus gives foreign investors confidence that the business environment remains stable, he told VnExpress.
Since Samsung entered Vietnam in 2008, the number of South Korean suppliers has been rising and now stands at over 1,000, according to Korcham data.
South Korea was the second largest foreign investor in Vietnam last year with a total registered capital of over $3.95 billion, behind Singapore, according to the Ministry of Planning and Investment.
Big corporations like LG and Lotte are also either directly investing in the country or partnering with Vietnamese businesses. They are expected to continue expanding their Vietnamese operations.
Although 70 percent of South Korean capital in Vietnam is in the manufacturing sector, many firms from the country have been increasing investments in finance, securities and insurance and real estate sectors.
South Korean companies have also evinced interest in renewable energy with Vietnam having a large demand for power.
Sung Hong said 2020 was a challenging year for South Korean businesses in Vietnam, as small and medium businesses in tourism and hospitality were severely hurt by extensive flight restrictions.
The services sector also suffered with many restaurants seeing revenues plunging 50-90 percent year-on-year. There were businesses that posted big losses and had to sell their assets, he added.
However, overall, South Korean investors in Vietnam remain optimistic, Hong said. Last year, when many large economies faced issues with their supply chains due to the novel coronavirus, most Vietnamese manufacturers were able to recover quickly.
The trade pacts that Vietnam has signed last year, including the Regional Comprehensive Economic Partnership (RCEP) and the Vietnam - U.K. Free Trade Agreement (UKVFTA), will foster growth for manufacturing companies and will make the country rise as a factory for the world, partly replacing China in this role, he said.
In order to attract more South Korean capital, Hong suggested that Vietnam remains open to free trade agreements as they will attract foreign investors who seek to use the country as a manufacturing base to export their products globally.
Improving the business environment should be another priority. With administrative approvals currently taking a long time, more transparent procedures and speedy implementation will make businesses feel more confident about investing in the country, he added.
South Korean investors pour big money into Vietnam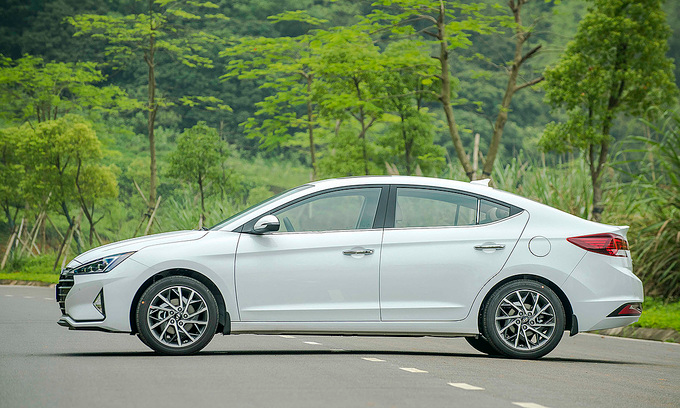 South Korea's Hyundai Elantra in Vietnam. Photo courtesy of TC Motor.
South Korean investors are continuing to inject billions of dollars into Vietnam, including the stock market, to seek opportunities from one of the fastest growing economies in the world.
According to Vietnamnet, Pinetree Securities has announced its holding company - Hanwha Investment & Securities in South Korea – has pumped more capital into it to raise its total capital to VND1 trillion.
The move was expected as most securities companies in Vietnam have experienced a prosperous year with revenue soaring thanks to a sharp rise in the number of transactions.
Reports show that in the last months of 2020, trading value reached nearly $1 billion each trading session, much higher than the VND4-6 trillion level before.
The increase in charter capital allows securities companies to have more capital to expand portfolios of margin loans, an operation which can bring high profit.
As such, Hanwha, the seventh largest economic group in South Korea, has taken steps to scale up its business in Vietnam. After pouring money into insurance and investment, the big player from South Korea has jumped into the field of securities with the stronger presence in Pinetree Securities.
Hanwha Investment & Securities completed the 90 percent takeover of HFT securities company in May 2019.
The decision to expand business to Vietnam is due to the great potential of the Vietnamese stock market.
Prior to that, a number of foreign big players joined the market, such as KB Financial Group Inc which took over MSI and renamed it KBSV.
A lot of other South Korean invested securities companies also appeared in Vietnam, including KIS, Mirae Asset, Shinhan Vietnam (the predecessor was Nam An Securities), and NH Securities (Woori CBV).
Analysts noted that all South Korean invested securities companies are backed by large economic groups and all increased capital rapidly after taking over Vietnamese companies.
In late September 2019, Mirae Asset approved a plan to increase its charter capital from VND4.3 trillion to VND5.5 trillion with capital sourced from its holding company, becoming the securities company with the biggest charter capital in Vietnam.
KBSV and KIS both have increased their capital to VND1.7-1.9 trillion, among the top 10 largest companies.
Yuanta Securities, in its latest report, predicted that the VN Index may reach 1,705 points in 2021, and that with cash flow from new investors, the P/E (price/earnings) index may reach the highest level in history of 22.5x.
South Korean capital keeps flowing strongly into Vietnam. A lot of South Korean investment funds are here, including Korea Investment Management Co Ltd (KIM) with a portfolio of roughly $1 billion.
KEB Hana Bank has spent VND20.3 trillion to acquire 15 percent of capital of BIDV, one of the big four in Vietnam.