Special International Children's Day in quarantine centers
Thousands of Vietnamese children spent the special occasion in quarantine zones, facing cross-infection risk and mental health issues as many have been separated from their parents.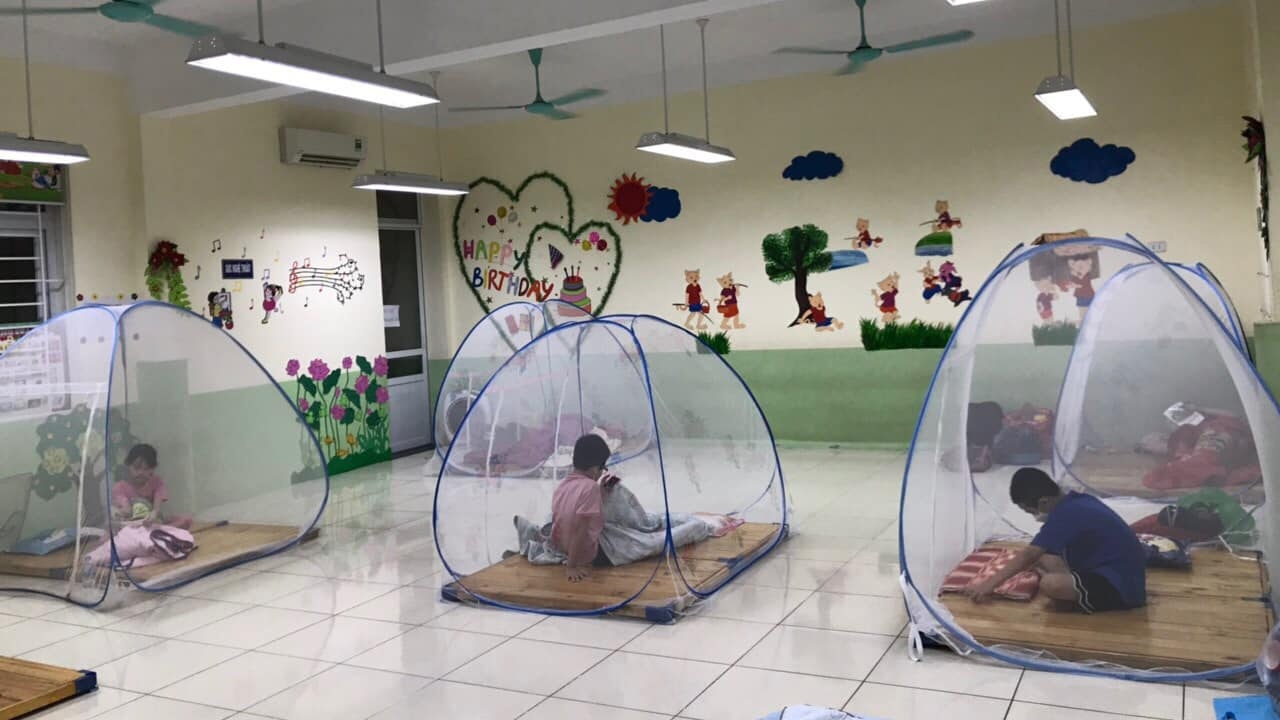 (Photo: Thanh Nien)
The photo of a 3-year-old taking a nap in Bac Giang quarantine center has been garnering great attention on social media since May 31. N.V.M is among the suspected coronavirus patients in Tien Son commune, Viet Yen district after having close contact with his parents and older brothers who are positive for the virus. M is spending his centralized isolation without parents or any relatives' care.
The staff tending M at the center said he has shown signs of slight mental disorder as he kept refusing to eat, hiding under the bed to avoid meeting other quarantined individuals and healthcare workers.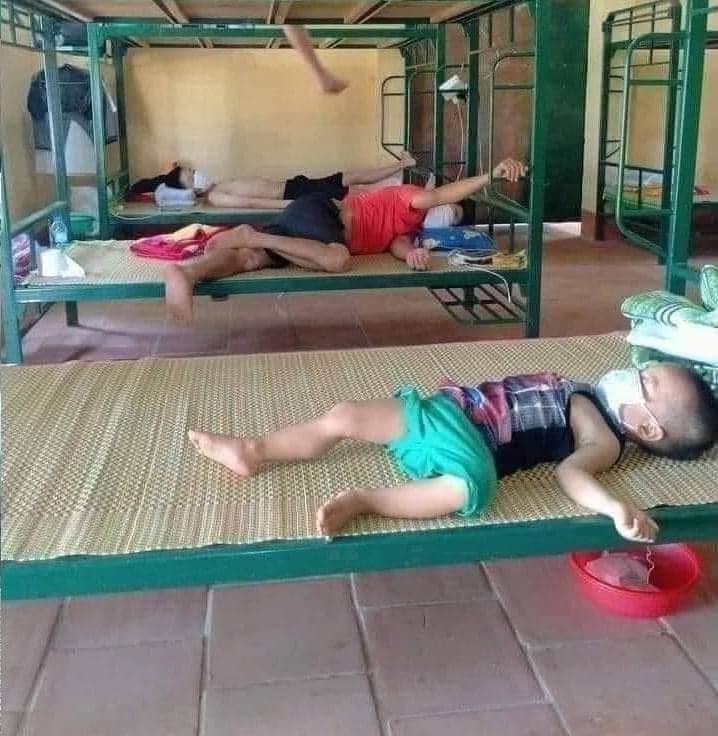 Photo of N.V.M sleeping at Bac Giang quarantine center has been going viral on the Internet (Photo: Thanh Nien)
Thousands of other children are also under quarantine as Vietnam battles the most dangerous resurgence since the pandemic broke out last year.
According to the Department of Child Affairs, the surging pandemic has been adversely affected children around the world. In Vietnam, schools up to high school level and higher education have been switched to online classes. National high school and university entrance exams, considered a make-or-break event for all students, have been postponed over health safety concerns.
On top of that, the number of children under centralized and self-isolation has been growing, given new clusters currently found in Bac Giang, Bac Ninh, Ho Chi Minh city. Many of the kids, including small ones, have to live away from their parents, facing a high risk of trauma and psychological problems.
The department has assigned all localities to pay extra attention to these children, providing them with nutritious meals, essential supplies, drugs and medical care.
"The sudden lack of parents' care and strange living environment might come as a shock to many kids. A 3-year-old, for example, couldn't possibly aware of the Covid-19 pandemic, how dangerous it is," Pediatrician Nguyen Thi Minh Tan, said.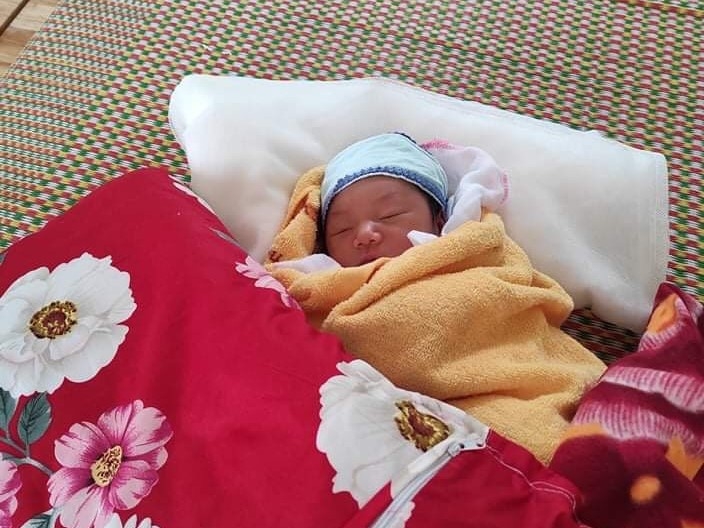 A newborn baby at quarantine center in Bac Giang (Photo: Thanh Nien)
Meanwhile in the northern province of Hai Duong, one of the hardest-hit localities, this year International Children's Day was also special for many children who are in isolation and medical blockade. Due to the impact of the Covid-19 pandemic, many previous plans for the children on this occasion could not be implemented.
Nguyen Thu Trang in Pham Hong Thai Street said that if there was no pandemic, this occasion, her family would let her children go out and buy some gifts - both for June 1 and a reward for the end of the school year. However, this year, due to being in an area under a medical blockade, Trang could only ask the security forces to buy some food and small gifts for her daughter: "This year, my children are not allowed to go to the amusement parks, but only stay at home. I hope the pandemic ends so that the children can return to their normal lives."
The whole city of Hai Duong is straining against the pandemic and implementing social distancing to limit the spread of Covid-19. With the family of Nguyen Ngoc Linh, with 2 young children (4 years old and 7 years old), although not in the medical blockade area, Linh still decided not to take the two children out to ensure safety against the pandemics. Her husband is away on business, she plans to only make delicious meals for the three of them and let the children talk to their father via video call.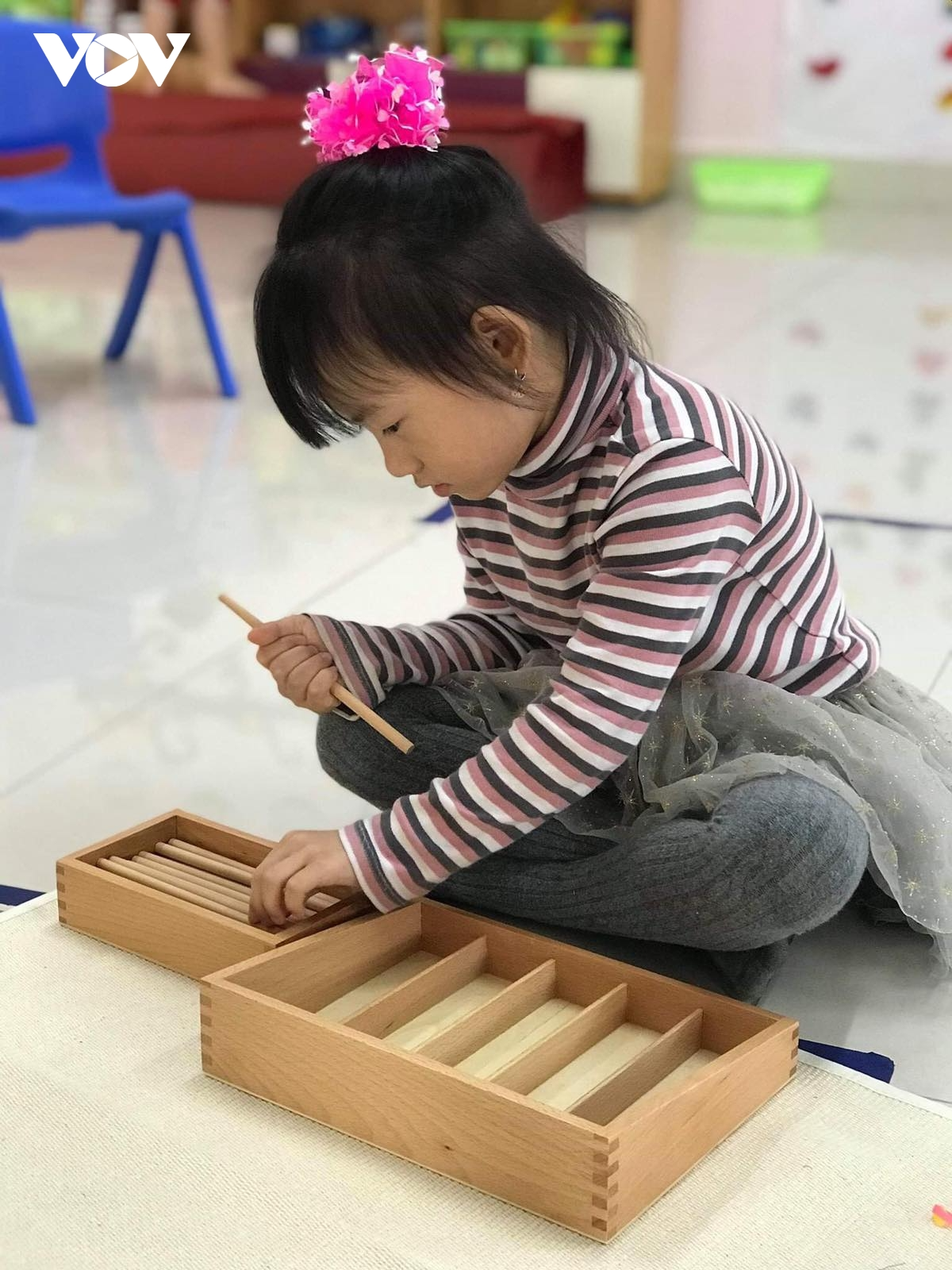 This year's International Children's Day, Hoang Ngoc Diem My (To Hieu primary school, Hai Duong city) will be friends with toys at home. Photo: VOV
"Although my house is not in the blockade area, but because here is one of 10 wards applying urgent measures to prevent the pandemic. Therefore, on June 1 this year, my family also decided not to move out of the province. Instead, I prepared ingredients to make cakes, prepared some decorations at home to celebrate with my children safely on International Children's Day," Linh said.
Even though they were encouraged by their parents and explained why they couldn't properly celebrate, the children still felt disappointed.
Hoang Ngoc Diem My, a student at To Hieu primary School, Hai Duong city said: "This year, I can't go out on International Children's Day. I want to go to the park and bookstore. I hope the pandemic will end quickly so that my mother can take me out."
International Children's Day in Vietnam
International Children's Day is a commemorative date celebrated annually in honor of children, which is observed in some countries on June 1.
Ever since its first observance in Vietnam on June 1, 1950, the International Children's Day has always hold a significant place in Vietnamese people and been a long-awaited occasion in the year of many children.
This day in Vietnam specially marks the start of summer vacation—the occasion when children truly enjoy as they are free from school and homework.
The way Vietnamese people celebrate this meaningful event is varied. It could be done by individuals. That is, in each family, parents do something special for their kids: taking them to the parks, buying them toys, or holding a picnic at the suburb—something that might be as simple as going out, enjoying some fresh air. As you know, even when children do not have to go to school, their parents still have to go to work. Adults have no summer vacation. However, because of their kids, they can take a day off and try to perform their duty as well as they can.
The celebrating process can also be done by groups or institutions. For example, a company, or a residential group can hold a party for the children of its members—one that is well served with plenty of snacks, fruits and soft drinks. Sometimes, it goes along with offering some awards: children with good results in studying will have their name said out loud and be given a prize. In addition, this could be done on a national scale—a special show will be aired, in which humorous plays are performed, according to Inside Travel.