State President's Official Visit to Help Advance Vietnam-Cambodia Ties
A State-level visit to Cambodia by President Nguyen Xuan Phuc is set to help advance relations with Cambodia.
President Phuc is due to pay an official visit to Cambodia on Dec. 21-22 following an invitation made by Cambodian King Norodom Sihamoni. This will mark the first visit to Cambodia by the Vietnamese head of state following the nation's senior leadership being consolidated after the 13th National Party Congress.
For the Cambodian side, it will be the first visit of a foreign head of state this year.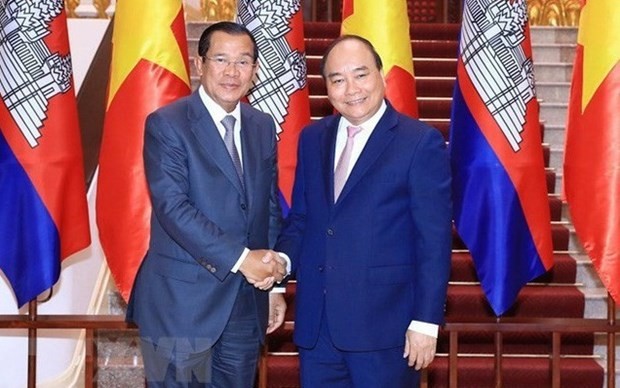 Then Prime Minister Nguyen Xuan Phuc (R) welcomes his Cambodian counterpart Samdech Techo Hun Sen during the latter's visit to Vietnam in October 2019. Photo: VNA
The purpose of the visit is to carry out the foreign policy adopted during the 13th National Party Congress, as well as to show Vietnamese respect and desire to develop relations with neighboring countries, including Cambodia, VOV reported Monday.
The event will take place amid traditional ties, solidarity, friendship, and comprehensive cooperation between both sides continuing to develop, even though both countries have been suffering from the negative impacts of the Covid-19 pandemic.
The occasion is also one of the first activities to start a string of activities aimed at celebrating the "Vietnam - Cambodia, Cambodia - Vietnam Friendship Year" and the 55th anniversary of their diplomatic relations, which initially began back in 1967.
Over the years, joint relations have grown steadily across multiple fields. With regard to politics, both sides have held online talks between their senior leaders and have successfully coordinated to organize important bilateral cooperation mechanisms.
Furthermore, defense and security cooperation continues to be consolidated, with the two countries finalizing 84% of the demarcation and marker planting work and signing two legal documents on Oct. 5, 2019.
Economic, trade, and investment cooperation between the two nations have progressed, with trade exchanges enjoying robust growth, despite facing plenty of difficulties caused by the pandemic.
During the past 10 months of the year, export turnover between both sides has reached US$ 7.87 billion, an annual increase of 87.5%. Most notably, there are 188 valid Vietnamese investment projects running in Cambodia with a total registered capital of US$ 2.88 billion, ranking fifth among countries investing in the neighbor.
With regard to co-operation in Covid-19 prevention and control, the Vietnamese Government has provided urgent support to the Cambodian side through both money and medical supplies, including equipment and PCR testing kits valued at about US$ 300,000.
This year has seen the Vietnamese Party and Government continue to provide emergency aid to Cambodia with US$ 500,000 in cash, medical supplies, and equipment, such as 800 ventilators, two million medical masks, and 300,000 N95 masks worth about US$ 10 million. This demonstrates the country's practical and effective contributions to the Cambodian Government and people's Covid-19 response efforts.
In response, the Cambodian Red Cross, the Cambodia - Vietnam Friendship Association, and Cambodian people donated 200,000 doses of the Sinopharm vaccine to the Vietnamese side, one million medical masks, 100,000 N95 masks, 100 oxygen generators, and US$ 350,000 in cash.
According to Cambodian Ambassador to Vietnam Chay Navuth, President Phuc's upcoming visit clearly reflects the close-knit relationship between the two sides, whilst simultaneously demonstrating to countries throughout the region and the wider world the friendship between the two nations
Cambodia supports and praised the nation for successfully assuming the role of ASEAN Chair, organizing conferences, and contributing to bringing ASEAN cooperation to new heights amid the Covid-19 pandemic.
Next year will see Cambodia assume the role of ASEAN Chair. According to Ambassador Navuth, the two countries' senior leaders often have phone calls or virtual meetings.
This once again shows the spirit of solidarity aimed at helping each other, as well as Vietnamese support for Cambodia's role as ASEAN Chair, especially in the context of ASEAN facing many challenges, such as competition between member states and the Covid-19 pandemic.
The visit shows Vietnamese support for important domestic and foreign activities that will take place in Cambodia in the near future such as the National Assembly election in 2023 and the Year of Cambodia as ASEAN Chair 2022.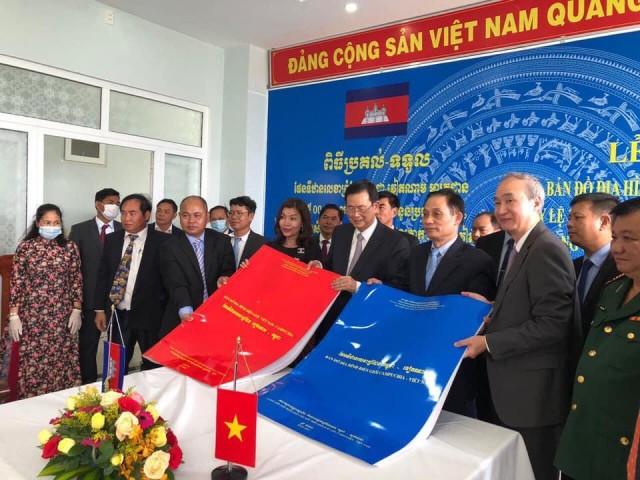 Cambodian and Vietnamese officials exchange new border maps at a scale of 1:25,000 on Aug. 3, 2020. Source: cambodianess
Meanwhile, speaking to Vietnam News Agency correspondents in Phnom Penh on the occasion of President Nguyen Xuan Phuc's upcoming visit to Cambodia, Vietnamese Ambassador to Cambodia Nguyen Huy Tang said a good relationship between Vietnam and Cambodia will positively contribute to the development of each country as well as to ASEAN and the whole region where socio-economic recovery effort is underway.
According to the ambassador, despite ups and downs in history, the Vietnam-Cambodia ties have overcome all challenges to continuously thrive. He said in celebration of the 55th anniversary of bilateral diplomatic relations, the two sides will focus on a number of major tasks to further boost their ties, first of all, strengthening the already sound political relationship, which guides the overall relations.
They will continue to bolster their partnership in culture, education-training, health care, and science technology. In 2022, they will coordinate to organize a culture and a film week in each other's country, while promoting educational activities among people, especially the youth, on the bilateral traditional friendship, he added.
In addition, Vietnamese and Cambodian ministries, sectors, and localities as well as people's associations and organizations will promote mutual support, thus contributing to deepening the comprehensive ties between the two countries.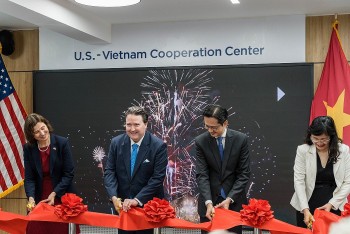 World
The Ministry of Foreign Affairs and the US Embassy co-organised a ceremony to inaugurate the US-Vietnam Cooperation Centre at the Diplomatic Academy of Vietnam's campus in Hanoi.