Stir Fry Wild Rice Shoots– A Must-Try Winter Delicacy of Nam Dinh
If this is your first time travelling to Nam Dinh, you should take time to try this special delicious dish that you can only eat once in a year.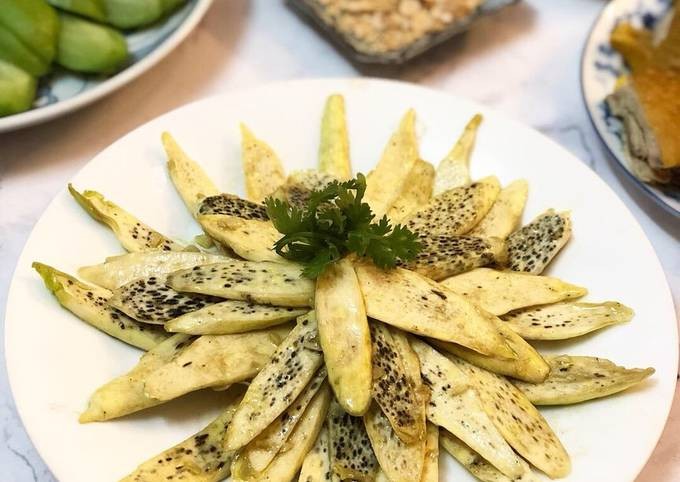 Photo: Cookpad
From the end of October to November, when the weather starts getting colder, it is also the harvest time of wild rice. On Instagram and Facebook groups, people begin to share their experience with this famous, once-in-a-year Nam Dinh delicacy.
At the first glance, wild rice shoots can be mistaken for lemongrass ones, as they have the same look-alike shapes, but wild rice shoot is much bigger. It has a dark brown colour near the roots, and green at the top, and an enlarged body. When you peel it off, it will reveal the soft, white and chunky flesh inside. This is what you will use for the main ingredient to cook stir fry wild rice shoot– one of the most famous dish of Nam Dinh.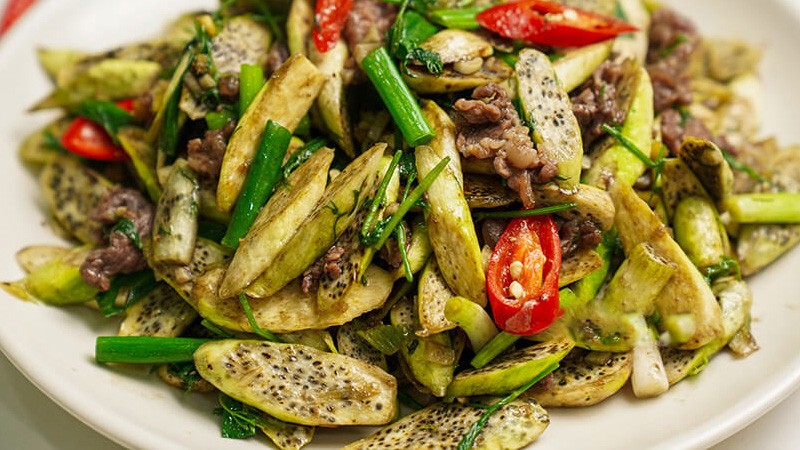 Photo: Bach hoa XANH
Wild rice shoot is often cut into thin slices, then fries with eggs, beefs, then adds dills, herbs, scallions or culantro to create the flavours. The shoot has a sweet, soft and delicious taste, which is the main star of the dish. When it is ripe, the white flesh will appear with black dots, but the flavour still remains the same.
Visitors who come to Nam Dinh in November often buy wild rice shoots as gifts for their family members. At the local markets, the shoots are sold in bundles with the price ranging from VND 10.000 to 15.000. In Hanoi, you can buy the wild rice shoots by bundles or by weight, with the price from VND 30.000 to 50.000, due to shipping cost.
Photo: Phuong Thao
In Nam Dinh, the visitors can also bring back home other famous specialties such as Siu Chau candy on Hang Sat street, gai cake, longan cake, spring rolls, xiu pao cake etc.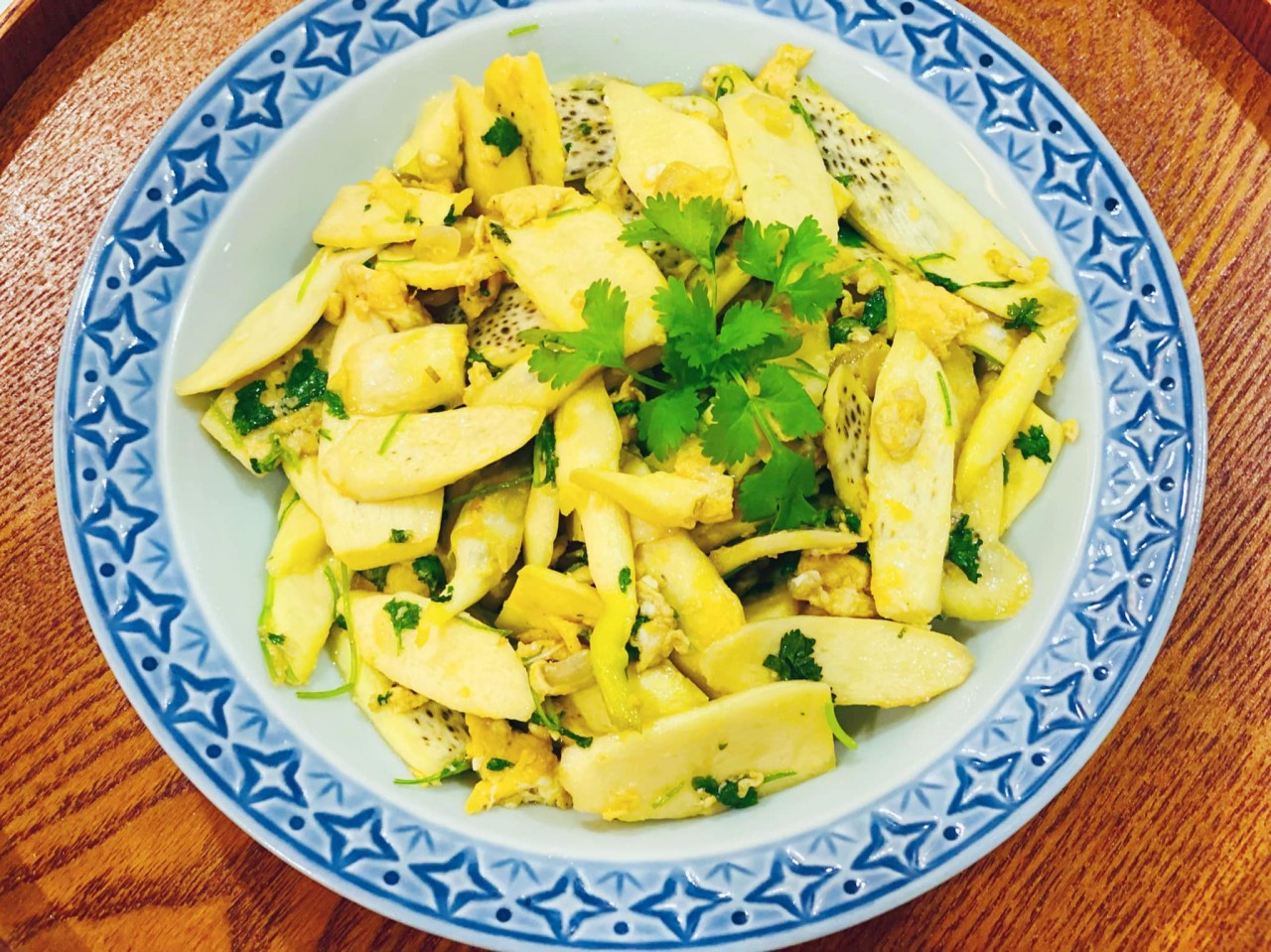 Photo: Phuong Thao
About Wild Rice Shoots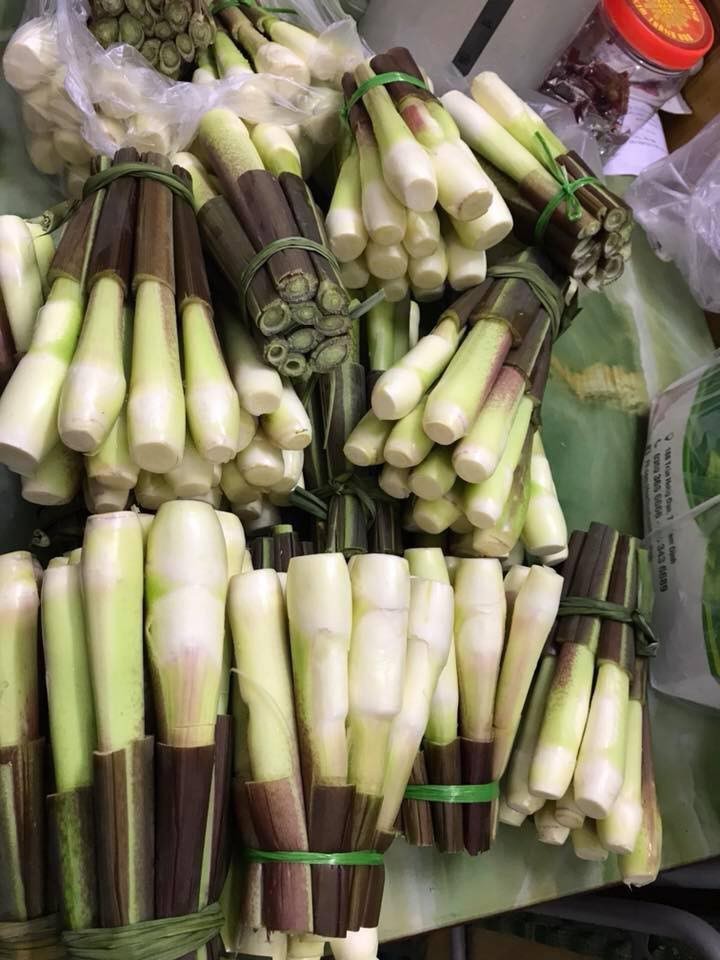 Photo: Kenh14
The actual Wild Rice plant grows from 1.2 to 2.4 m in height and its leaves, when fully elongated, measure from 30 to 60 cm in length. The enlarged shoots are harvested, and the upper leaves cut off showing only the shoot with husk-like wrapper leaves. The edible portion is its succulent shoot after the leaves are removed. It has a crunchy, light and refreshing texture similar to bamboo shoot and it has a hint of sweetness depending on the time of harvest, Wild Rice Shoot will vary in color and sizes. If harvested early in the season, the shoot will short and green with fine leaves. If harvested during middle to late of the season, the shoot will be long and white with a hint of green. If harvested late in the season, the shoot will be long and red. The older the shoot, the tougher it is. An ideal shoot would be thick and pale white.
Wild Rice Shoot, also known as Coba, Jiao-Bai, Kuw-Sun, Water Bamboo, is of the species Zizania latifolia Turcz. It is in the family of Poaceae, the same family as the common bamboo. It is closely related to Wild Rice (Zizania aquatica L.) of North America. This aquatic plant grows in shallow water in small lakes and slow-flowing streams. Unlike its North American counterparts, it is cultivated in Asia for the plant's shoot instead of its grains.
Wild Rice Shoot is an excellent source of vitamin A and C, calcium, iron, and other minerals. It is also a diuretic. Wild Rice Shoot is believed to help with hangovers because of its vitamin content and diuretic nature.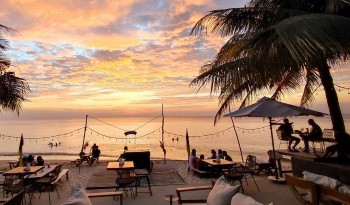 National
Vietnam News Today (Jan. 27): Vietnam confirms 15,885 local cases; Vietnam among top 20 World's Best Places to Retire in 2022; HCM City continues with vaccination during Lunar New Year festival; Vietnam enjoys trade surplus from 54 export markets globally.