Storm Lionrock Moves Toward North-Central Vietnam, Another Fresh Storm Forecast
One depression and tropical storm will bring more rain to northern and north-central regions next week.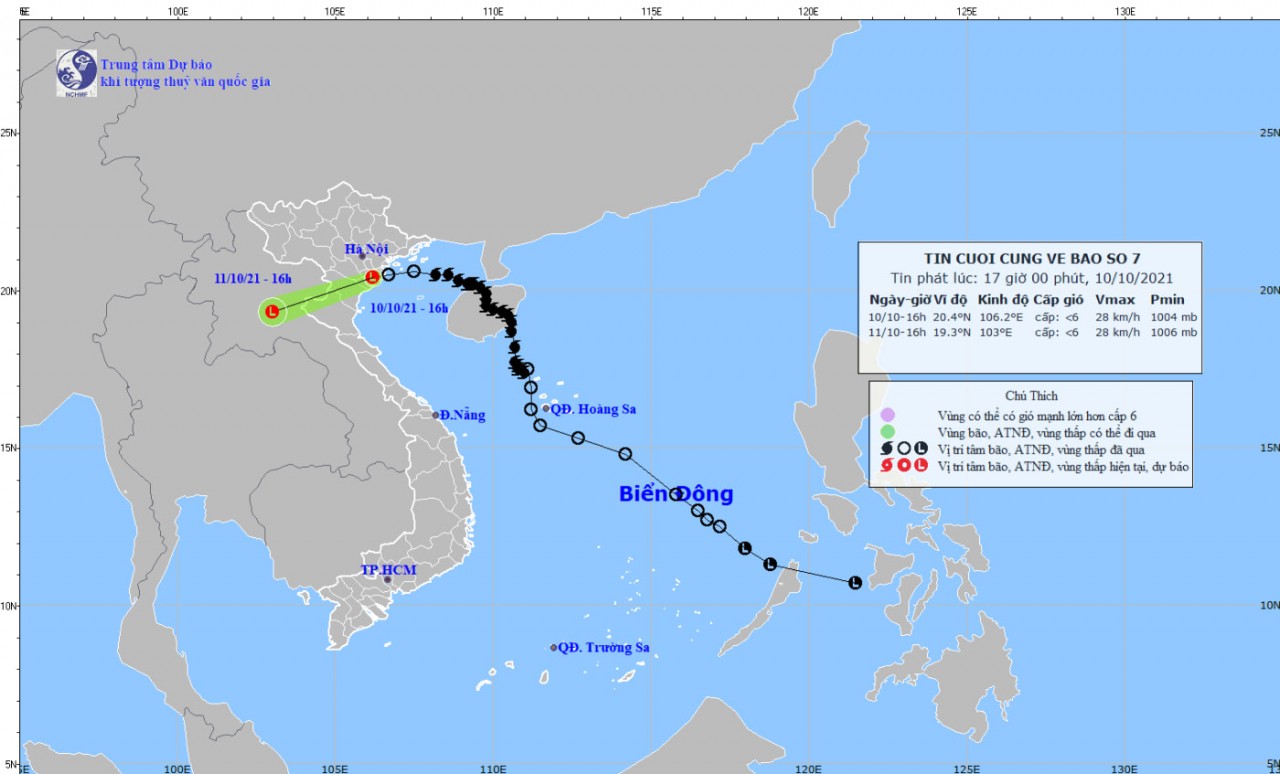 Lionrock weakens, heads to north-central Vietnam. Source: National Centre for Hydro-meteorological Forecasting
Lionrock, the seventh storm hitting the Bien Dong Sea so far this year, has weakened into a tropical depression, while another storm, Kompasu, is becoming stronger and forecast to enter the sea soon, according to the National Centre for Hydro-meteorological Forecasting.
Tropical storm Lionrock has moved into the Gulf of Tonkin and lost its strength before striking north-central coastal provinces of Vietnam on Oct. 10 afternoon.
Early this week, it will travel west-southwestward at 15 to 20km per hour and land in the region between Hai Phong and Thanh Hoa, with winds easing to 40-50km per hour.
The depression will move in the same direction towards Laos and further weaken into a low-pressure system.
Together with a cold front which is moving from north to south, Lionrock will cause strong winds and heavy rain in large parts of northern and north-central regions, with average rainfall of 100 - 250mm.
The national weather forecasting bureau warned of a high risk of flash floods and landslides in mountainous areas and flooding in low-lying and riverside areas.
As Lionrock is moving away from Hong Kong, their Observatory issued the Strong Wind Signal No. 3 at 4.40am Oct. 10. It replaced the No. 8 Southeast Gale or Storm Signal issued at 6.40am Oct. 9.
Lasting 22 hours, Lionrock became the single longest storm 8 signal since Severe Tropical Storm Agnes of July 1978, according to Hong Kong's Observatory records.
According to the Hong Kong's Hospital Authority, as at 4am, 14 people have sought medical treatment at public hospitals due to typhoon-related injuries.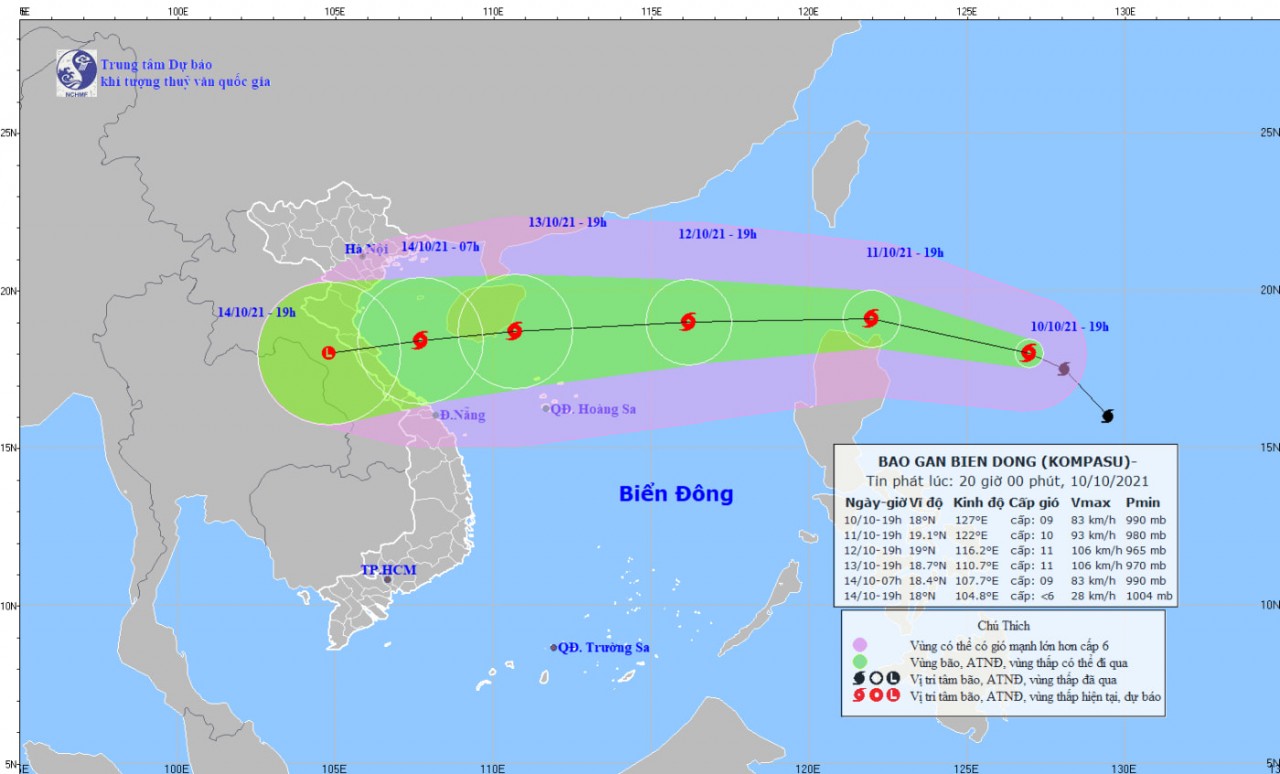 Tropical storm Kompasu is anticipated to enter the Bien Dong Sea on October 11. Source: National Centre for Hydro-meteorological Forecasting
Meanwhile, another tropical storm Kompasu is churning through the southern part of the Philippines and is anticipated to enter the Bien Dong Sea on October 11.
Initial forecasts show after moving into the Bien Dong Sea, Kompasu will quickly increase its intensity and is likely to affect northern and north-central provinces of Vietnam on Oct. 13-15.
Another tropical depression or storm is likely to form in the Bien Dong Sea and is forecast to affect Vietnam several days later.
Weather forecasters warned the northern and north-central provinces will experience heavy downpour over the next 10 days.
Search and rescue forces of these localities have been on standby in case of emergency. The Ministry of Defence said it will deploy 380,000 troops and more than 3,000 vehicles and helicopters to support search and rescue work.
Kompasu is forecast to be stronger and move faster than storm Lionrock, so careful preparation is needed.
The Taiwan Central Weather Bureau (CWB) issued a sea warning for Tropical Storm Kompasu on Sunday as it continued to increase in intensity and move through the Bashi Channel between Taiwan and the Philippines.
As of 8 p.m. Sunday, Kompasu was located 730 kilometers east-southeast of Eluanbi, the southernmost tip of Taiwan, moving west-northwest at a speed of 21 kilometers per hour, the CWB said.
It was carrying maximum sustained winds of 83 kph with gusts of up to 108 kph, according to the weather bureau.
The tropical storm is expected to reach Luzon, the Philippines on Monday and come closest to Taiwan on Monday and Tuesday.