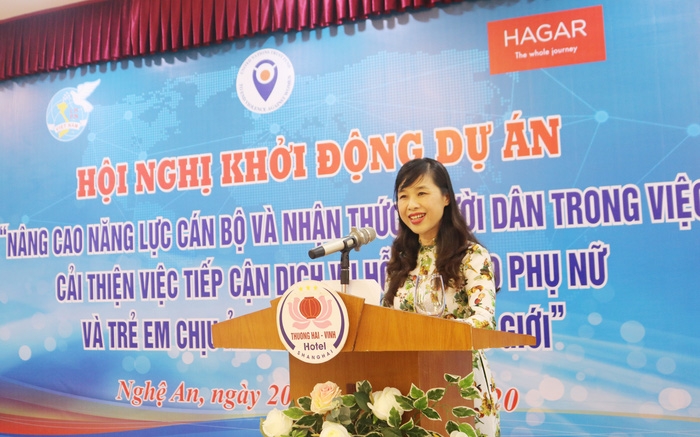 At the launching project conference. Source: Hagar Vietnam
This event is in the framework of the project funded by the UN Trust Fund to End Violence against Women (UNTF).
This year, along with Yen Bai, Nghe An is one of the two beneficiaries.
Speaking at the conference, Chairwoman of the Provincial Women's Union Nguyen Thi Quynh Hoa added: the central province of Nghe An was identified as one of the human trafficking hotspots, mainly trafficking women and children across borders. In addition, gender stereotypes still exist in the province, especially domestic violence and child sexual abuse still occur in some places.
The provincial Women's Union and Hagar Vietnam signed a cooperation agreement to implement the "Building capacity of duty bearers and beneficiaries to improve access to services for women and children survivors of intimate partner violence and non-partner sexual violence and change community's attitude and behavior towards violence against women" project in the period from 2020 to 2022.
The project will be implemented in 2 communes Quynh Luong and Quynh Thang in Quynh Luu district with the main activities: establishing a "rapid response group", setting up equal groups and organize training courses, awareness raising campaigns in many diverse and diversified forms.
The specific objective of the project is to help 100% of women and children who experience violence, sexual abuse and human trafficking in the project area, increase their access to multi-sectoral support services, counselling, counselling, education, vocational training and training of necessary life skills. At the same time, it aims to improve public awareness and attitudes about violence against women and children through community and school communication campaigns.
Hagar is a specialist trauma-informed care agency that works primarily with women and children who are suffering from trauma as a result of human trafficking, slavery and abuse in Cambodia, Afghanistan, and Vietnam. Hagar International in Vietnam (Hagar Vietnam) was launched in 2009 in response to the growing magnitude of violence and human trafficking, as well as the severe lack of services available for victims/survivors in Vietnam.
Hagar Vietnam provides direct support to women and child survivors of human trafficking, domestic violence and sexual abuse.
Hannah Nguyen