Lighthouses Postage Stamps (Issue of 2020). Source: Chunghwa Post
Viet Stamp Club, a group of stamp collectors belonging to the Ho Chi Minh City Stamp Association, has just sent a document to the Ministry of Information and Communications (MIC), informing that Taiwan's postage stamps violate Vietnam's sovereignty over Truong Sa (Spratly) Archipelago.
Accordingly, on November 23, 2020, as a follow-up to "Lighthouses Postage Stamps (Issue of 2019)," Chunghwa Post of Taiwan (China) has released a set of five stamps on the following lighthouses: the Chiutzu Shan Lighthouse, the Kuosheng Kan Lighthouse, the Peiting Tao Lighthouse, the Hualien Kan Lighthouse and the Taiping Island Lighthouse.
In the fifth stamp sample, there is a lighthouse built illegally by Taiwan on Ba Binh (Itu Aba) island which is the largest island in Vietnam's Truong Sa (Spratly) archipelago in the Bien Dong Sea (referring to the South China Sea). In 1956, Taiwan illegally occupied this island and called it Taiping Island (Thai Binh Island).
Historian Nguyen Nha said that Vietnam's Ba Binh Island, which is 489,600 square meters, was seized by Taiwan in October 1956. It has conducted militarization on the island since then.
In another move, China seized Vietnam's Phu Lam Island (Woody Island), the largest island in the Spratlys in the same year.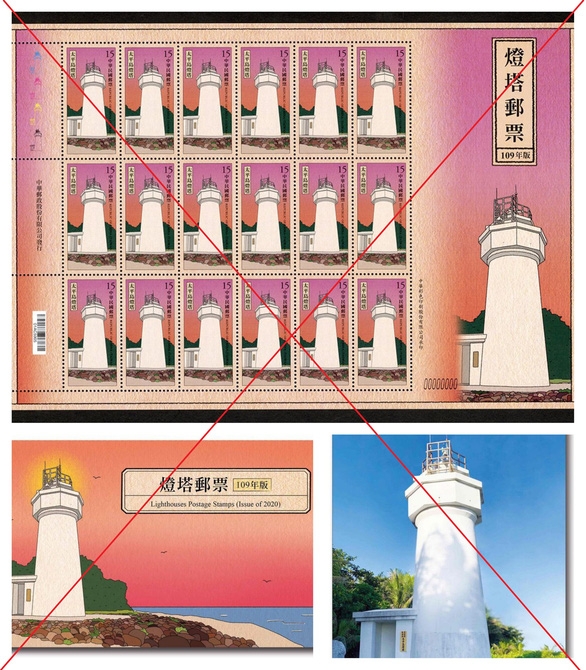 Vietnam's Ba Binh, which is the largest natural island on Spratly archipelago, was illegally occupied by Taiwan in 1956. Source: Chunghwa Post
"Taiping Island Lighthouse (NT$15): located on Taiping Island of the Nansha (Spratly) Islands in the South China Sea, the lighthouse was completed in 2015. The unmanned round white tower, which is made of reinforced concrete, is Taiwan's southernmost lighthouse," wrote Chunghwa Post - the official postal service of Taiwan in its website.
The said stamp set was discovered by collector Tran Trong Tam, a collaborator of the Viet Stamp club.
"The move of Taiwan's Chunghwa Post has violated international laws, seriously violated Vietnam's sovereignty over Truong Sa archipelago. It doesn't come in line with the provisions of the Acts of the Universal Postal Union," the Viet Stamp Club's document reads.
Hoang Anh Thi, Chairman of Viet Stamp Club, shared, "This is one of the common 'tricks' of Taiwan to legalize and create a long history for their illegal occupation on Ba Binh island. If we do not fiercely object, they will step up their illegal actions. Previously, when China and Taiwan issued stamps incorporating similar sovereignty infringement elements, Viet Stamp Club also submitted petitions to the authorities."
According to Thi, Vietnam also needs to issue popular stamps (with no time limit and can be purchased easily), on which a map of Vietnam with full maps of Hoang Sa (Paracel) and Truong Sa (Spratly) archipelagoes. Only then can we assert our territorial sovereignty more strongly through all-pervasive stamps.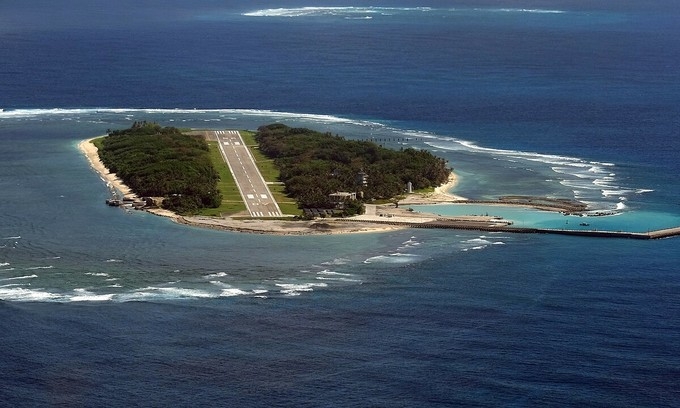 Aerial view of Ba Binh (Itu Aba) island, part of Vietnam's Truong Sa (Spratly) Islands. Photo by AFP.
Vietnam has full legal basis and historical evidence to assert its sovereignty over the Hoang Sa (Paracel) and Truong Sa (Spratly) islands in accordance with international law.
This is the third time the Chunghwa Post has issued postage stamps with content violating Vietnam's sovereignty over the Truong Sa Archipelago. Prior to that, in 1996, it issued a set of stamps, including two stamps and one stamp bloc showing the illegal nine-dash line on the Bien Dong Sea and the image of Vietnam's Ba Binh Island. In 2016, they issued a set of four stamps with the images of Ba Binh Island./.
Hannah Nguyen