What we know about H&M's "problematic map" which raises social media storm
On April 2, the search phrase "H&M relation to problematic map" suddenly topped searches on the Chinese social network Weibo, known as the "Twitter of China". So what is the "problematic map" mentioned by the Chinese media? How is it related to the illegal "cow's tongue line"?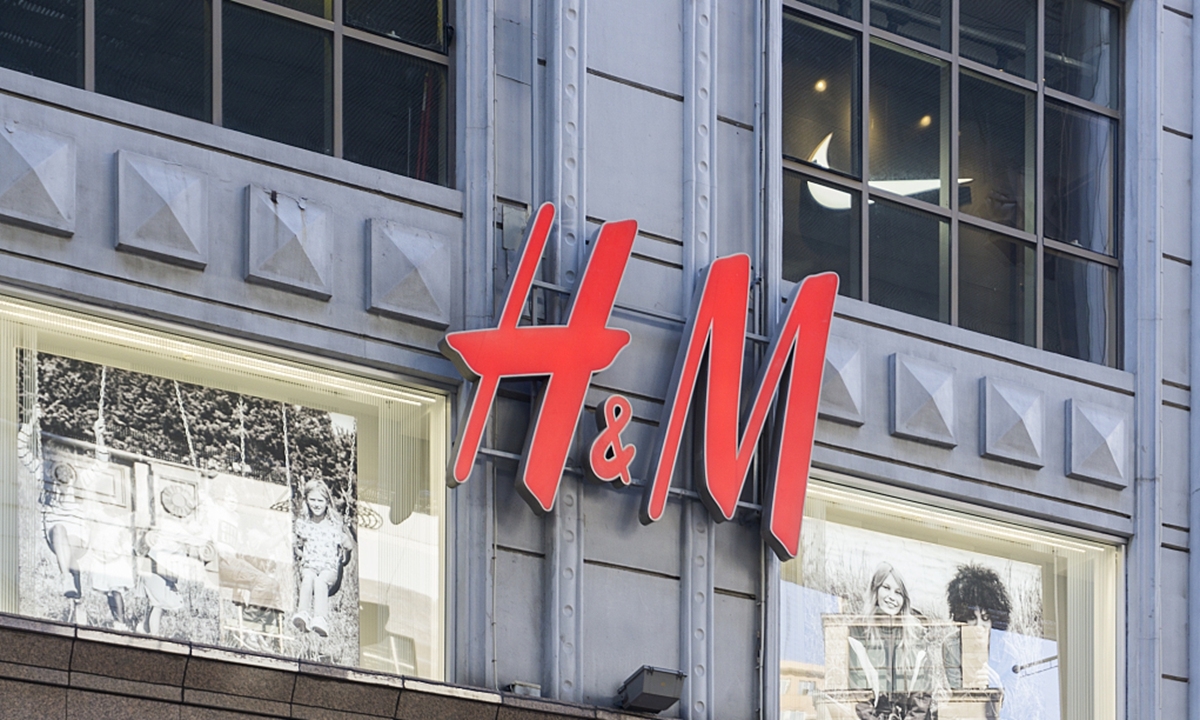 H&M. Photo: VCG
Let's begin by looking at the beginning. The Swedish clothing giant H&M faced an unexpected public backlash in China this week when social media users in the country suddenly circulated a statement the company made in 2020 announcing it would no longer source cotton from China's Xinjiang province due to difficulties to conduct credible due diligence in the region and after media and human rights' groups reported the use of forced labour in Xinjiang.
When the Swedish fast-fashion giant that it was ending its relationship with a Chinese supplier accused of using forced labor, a few Chinese social media accounts dedicated to the textile industry took note. But by and large, the moment passed without fanfare, New York Times reported.
Half a year later, the Communist Party's youth wing denounced H&M on social media and posted an archival photo of slaves on an American cotton plantation. Official news outlets piled on with and hashtags. Patriotic web users carried the message across far and varied corners of the Chinese internet.
China is the world's second-largest cotton producer, and the Xinjiang Uygur autonomous region accounts for about 80 percent of its output. Nearly 70 percent of Xinjiang's cotton fields use machinery to harvest cotton, making large-scale manual cotton-picking a thing of the past, according to official data, citing by China Daily.
By the way, H&M, Nike and Adidas are members of the "Better Cotton Initiative" (BCI), a global not-for-profit organization, which has announced it was suspending licensing of farms in Xinjiang in 2020.
China has imposed sanctions on four organizations and nine individuals from Britain, and has confirmed sanctions against 10 individuals in Europe because of the Xinjiang issue.
The apps of H&M, Nike, Adidas and others were also removed from Chinese app stores.
H&M is working to defuse Chinese anger and on March 31 has issued a conciliatory statement in response to the company's controversies about discontinuing Xinjiang cotton. In particular, H&M said China is a very important market.
H&M said it wanted to be a responsible purchaser in China in the latest announcement. In addition, the Swedish brand is also willing to work with stakeholders to build a more sustainable fashion industry.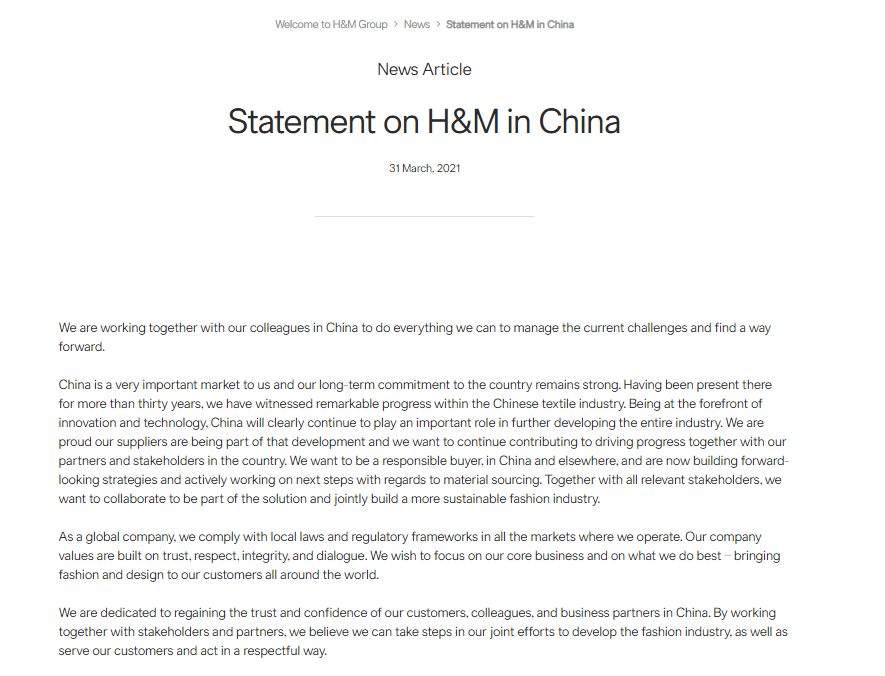 In a statement on March 31, H&M stressed the importance of the Chinese market and said it was working on strategies for material sourcing. (Screenshot)
A few day later, on the evening of April 2, the search phrase "H&M relation to problematic map" suddenly topped searches on the Chinese social network Weibo. As of 9:30 am on April 3, it had reached 410 million readers.
According to Vietnamnet, the source was originally posted by a WeChat account of Netcom Shanghai, which said that a social network user reported to authorities "a problematic China map" on H&M's official website (hm.com) and that H&M edited the map right after receiving a request from the Chinese authorities.
The information was subsequently reported by the People's Daily, the Chinese central television agency CCTV and many other newspapers. The specific content is as follows: "Recently, netizens reported to authorities that on H&M's official website (hm.com), a 'problematic Chinese map' appeared. The Shanghai Department of Natural Resources and Planning immediately asked H&M to quickly rectify.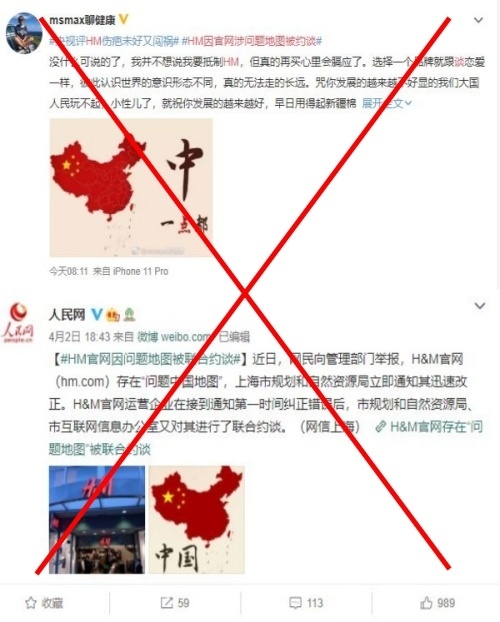 Information shared by Chinese media and celebrities, along with a map showing the 'cow's tongue line'. (Screenshot).
After receiving the notice, Haines Morris Co., Ltd (Shanghai Haynes Morris Commercial) - the company that operates H&M's official website - corrected the mistake immediately. The Shanghai Department of Natural Resources and Planning and the Shanghai Internet Information Office had a meeting with them.
During the meeting, the two agencies seriously pointed out the violation and ordered H&M to set up a network in accordance with the law, to seriously study the 'Chinese Cyber Security Law', 'China's mapping law', 'Map management regulations'... together with other laws and regulations, to build a solid sense of national maps, to correctly implement 'rules of map use'.
The two agencies clearly defined that the person in charge of the business must preside over the reorganization of the website content. The management body will supervise and monitor this task in the coming time. The Company (H&M) said it had accepted the management body's warning and would implement practical corrections.
In addition, they asked the company to study Chinese law about cybersecurity, map management and relevant regulations carefully and informed the company that they must "use maps properly without any mistakes."
"Problematic maps" mainly refer to maps endangering national sovereignty and unity, territorial integrity, security and interests, according to the Chinese Ministry of Natural Resources.
According to the Global Times reporter's search, hm.com now provides choices of location to customers with "Mainland China," "Hong Kong SAR" and "Taiwan Region," among other countries and regions.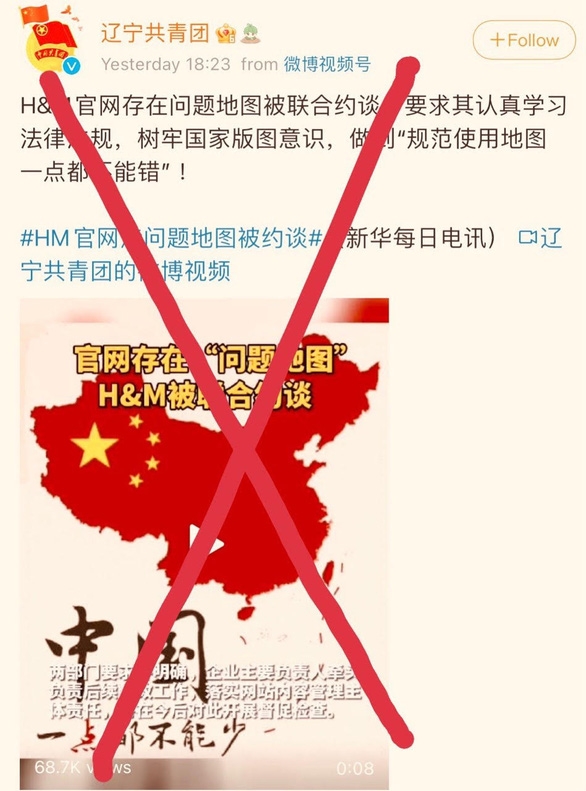 Information shared in Chinese social media, along with a map showing the 'cow's tongue line'. (Screenshot).
By the evening of April 3, this was still a hot topic on Chinese and Vietnamese social networks. Many Vietnamese netizens shared images and hashtags with information that H&M had posted a map of China's illegal "cow's tongue line", and they called for a boycott of this brand, using the hashtags #hmgetoutofvietnam, #taychayHM, #HoangSaTruongSabelongtoVietNam on Facebook, Twitter and Instagram..
The "cow's tongue line" or "nine-dash line" is a representation of China's expansive claims in the Bien Dong Sea (internationally known as the South China Sea). The line itself is a collection of arbitrary dashes or dots without specific coordinates. China has not given any official explanations regarding its precise delimitation or legal origin.
This claim has been openly rejected by Vietnam, Indonesia, the Philippines, and the US, and has been criticized by numerous international scholars. More importantly, the claim to historic waters within the line was rejected by the arbitral award of the South China Sea tribunal in July 2016. But China has disregarded the ruling and insists on the nine-dash line claim.
So what is the "problematic map" mentioned by the Chinese media? How is it related to the illegal "cow's tongue line" that Vietnamese netizens condemned?
It is not clear what content the Chinese authorities asked H&M to correct, or whether they asked H&M to show the "cow's tongue line" in the previous map, but according to Chinese authorities, the map that does not have a serial number or wrong country boundaries (including the 'cow's tongue line'), omitting islands such as Dieu Ngu (known as the Senkaku islands in Japan and the Diaoyu Island in China), Chiwei Island, Hainan Island and Taiwan is considered "problematic".
However, consumers cannot find the "problematic" map on H&M's website. Information about the map from foreign news agencies is not clear.
The maps shared online do not indicate the original "problematic" content that China "warned" H&M about. H&M has not had a specific response.
In Vietnam, H&M opened its first store in Ho Chi Minh City in September 2017. Just two months later, H&M launched a store in Hanoi. So far, H&M has 12 stores in Vietnam, including five stores in Hanoi, four stores in Ho Chi Minh City and three stores in Can Tho, Da Nang and Ha Long.
Meanwhile, mainland China was one of the four largest markets by sales for H&M in 2020, during which the fashion giant operated 445 brick-and-mortar stores across 146 cities in the country.
H&M makes around 6 per cent of its revenue in China, which is home to nearly 10 per cent of its stores.
China had become H&M's third-biggest market before the boycott./.