Two Taiwanese - Chinese granted Vietnamese citizenship
Ho Chi Minh Department of Justice held a ceremony on April 8 to award the President's decision on the naturalization of Vietnamese citizenship to two Taiwanese – Chinese.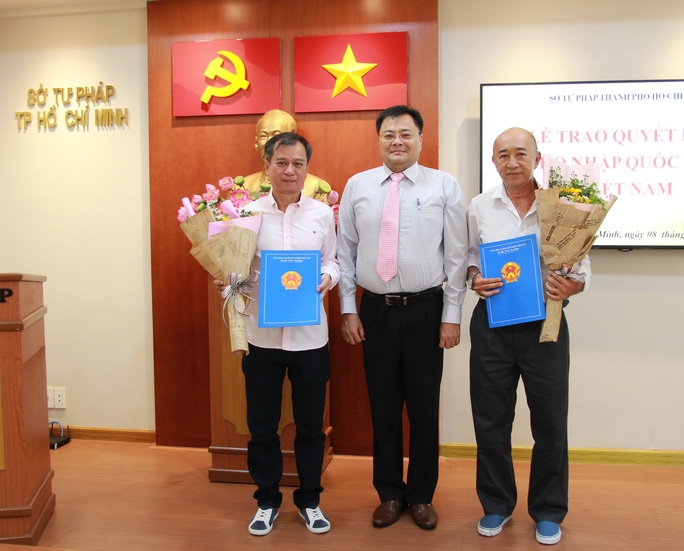 Two Taiwanese-Chinese were granted Vietnamese citizenship. Photo: Truong Hoang/Nguoi lao dong
According to the decision, from March 4, 2021, Mr. Ly Hong Van (born 1961) and Mr. Ly Phi Long (born 1973) was naturalized in Vietnam.
Speaking at the ceremony, Deputy Director of Ho Chi Minh Department of Justice Nguyen Van Vu wished Mr. Van and Mr. Long to stabilize their life, to work hard to have a happy family and to fulfill their citizenship rights and obligations.
Thanks to the attention of Vietnamese leaders, Mr. Van said he was very happy and honored to be naturalized in Vietnam. At the same time, he promised to work and live according to work according to the Constitution and laws of Vietnam, educating his children to become good citizens and beneficial to the society.
According to the new regulations on procedures for naturalization of Vietnam, a solemn and meaningful decision-giving ceremony must be held.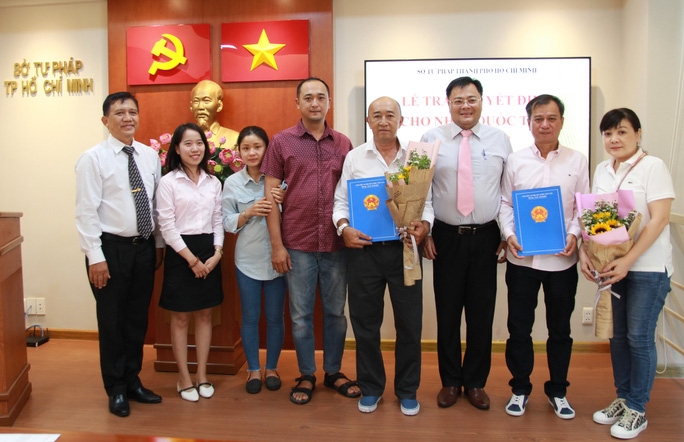 Photo: Truong Hoang/Nguoi lao dong
THE CONDITIONS TO GRANTED VIETNAMESE CITIZENSHIP
Foreign citizens who permanently residing in Vietnam are granted permanent residence card. They can acquire Vietnam nationality, if meet the following conditions:
- Have full civilization action about full capacity as the regulations of Vietnam law.
- Obey the Vietnamese constitution and laws; respect the traditions, customs and habits of Vietnamese ethnic.
- Know Vietnamese enough to integrate into Vietnamese community.
- Having resided in VN from 5 years up to the time of application for Vietnam naturalization.
- Having the ability to ensure life in Vietnam.
- Must renounce foreign nationality.
- Must Have Vietnamese names, and clearly stated in the decision of citizenship application.
The application for citizenship will be NOT approved, if the Vietnam Government said that it is detrimental to the national benefit of Vietnam.
SOME EXEMPTION FROM THE ABOVE CONDITIONS (3, 4, 5):
- As a spouse, father, mother or child of Vietnamese citizen.
- There are merits special contribution to the cause of building and defending the country.
- There are benefits to the State of Vietnam.
In addition, 1 in 3 of those cases can be free of conditions (6) - about the only foreign nationality - if it is allowed by the President. This mean that Vietnam can accepts multiple citizenship in special cases.