Taiwan leader calls China's sending warplanes a threat
Taiwan's Leader Tsai Ing-wen said on September 20 that Beijing is a threat to the entire region after China flew nearly 40 warplanes over the Taiwan Strait in a show of force two days earlier.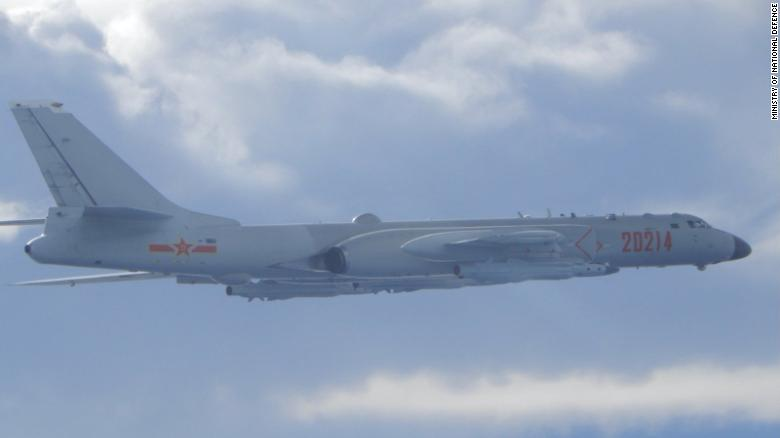 Taiwan Defense Ministry photo shows an Chinese People's Liberation Army (PLA) Air Force H-6 bomber intercepted by Taiwanese fighters on September 18.
Taiwan's leader Tsai Ing-wen said on September 20 that Beijing is a threat to the entire region after China flew nearly 40 warplanes over the Taiwan Strait in a show of force two days earlier.
The Taiwan Strait median line has been an informal but largely respected border of control for Beijing and Taipei. According to Taiwan and United States government reports, prior to the weekend, Beijing's warplanes had only crossed it intentionally three times since 1999 -- once in March 2019, once in February of this year, and again during a visit by US Health and Human Services Secretary Alex Azar in August this year.
On September 18-19, a total of 37 Chinese aircraft, a mixture of H-6 bombers, J-10, J-11 and J-16 fighters, and an Y-8 antisubmarine warfare plane crossed the median line.
The exercises took place as US Undersecretary for Economic Affairs Keith Krach was in Taipei, the most senior State Department office to come in four decades, according to Reuters.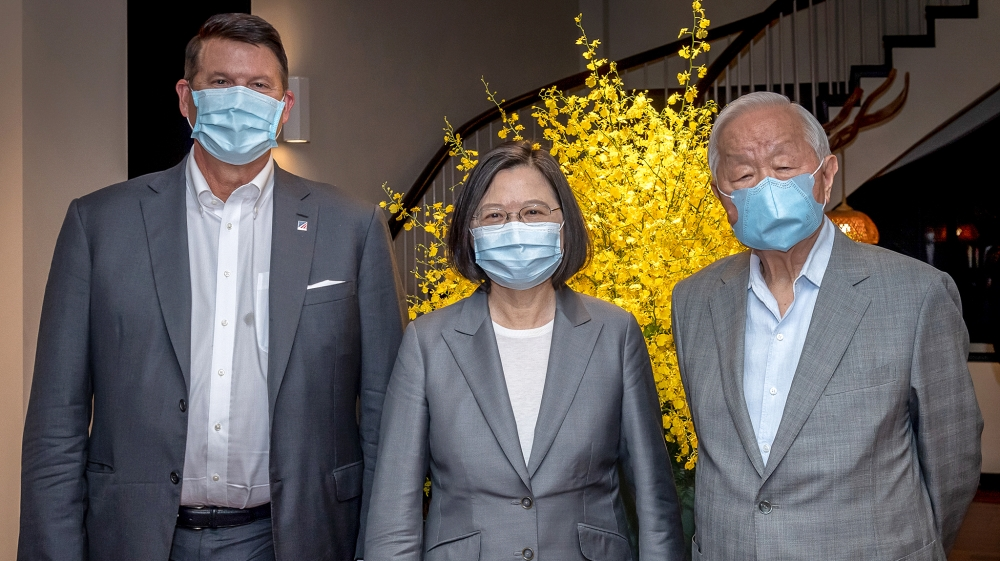 Taiwan's Leader Tsai Ing-wen (C) poses for photographs with US Under Secretary of State for Economic Growth, Energy and the Environment Keith Krach (L), and Morris Chang, founder of Taiwan Semiconductor Manufacturing Company (TSMC), at the president's home in Taipei [Taiwan presidential office/ AFP]
Speaking to reporters, Tsai denounced China's drills.
"I believe these activities are no help to China's international image, and what's more have put Taiwan's people even more on their guard, understanding even better the true nature of the Chinese Communist regime," she said.
"Additionally, other countries in the region also have a better understanding of the threat posed by China," Tsai added.
Taiwan's defence ministry said it had "clearly defined" procedures for a first response amid "high frequency of harassment and threats from the enemy's warships and aircraft this year".
It said Taiwan had the right to "self-defence and to counterattack" and followed the guideline of "no escalation of conflict and no triggering incidents".
Taiwan would not provoke, but it was also "not afraid of the enemy", it added.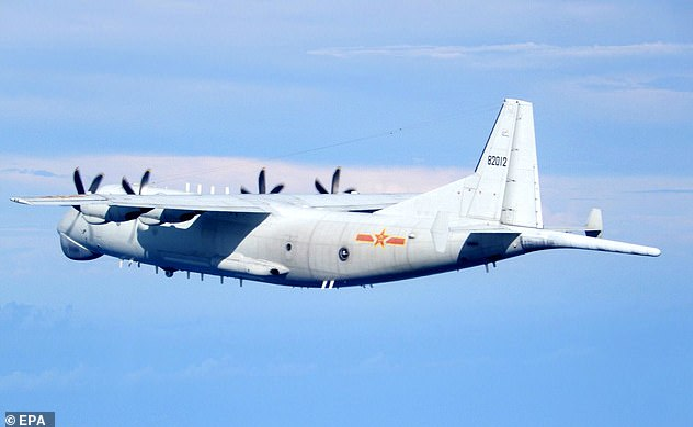 A Chinese air force Yun-8 transport plane flies over Taiwan's Air Defence Identification Zone on Saturday in the second show of military force by Beijing in two days. Photo: EPA
US military in live-fire drills
As PLA forces conducted drills near Taiwan, US forces engaged in a series of live-fire exercises off Guam, 1,700 miles (2,750 kilometers) to the southeast.
On September 19, US warships, submarines and warplanes involved in the Valiant Shield 2020 exercises participated in live fire missile drills, during which a retired US Navy frigate was sunk.
"This exercise demonstrates our ability to bring overwhelming firepower from the sea whether that comes from under the surface, on the surface, or from the air," US Navy Capt. Steven DeMoss, commodore of Destroyer Squadron 15, cited by CNN as saying. "We have this capability in every theater across the globe and can employ these weapons at the place and time of our choosing."
On Saturday 210, the guided missile cruiser USS Antietam simulated an attack on island targets with a Tomahawk cruise missile. "This exercise demonstrates the Antietam's ability to track, target, and engage threats to protect peace and stability in the Indo-Pacific," a US Navy statement said.
China, meanwhile, will resume live-fire exercises this week, according to Global Times, with those drills continuing until October 1.
China threatens retaliation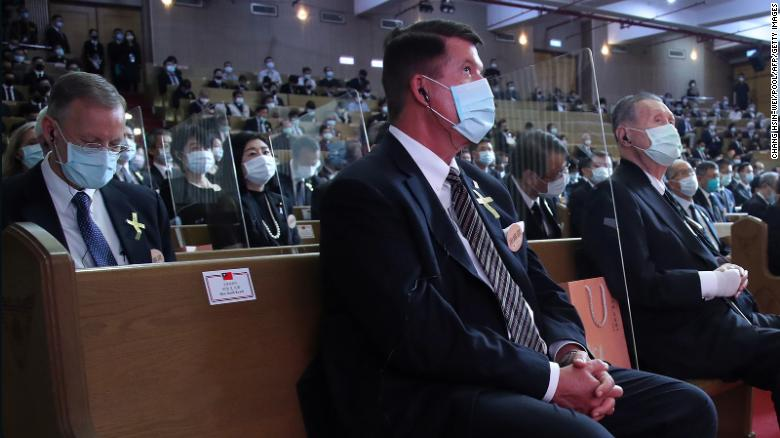 Keith Krach, a US undersecretary of state, attends a funeral ceremony of former Taiwan President Lee Teng-hui in Taipei on September 19, 2020. Photo: CNN
Chinese foreign ministry spokesman Wang Wenbin described the US envoys' visits as a 'political provocation' and threatened retaliation. China will take appropriate countermeasures, including targeting relevant individuals,' said Wang, without elaborating.
He warned that the US actions will 'further damage the cooperation' between the US and China.
Wang added that any support for Taiwan's independence is a 'dead end... doomed to fail'.
Taiwan has been ruled separately from China since the end of a civil war in 1949, but Beijing considers the island part of its territory awaiting reunification.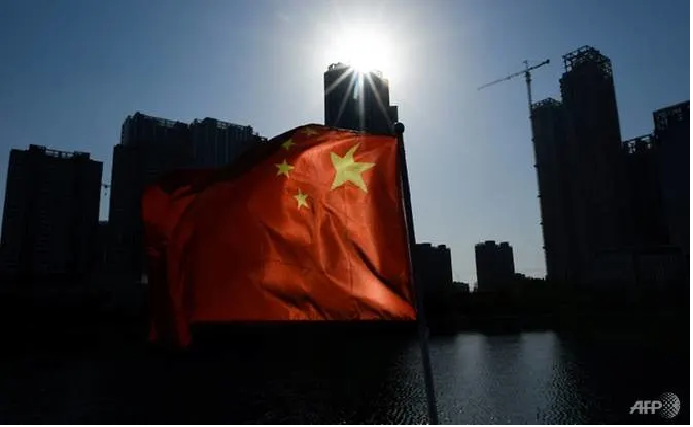 China has ramped up its rhetoric over Taiwan, warning that any support for the island's independence is 'doomed to fail'. Photo: AFP
Beijing rejects any recognition of Taiwan and has mounted a decades-long policy of marginalising the democratic island.
Washington's increased outreach is a catalogue of sore points with Beijing as the countries clash over issues including trade, security and the coronavirus pandemic.
US Secretary of State Mike Pompeo accused China of 'military blustering'.
Keith Krach, the undersecretary of state for economic growth, energy and the environment, wrapped up his trip at the weekend following a trip by US health chief Alex Azar in August, AFP reported./.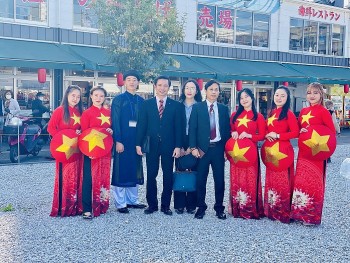 Overseas Vietnamese
The Kochi-Vietnam Cultural Exchange Festival has been organised in Kochi Prefecture, Japan, recently for first time in an effort to boost cultural exchanges and cooperation between the two countries.