Two flights bring home over 530 citizens from Singapore, Taiwan (China)
National flag carrier Vietnam Airlines and budget carrier VietJetAir on August 7 brought home more than 530 Vietnamese citizens. Of the total figure, more than 300 citizens were from Singapore, and the remainder 230 were from Taiwan (China) in one day.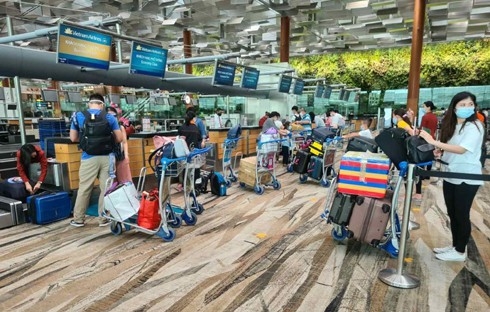 Vietnamese citizens repatriated from Singapore arrive at Can Tho International Airport on August 7
Passengers included the elderly, students aged under 18, workers whose labour contracts expired, pregnant women and stranded travellers.
The Vietnamese representative agencies in Singapore and Taiwan sent staff to airports to assist the citizens with necessary procedures before they boarded the plane.
Both Vietnam Airlines and VietJet Air strictly implemented measures on security, safety and hygiene epidemiology throughout the journey to protect the citizens' health and prevent the possible spread of the virus.
As soon as the aircraft landed at Can Tho and Cam Ranh International Airports in the Mekong Delta city of Can Tho and in the south-central province of Khanh Hoa respectively, all crew members and passengers underwent medical check-ups and were transferred to quarantine facilities in line with regulations on COVID-19 prevention and control.
On the same day, a Vietnam Airlines flight carrying 280 Vietnamese citizens stranded in the United Kingdom and various parts of the European Union including Germany, Switzerland, Denmark and the Czech Republic, also safely landed at Van Don International Airport in the northern province of Quang Ninh.
Singapore reported 242 new COVID-19 cases as of noon on August 7, including one in the community and six imported infections, said the Ministry of Health.
This brings the total number of cases in the country to 54,797 and 27 people have died from complications due to COVID-19.
Taiwan, on the other hand, has recorded 477 cases and 7 deaths as of August 6.
Vietnamese citizens repatriated from Taiwan (China) arrive at Cam Ranh International Airport on August 7.
Meawhile, Vietnam reported 37 new coronavirus infections on Friday, raising the number of cases in the country to 784, with 10 deaths.
Da Nang has confirmed more than 200 cases since the virus reappeared there.
The capital Hanoi has announced a plan to carry out large-scale real-time polymerase chain reaction (PCR) tests starting from August 7 on local people who arrived home from COVID-19 hotspot Da Nang between July 15 and 29.
According to Chairman of the municipal People's Committee Nguyen Duc Chung, 50,000 people will be tested and the task is expected to be completed in 10 to 12 days. The Hanoi Centre for Disease Control and four centrally-run hospitals in the capital are capable of collecting 10,000 samples and testing 5,000 on a daily basis.
Hanoi is also speeding up the examination of "F1" people (those having close contact with others who tested positive for SARS-CoV-2), Chung said, and "F2" people (those interacting with F1 people). F1 are subject to real-time PCR tests and concentrated quarantine, while F2 must practice self-quarantine and have their health monitored regularly.
Local people must wear a face mask in public from August 7 or face a fine up to VND 300,000 (USD 13). Those improperly dispose of used face masks at public places will be fined a maximum of VND 5 million (USD 216), or up to VND 7 million (USD 302) if they litter pavements or roads with discarded face masks. Besides, those hiding the COVID-19 status of themselves or others will face punishments of up to VND 2 million (USD 86)./.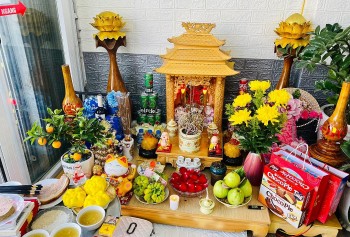 Handbook
Learn more about an ancient Vietnamese tradition that may bring you good fortune!